For local knowledge
South Devon thrives on its strong sense of community. This is a living, breathing land of fishing villages and market towns, medieval cities and new developments, all full of brilliant local people who love opening their doors to visitors to share our region. Let me introduce you to some of the warmest welcomes in the county.
An inn for smuggling monks
This might not quite be my local pub, but it would be yours if you stay at Chestnut Cottage. In any case, it's a firm favourite, which is why the family and I visit it more than any other. In the village of Churchstow near Kingsbridge, the Church House Inn was built as a rest house for Benedictine Monks. These days, Glen and Suzi provide an amazing welcome and delicious pub food.
Usually locally-sourced from within a mile or so of the premises, their simple pub grub is served with flair and passion and the odd exotic twist. Pull up a barstool or grab a table on the patio outside to enjoy everything from a classic carvery to a handmade wood-fired pizza. Make sure to pair it with a pint of Cornish or Devonshire ale from the bar's superb range, all carefully kept for a great pint, or a gin and tonic from the generous selection.
Independent and proud
Crammed with independent shops and restaurants, Totnes is also independent in its thinking, being a hub for alternative approaches to life and creativity. One of the first things you might notice when you visit is the eclectic fashion and alternative attitude to life. Don't be surprised to see festival dress or the occasional parrot on someone's shoulder as you make your way to one of the many cafés and coffee shops.
Totnes prides itself on its high percentage of independent shops, cafes and restaurants. Interestingly, in 2012, the town came together to protest against a large coffee chain opening locally… and won. This is a town with heart and spirit. Its narrow winding roads, hidden passages and half-timbered housing give it a certain Harry Potter charm. It's hard not to succumb to the magic of this quirky, friendly town. Pie Street is a great place to visit if you are looking for great comfort foods.
A general market is held every Friday and Saturday throughout the year in the market square situated about two thirds up the High Street. There is a sprinkling of well-known fashion brands but you'll mostly find passionate, distinctive retailers here. Please do show them all your support when you next visit us, perhaps when you stay at Heron's Haunt nearby?
Festivals of good food
Each year, local producers from across the county come together to showcase their tasty food and drink. It's well worth checking out the calendar before you arrive so that you don't miss out!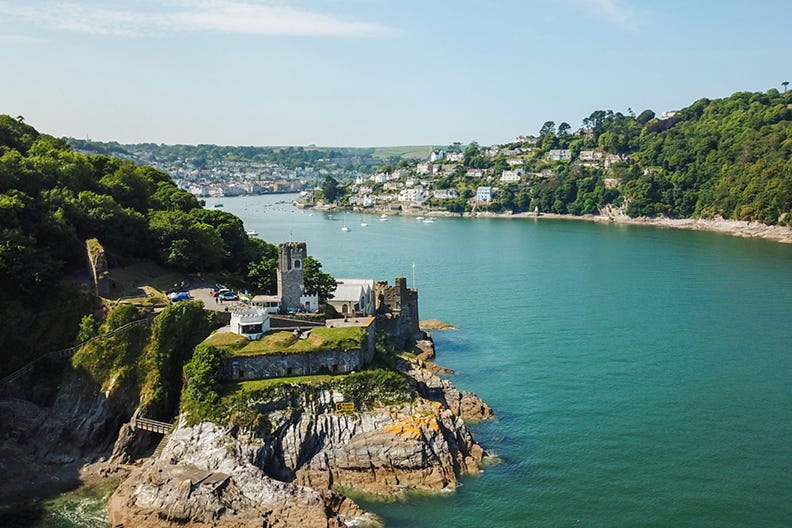 The Dartmouth Food Festival usually runs in October and features a wealth of seafood dishes from local fishermen and chefs as well as food markets, tasting shacks and demonstrations, some by celebrity chefs. Put together by passionate volunteers and enjoyed by thousands, my recommendation is to make sure you take your time to explore the huge range of local produce like sea salt, cheese and chillies, plus beers and ciders by the bucketload. Perfect for a posh picnic or as gifts to make your friends and family jealous!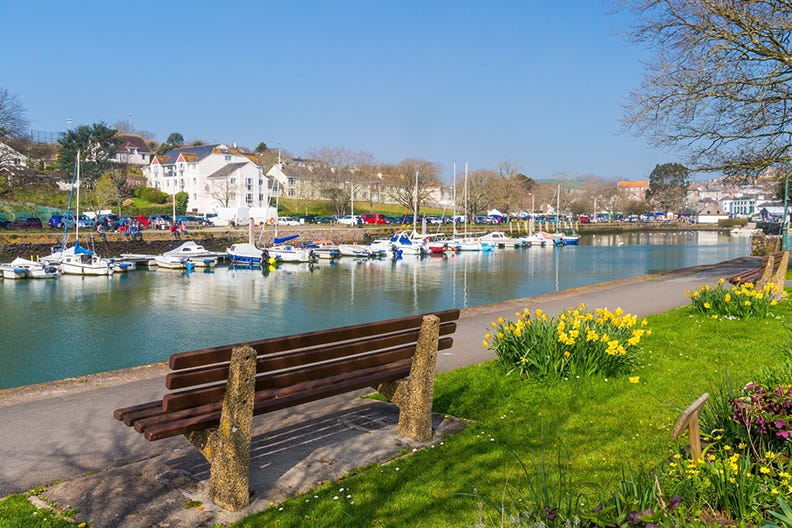 Earlier in the year, the Kingsbridge Music and Food Festival in July is a chance to kick back and indulge the senses. It's a free event in the town square with the best local food and drink alongside the best in local bands and singers. The festival is always a family-friendly affair that's full of atmosphere and plenty of fun for a summer's afternoon and evening. I will of course be there, fully embarrassing my daughter with some dad dancing!
"The next Kingsbridge Food and Music Festival will be in 2021, and check about Dartmouth's before travelling – but when they're back, these brilliant local festivals need all our support!"

- Keith
Continue the journey
Let us take you on a journey to South Devon from the comfort of your sofa! We're bringing the best of England and Wales to you – so read on and experience Keith from Blueriver Cottages' favourite places to go and some hidden gems, too. We've got plenty of nearby properties, and can't wait to welcome you...