Make the most of your holiday cottage with Original Cottages

With both local and national expertise and support, you'll get the best of both worlds
We have property specialists  based in many popular holiday destinations across England and Wales. They are passionate, knowledgeable local people who will support you in getting your property ready to let. We combine this with a central team of experts in sales, marketing and IT to ensure smooth sailing and fantastic booking rates.
From pricing to marketing to property grading, we will ensure that your property is set up for a successful season, year after year.
The refurbishment of my holiday home had been majorly delayed by the lockdown and there was a significant chance that I would miss the summer season completely. However, with Annabel's support, hard work and enthusiasm, it was actually launched to the holiday market within just 36 hours of being ready and then went on to achieve an incredible 7 full weeks of summer bookings in the first few days of going live. My thanks go to Annabel and her team for such a speedy response!
Homeowner Feedback, July 2020
Our advice is free and without obligation, so email us today through letting@originalcottages.co.uk or Submit an enquiry online
Why holiday let with Original Cottages?
Our holiday letting service can be tailored to suit your needs, here are some reasons why you should let with Original Cottages:
Expert marketing
✓
Leading digital marketing expertise & innovative activity such as virtual reality property tours.
✓
Effective, targeted and exciting marketing activity featuring your individual property & free professional photography.
✓
We list our properties on over 3,000 additional websites too - at no extra charge to our owners - including the following major brands:
It makes financial sense
✓
We'll visit your property (for free) to let you know how much you could earn.
✓
Competitive commission rates, no sign-up or renewal fees (we only start making money when you do).
✓
Attractive payment terms; regular monthly payments and easy to  understand statements, plus protection from cancellations and damages.
We're customer service led
✓
Knowledgeable & friendly local teams across the UK, plus a central team of experts.
✓
Our holidaymakers come back year after year (which means more repeat customers for you).
✓
Tailored property management services, arranged to suit you (we won't try and sell you a package).
Our response to Coronavirus (Covid-19)
From the start of the pandemic, we have been focused on supporting our homeowners, guests and staff
Sending clear, regular communications
In a world with so many unknowns, we have cut through the noise to give our homeowners clear, regular and informed communications about the situation, what it means to them, how we're adapting, and what they need to do to adapt.
Keeping safety our top priority
Our local teams have been equipped with all of the PPE necessary to continue visiting and servicing properties safely . Our photography teams have also adapted photoshoots, making them 'contact-free'.
Being there, whenever needed
We have made sure that we're always available on the end of a phone or email, and the feedback from our homeowners has been fantastic – we, and they feel like our relationships have only strengthened during this time.
Looking ahead...
With holiday bookings now on the up, we are helping both new and existing homeowners to make their properties safe and ready for visitors. We understand our holidaymakers' needs and are advising our owners on how to optimise their property – from facilities, to pricing – to achieve their booking potential.
Homeowner feedback we received during the pandemic:
"Just to say thank you so much for such a thoughtful and comprehensive update, and for all of the tips, it is much appreciated and very reassuring to receive."
"Many thanks for the update. Your message underlines the professionalism shown every day by your company. Let's look forward to a healthy and happy future."
"Thank you all. I am so relieved that our agency have demonstrated integrity and balance. Well done."
Marketing your holiday cottage
Our goal is to bring you bookings - lots of bookings
Our aim is to help you maximise the revenue potential of your holiday property. The primary objective of all our marketing activity is to bring you bookings – lots and lots of bookings! We help maximise booking rates with our extensive and targeted marketing programme through our local activity, and nationally via The Original Cottages Family.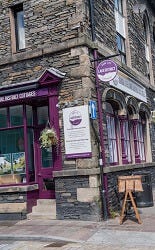 LOCAL PRESENCE
WIth local offices, local people, vehicles and sponsorships we have a significant local presence to promote our brands. We make the most of every opportunity to ensure holidaymakers, local businesses and visitors to events are directed to book our properties with ease.
Our local presence contributes significantly to the awareness and popularity of our brands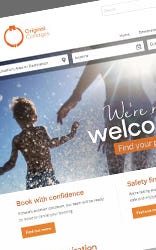 LOCAL & NATIONAL WEBSITES
We have a network of around 30 local websites for many popular UK holiday destinations. We also market properties on our national website; www.originalcottages.co.uk and our luxury website; www.nicheretreats.co.uk. With top 10 Google rankings for thousands of keywords, our combination of local + national gives us a competitive advantage that delivers results.
Our network of local and national websites deliver significant booking volumes
AFFILIATE WEBSITES
We pay to list your properties on a range of affiliate websites, both in the UK and elsewhere in the EU, casting the net further still. These include: Airbnb, Tripadvisor, Snaptrip, Holiday Lettings and HomeAway.
We advertise on 3,000 additional websites to maximise your booking potential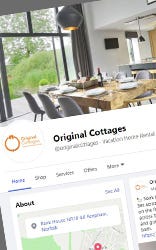 SOCIAL MEDIA
We showcase holiday properties, special offers, local news and events through our social media accounts,  and actively engage with our followers on Facebook, Instagram, Twitter and Youtube through our organic and paid social media activity.
Our social media following has grown by over 20% in the last year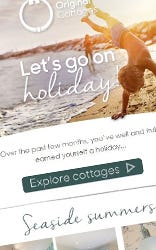 CAMPAIGN MARKETING
We regularly communicate with our customers with personalised, targeted emails and mailers. We feature properties, events and special offers, tailoring the content to our audience. In addition to this our online blog gives customers insider news and tips to make the most of their holiday.
We regularly send marketing emails to almost half a million subscribers
ADVERTISING & PR
We place carefully timed advertisements in local press and selected national magazines and papers. We work with PR specialists, journalists and high profile bloggers to gain our cottages as much coverage as possible. We also work closely with local tourism agencies and a number of UK and overseas affiliates.
Multiple relationships formed with national brands, for example Virgin Wines, John Lewis and Country Life Magazine
Maximising your income
Maximise your income with minimum inconvenience
With 25 years' holiday letting experience nationally, we know how to maximise your income through holiday letting.
Competitive commission, including a reduced introductory rate
Individually researched price bands and optimised calendar
Bespoke marketing showcasing your property's unique features
Tailored property management, only pay for the service you want
High repeat booking percentage builds your customer base year after year
Holiday properties as an investment
Staycations are experiencing a huge surge in demand and given the nature of UK self-catering breaks appealing to those looking for safe, environmentally friendly, cost-effective holidays, this is set to continue for some time to come.
Our experienced Property Recruiters frequently work with homeowners to help them select, furnish, manage and let their property, optimising their return on investment. Here is a summary of how we can help:
We can visit properties with you.
We can provide helpful feedback on the 'letability' of a property given its location and amenities.
We can offer practical advice on simple steps to improve the ROI of the property (e.g. interior design).
We can generate property proposals with rental rates and income.
We can support with the practical running of the holiday let, taking away any ongoing hassle.
Please call us on 0800 368 9358 or send us an email if you'd like to find out more about how we could help you with your holiday home investment.
Testimonials
Mr & Mrs Orrell
Owners of Hacket Forge & Brathay Loft in Little Langdale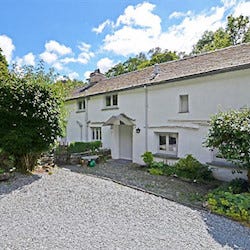 "We are very pleased with the way the Good Life Lake District Cottage Company manage our cottage. The team are friendly, competent and professional and deal with any issues as they arise in an efficient and courteous manner. The marketing seems excellent as we have a constant stream of bookings and their administration is very efficient in providing us with timely statements and income payments. We would highly recommend them."
Owner
Brunswick Road Flat in Brighton.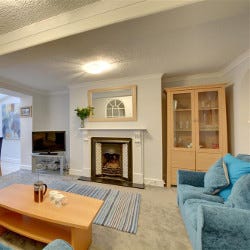 "Best of Brighton Holiday Lettings have been my letting agent for 7 years, they provide an excellent client service. My property in Brighton is let 36-42 weeks of the year, providing me with an income 2 or 3 times the amount of a basic shorthold let"
Mrs Harvey
Owner of Turnstone Cottage in Padstow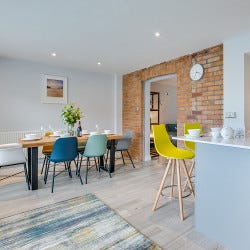 "I have been very impressed with the way Cornish Horizons have handled my property. I only bought the house a month ago and they have already arranged 4 bookings. All their Staff are extremely efficient and pleasant to deal with and nothing seems too much trouble. I can highly recommend their services."
Emily and Sue Corfe
Owners of Lime Trees in Kent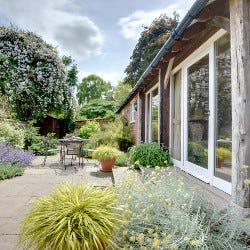 "When we approached Kent and Sussex Holiday Cottages to promote our new venture we found the team very helpful, friendly and efficient. We were impressed with their knowledge and experience of the holiday property market. There is a great deal of attention to detail and the photographs taken were beautiful and the property was impressively presented on a superb, clear, website. We have been delighted with the bookings received in our first season with only a few vacant weeks. We have also had some very happy guests. Well done Kent and Sussex Holiday Cottages."
Trevor Leighton
Owner of Hillside in Croyde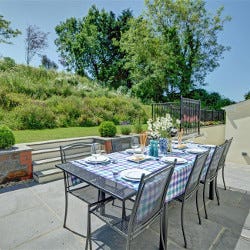 "For a number of years, we stayed in rented cottages in Croyde with family and friends. During these holidays, we found Marsdens Devon Cottages to be the best," said Lynda. "When it came to choosing a letting agency for Hillside, Marsdens was the natural decision. We didn't consider anyone else. In getting our property ready for market, the team at Marsdens were always helpful and gave us their experience and guidance which we followed. They are a great team and are very easy to work with. And above all, they understand that we want Hillside to be special and are interested in what we are trying to achieve."
Owner
Black Patch in Mid Wales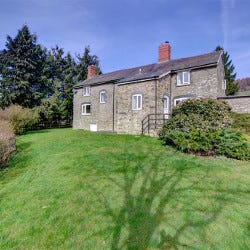 "Wales Cottage Holidays have managed the letting of our property for over ten years now. They have relieved us of the time consuming tasks of advertising and negotiating with potential visitors, they have dealt well with the very few difficult visitors and they have invariably responded quickly and efficiently to our queries whether by email or by phone. They have just made our life as property owners so much easier - and in a professional, very friendly and approachable way. They even came to take photos of our property which were much better than the ones that we had organised."
Owner
Flat 5 Broadleys in Swanage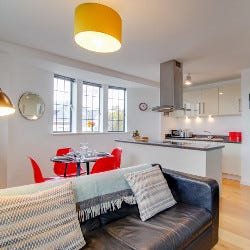 "We moved our agency to Wyke 3 years ago because of their good local reputation, and they've never disappointed. Always courteous and welcoming when we visit them in their quaint Swanage office, they are also helpful and prompt in replying to emails. Behind the scenes and with their local knowledge, if they can't sort out a problem they know someone who can. We aren't going to move our letting agency again."
Additional benefits for our homeowners
10% Original Cottages discount
Our homeowners enjoy a 10% discount off their own holidays.
With over 5,500 Original Cottages properties to choose from, you too could enjoy exploring the UK for less. 
Exclusive discounts from our partners
We love loyal customers. To say thank you for choosing us, we've teamed up with a range of local and national companies to ensure that you are rewarded with some seriously great offers and discounts.
How to join our family
If you're interested in letting with us our knowledgeable and friendly team members are on hand to advise and support you through the simple 3-step process.
2
Arrange to meet
We would love to visit your property, or arrange a video meeting and tour (whichever is more appropriate) with no-obligation on you at all.
3
Join our family & receive bookings
We arrange your property setup and once live we launch our marketing activity to secure bookings and generate you income.