For the best beaches
Down here in South Devon, there is a new beach around every turn just waiting to be explored. From sun-kissed sandy bays, perfect for sandcastles and ice creams, to rocky smuggler's coves hidden between dramatic cliffs, there really is something for everyone. Here are some of the beaches I hope my daughter has many happy memories of when she grows up.
Golden sands
Bantham is host to a lovely, sandy South Devon beach. It's got big waves for aspiring surfers, more sheltered sections that allow families to play, paddle and swim in safety, rocks to climb and rockpool amongst, and lovely dunes to explore. It is an award-winning beach, regularly listed as amongst the best in Europe and is a perfect base on those long summer's days. Load up the car with beach towels, the windbreak and plenty of suncream – you won't want to leave once you arrive!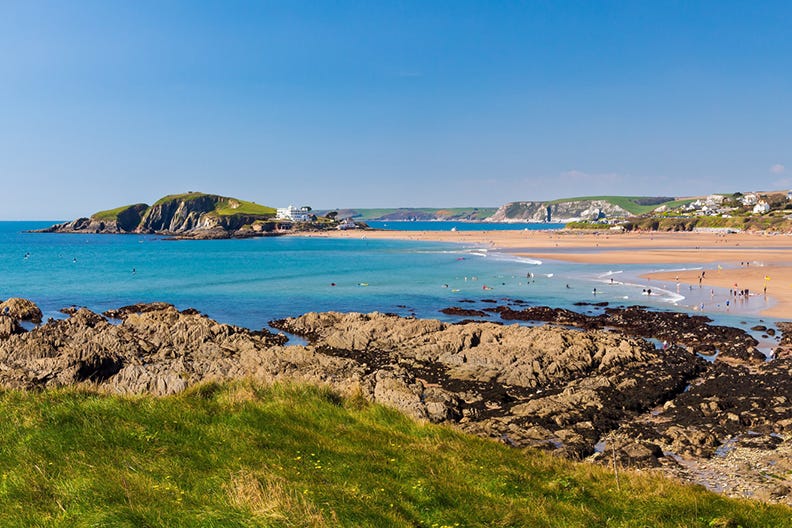 Around the corner, on the River Avon estuary side, is a fantastic beach where dogs can run all year round and sheltered rocky coves which make a great 'all day' base for the family to picnic and relax between games of beach cricket. For the more adventurous, it also makes a great launching point for stand-up paddleboards heading off to the nearby beaches of Bigbury and Burgh Island. You can hire paddleboards and surfboards from the beach and locals regularly take part in beach cleans.
As well as a superb local pub, The Sloop, Bantham is also the home of the amazing and award-winning Gastrobus, which provides top-notch beach food from gourmet burgers to loaded pizzas, freshly baked bread and sumptuous ice creams. Early risers can grab a bacon sandwich and freshly roasted coffee and you can even get your Devon Cream Tea fix right from the bus just off the dunes.
"Bantham Beach is a great location for those wanting a little more space right now. The car parks offer contactless payment and there is always bags of space to keep your distance."

- Keith
A historic shoreline
Today, Slapton's shoreline is a shingle and pebble beach that's family-friendly with calm waters and plenty of space to relax. The beach is perfect all year round – in summer it is tranquil and great for swimming, whilst in winter the waves crash on the shingle shore making for bracing walks. But, for those interested in history, there's a hidden story to this beach that's not at all obvious today, as children play in the surf and parents sunbathe in peace.
The small village of Slapton was completely requisitioned as an Allied Forces base during the Second World War. All the residents were evacuated and the wide shingle beach was used for extensive preparations and rehearsals for the invasion of Normandy on D-Day. It was during one of these rehearsals that a lone German U-Boat stumbled upon Allied boats and landing craft. The attack caused a great number of Allied forces to lose their lives, an incident that was hidden from the public for many years. There is a recovered American Tiger Tank in the car park at the end of the beach that is a memorial to those who died in the incident.
An adventurous cove
You're spoilt for choice at Hope Cove, with two beaches that occupy Outer Hope to the North and Inner Hope to the South. Both offer lovely views of the bay – whether it's from the sandy beaches with an ice cream or by paddleboard. Stay at Smugglers View, and the Hope and Anchor pub or the Cove café are the most obvious places to stop for a bite to eat and, if you're lucky, nab a table outside. There are also a few smaller eateries where you can enjoy lunch and afternoon tea.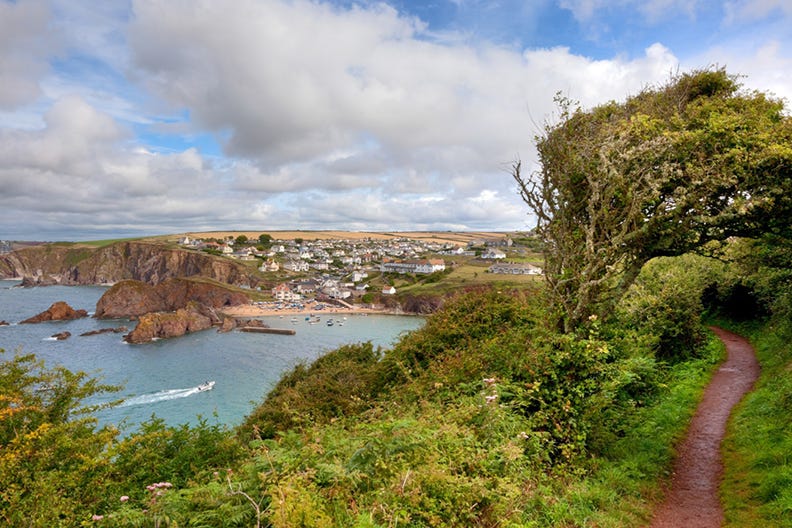 Walk a little bit further and you can pick up a trail that takes you up to the headland for stunning views of the coastline and a 'quiet' that only nature can provide.
Further north along the coastline, you'll find Thurlestone. Also with two beaches, this little village is frequented by surfers, rockpoolers, and golfers enjoying time on the course. It's also famous for its iconic rock formation, Thurlestone Rock, an exciting challenge for wild swimmers.
Continue the journey
Let us take you on a journey to South Devon from the comfort of your sofa! We're bringing the best of England and Wales to you – so read on and experience Keith from Blueriver Cottages' favourite places to go and some hidden gems, too. We've got plenty of nearby properties, and can't wait to welcome you...