For four-legged friends
Whenever I go somewhere new on holiday, one of the first things I do is start looking up all the local dog walks and dog-friendly places to explore. Once I've got that sorted, I can think about the activities us humans will enjoy – which just goes to show how important our four-legged friends are to us! To save you the trouble, here are my picks of the walks in South Devon you won't want to miss.
Walks beside the sea
Everyone knows (and loves!) the South West Coast Path. Much of its 630 miles runs along the South Devon coast and our isolated beaches, ancient geology and incredible wildlife. Sitting to look down on the grey seals at Peartree Point is a real treat.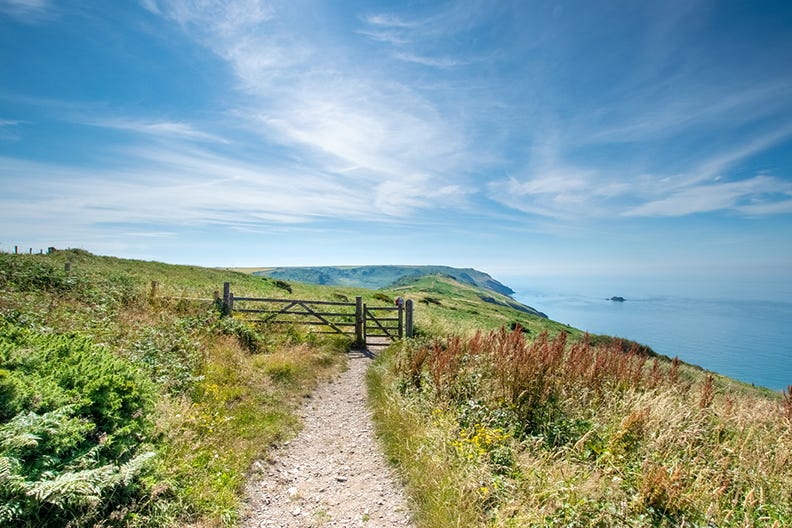 My visiting family or friends always love heading to Start Point lighthouse. The views over Start Bay are incredible. The circular walk heads west on the path to Great Mattiscombe Sand and, if it's warm enough, you should definitely remember to bring your swimsuits for a dip in the turquoise waters.
In summer you will be glad of a large water bottle and your binoculars, and the rest of the year some wellies are likely to come in handy! And, if your dog is anything like mine, an old towel waiting in the car!
Countryside charm
If you are looking for rolling countryside and not such a stiff sea breeze, then the walks slightly more inland also provide some real jewels. Loddiswell and Woodleigh, deep in the South Hams, provide amazing walks across stunning countryside. There are well-marked tracks and trails for all age ranges and levels of mobility. For me, this is walking and doggie heaven. Skylarks chirrup above you in cloudless skies, the trees provide dappled shade and the gentle sounds of the gin-clear water running along the Avon Valley is simple serenity.
Head for Watkins Wood at Woodleigh, which is managed by The Woodland Trust, or to Loddiswell where you can walk along an old railway line that runs north from the village. And, if you happen to build up an appetite, there's the excellent Avon Mill Garden Centre along the way that has excellent coffee and food. If you've brought the bikes, there are also some great mountain biking trails in the area.
A coastal castle
This is another wonderful walk that has everything – woods, views, coast and fascinating history. Start in Dartmouth town, near the Royal Avenue Gardens (perfect if you're staying at The Studio @ Cobalt). After you've explored its lawns, fountain and flowers, start walking south and pass Bayard's Cove Fort, a Tudor relic that has protected the town quay for centuries. As you keep walking, there are magnificent views out over the estuary.
You'll soon come to Dartmouth Castle and, just past it, Castle Cove – the perfect spot for a picnic and swim to cool off. In my opinion, there are few better ways to immerse yourself in sun, sea and history all in one lazy afternoon.
Continue the journey
Let us take you on a journey to South Devon from the comfort of your sofa! We're bringing the best of England and Wales to you – so read on and experience Keith from Blueriver Cottages' favourite places to go and some hidden gems, too. We've got plenty of nearby properties, and can't wait to welcome you...