Stunning seaside
Oh, we do like to be beside the sea. For paddling, swimming and splashing. For kicking back, lounging and snoozing. For ice cream, fish and chips and even a stick of rock if the mood takes us! You won't go wrong at any of Yorkshire's seaside resorts – but, if you're looking for a beach day that's not quite so well-known or a memorable walk down a brand-new pier, I think I can help!
My dog's favourite beach
About eight miles outside Whitby is the little village of Runswick – a favourite of my dog, Betsy! He loves running on Runswick Bay, where you can walk for miles along the coast. There are bomb shelters to explore and secret coves hidden amongst the rocks – and he loves playing in the water, too! Children will love it for the rock pooling and fossil hunting. It'll be all yours to discover if you stay at Puffin Lodge.
If you're interested in naval history, be sure to visit the RNLI lifeboat station which was in use until the late 1970s. There's also a tiny Methodist chapel that was built in 1829, and the ancient village spring behind the chapel is well worth a visit, too.
Since the lockdown, the community of Runswick Bay have been pulling together to help support each other – I do hope you'll give them your support, too!
A brand-new pier promenade
If you're after a refreshing stroll after your lunch of fish and chips, head for Whitby's iconic, Grade II Listed, East Pier. You follow the harbour walls out over the sea, and it's absolutely gorgeous in the height of summer. There are views back to the spectacular Whitby Abbey and St Mary's Church perched on the cliff edge overlooking the town.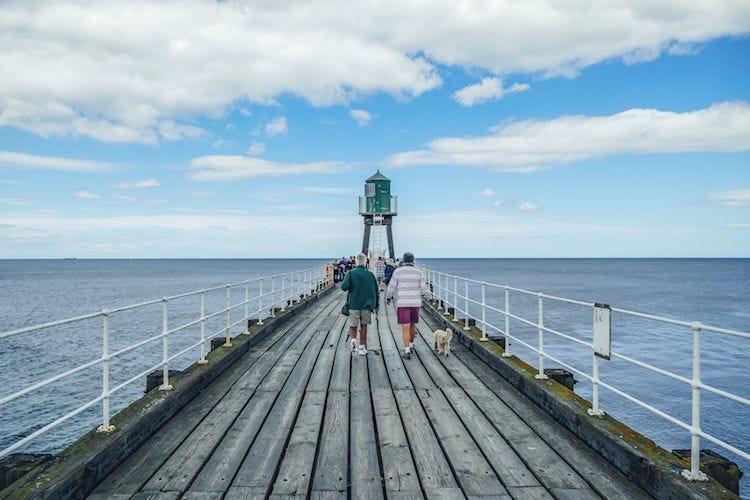 Cross the new footbridge, installed in 2020, to the very end of the pier extension for the panorama of the town, and you won't be disappointed. Take an ice cream, wander slowly, and marvel at the beauty on offer in our part of the world. It's a perfect way to while away an hour, especially if you're staying at The Gatehouse just across town. 
Visit a smuggler's cove
This is a bit of a secret beach, but well worth the effort to get off the beaten track. Make a visit and you'll be rewarded with a secluded bay and panoramic views along the coast to Filey and Scarborough, where you can stay at Seagull. Once upon a time, North Landing was a hub for the local fishing trade. Smugglers would heave their illicit goods onto the hidden bays, while fishing boats brought home their catches. 
The white chalk cliffs make for a distinctive vignette of the sea – sit on the sand facing out and all you'll see is the rocks and horizon. Seabirds like kittiwake and puffins visit the area, and there's plenty of marine wildlife in the rockpools – see who can spot a crab or a starfish first! It's so relaxing and one of my absolute favourites to share with visitors when they stay.
Continue the journey
Let us take you on a journey to Yorkshire from the comfort of your sofa! In these uncertain times, we're bringing the best of England and Wales to you – so read on and experience Sarah from Ingrid Flute's Yorkshire Holiday Cottages' favourite places to go and some hidden gems, too. We've got plenty of nearby properties, and can't wait to welcome you soon…