Heavenly heritage
Over the centuries, this corner of the country has played host to battling kings, political wrangling and changing landscapes. I've come up with a few must-visit sites that I think any lover of history deserves to see in their lifetime.
A fascinating fortress
In the pretty market town of Helmsley, with its traditional butchers, bakers and sweet shops, is the atmospheric Helmsley Castle. Come and learn how it evolved from a fortress to a mansion, and from a stronghold to a ruin, through its 900-year history. 
There's a fascinating story to discover on the guided audio tours and, afterwards, it's just a short stroll back into town, past Pinfold Cottage, for an ice cream or coffee.
Helmsley Castle is open from 1 August, but you'll need to book a timed ticket so everyone can be kept safe while here. 
Rejuvenate in the Valley Gardens
There are more mineral springs in the Valley Gardens, Harrogate, than anywhere else – at least 36! These Grade II Listed gardens have it all – formal gardens, pavilions, parks, tennis courts, and 17 acres of woodlands. They're a lovely place to wander and soak in the relaxed atmosphere, especially if you're staying at nearby The Barn at Mill View.
In the past, people came to Harrogate for the healing properties of those springs and the location of the park dates back to when it became a spa town. It was originally called the Valley Pleasure Grounds and, in more recent years, has become a firm favourite amongst locals for exercise and leisure – a much more scientific approach to staying healthy! 
Come and meet Count Dracula
With its striking silhouette and bats swooping at night, it was the inspiration for the most notorious vampire of page and screen. But even though Whitby Abbey's gothic splendour gave life to Bram Stoker's Count Dracula, this clifftop landmark is a lovely day out for all the family.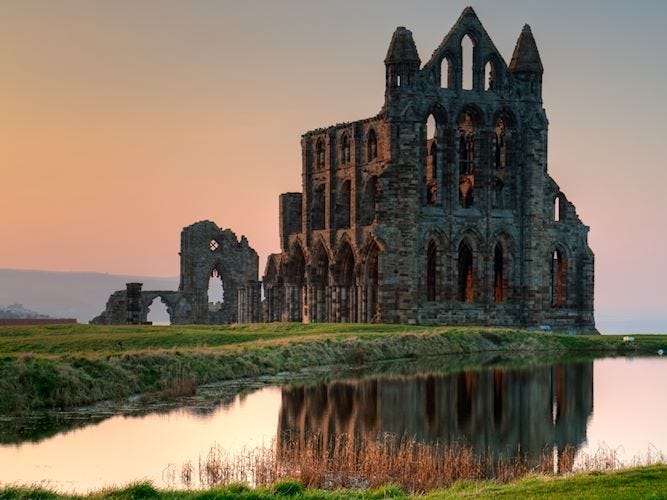 Hop over the river from The Old Surgery and climb the 199 steps to reach the ruins and gaze back over the beach, town and countryside. It's the perfect place to start exploring Whitby's heritage. After you've discovered the abbey's secrets, head back across the estuary to the lighthouse, cobbled streets and smugglers' inns.
You'll need to book a timed ticket to Whitby Abbey at the moment – but make sure you do, as it's an experience not to be missed!
Continue the journey
Let us take you on a journey to Yorkshire from the comfort of your sofa! In these uncertain times, we're bringing the best of England and Wales to you – so read on and experience Sarah from Ingrid Flute's Yorkshire Holiday Cottages' favourite places to go and some hidden gems, too. We've got plenty of nearby properties, and can't wait to welcome you soon…