Vibrant views
I've never been a great believer in the power of postcards or photos to do justice to Yorkshire's lush landscapes, sweeping vistas and stretching horizons. I can't put my finger on quite what it is that makes this place so special – but it feels alive! Explore these brilliant places, and I'm sure you'll understand!
Tumbling waterfalls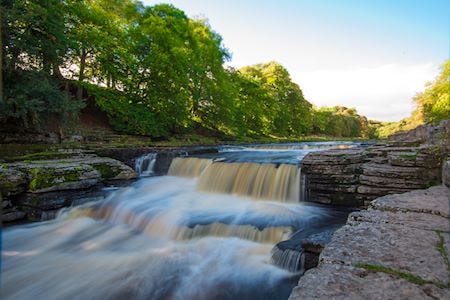 One of the most picturesque spots in all of Yorkshire, for my money at least, is Aysgarth Falls. It's a triple flight of waterfalls that tumble their way towards mid-Wensleydale. The sounds of the rushing water, the birds in the surrounding trees and the wind in the branches all make this a truly serene spot. 
The neighbouring Freeholders Wood is an ancient coppiced woodland where more than 120 species of flowers thrive and the floor is carpeted with bluebells come the springtime. There are easy walking trails laid out through the nature reserve. While you're in the area, don't miss a walk to see Yore Mill, a stunning local landmark.
Geological marvels
Park in the village of Malham and walk the Pennine Way, or make the steep drive up to the top of the hill, to reach Malham Tarn. This atmospheric lake lies high above the surrounding landscape and is enchanting in all weathers – both with sparkling light in the height of summer and a dusting of snow in the depths of winter. 
Nearby, Malham Cove is a natural limestone amphitheatre that boasts a lovely family-friendly walk. You get to the cove along a mile of track to reach the 250-foot-tall rockface. It's really something to see – words and pictures don't do it justice I'm afraid! To experience more of the scenery here, make sure you climb the steps to the west of the cove. The footpath above Sheriff Hill leads to an interesting and alternative route back to the village, past some ancient iron age settlements. 
The footpaths at Malham Cove can get quite busy at peak times, but there are plenty of less-walked trails and space to spread out up on the Tarn.
| | |
| --- | --- |
| Take a leisurely walk to Malham Cove | Witness the incredible landscape |
To see a different side of Yorkshire, you'll need to venture underground! Many of our caves are only suitable for those adventurers with plenty of experience and proper equipment – but many 'show caves' are perfectly safe for all the family. One of the best is Yordas Cave in Kingsdale. People have flocked here since the eighteenth century to marvel at the rock formations and natural caverns. It is the perfect place to visit if you are staying at South View Cottage.
Take a good torch and wellies, if the weather has been wet, because there may be some large puddles. I'd recommend looking up some of the local legends about this place before you go so you can spin some stories while you're there.
Continue the journey
Let us take you on a journey to Yorkshire from the comfort of your sofa! In these uncertain times, we're bringing the best of England and Wales to you – so read on and experience Sarah from Ingrid Flute's Yorkshire Holiday Cottages' favourite places to go and some hidden gems, too. We've got plenty of nearby properties, and can't wait to welcome you soon…