Fantastic food
You might notice a theme in my top recommendations for Dorset's delicious food and drink. I've got something of a sweet tooth, so it's all about the puddings for me. So, when you're able to visit us down here in Dorset, here are the places I always make time for.  
Do you love cake?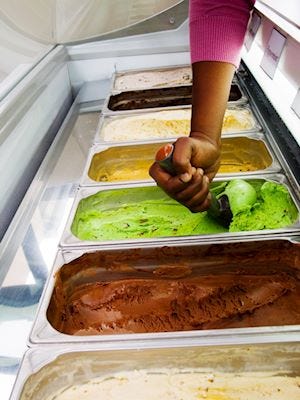 Just a stone's throw from the Swanage seafront and Belvedere Lodge in town, there is an amazing café called Love Cake – and who doesn't love cake? Last time me and my son visited, I had the most amazing lemon and elderflower polenta cake. Another favourite is the chocolate cake, which comes with the lightest, yummiest icing. The café itself has a really homely, rustic feel and, if you're in a rush to get on the beach, you can always take away and enjoy it with the waves lapping your toes.
The team at the café pride themselves on good quality ingredients sourced from the local area and there are plenty of delicious savoury options on the menu too. 
Tongue-twisting ice cream
Their name sounds a little like gibberish and, after scoffing one of Baboo Gelato's amazing ice creams, sorbets or gelatos, you'll probably be speaking gobbledegook too! Made to an artisanal recipe by Annie, a graduate of Gelato University in Bologna, Italy, the award-winning brand is taking the south-west by storm. They only produce small batches from scratch using local and seasonal ingredients, when they are at their very best. The raspberry flavour is out of this world – a true taste of summer!
There are kiosks in West Bay by the George pub and on Marine Parade in Lyme Regis. You can also buy their ice cream in tubs from farm shops, such as Millers, Felicity's, Washingpool and North Perrot Fruit Farm. And, if you've brought the dog along on holiday, you can buy them their very own Doggy Doggy Yum Yum, a frozen coconut yoghurt specially formulated for dogs.  
The true market experience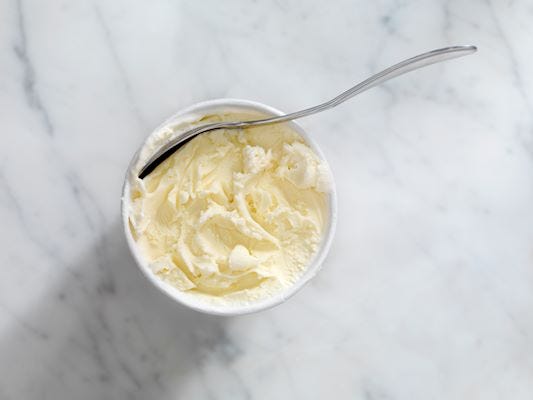 Close your eyes, and I'll show you around Bridport Market right here and now. We're here on a fresh Saturday morning, when the sea air is cool and crisp. There's a gentle hubbub as people saunter from stall to stall. Shall we start at Mercato Italiano, for a block of Gorgonzola to have with a glass of red wine later? Then we could wander to the WI stall – I'll save you some time by recommending you just go ahead and pick the lemon drizzle cake.
Next, Manor Farm. Sausages. Buy more than you think, because these will go down a treat and everyone will be begging for seconds. For fruit and veg, it has to be Washingpool – there might be tomatoes one week, leeks the next, because it depends what's in season when you visit. Whatever time of year you come to Dorset, Bridport Market is the perfect place to get a true flavour of our county. Stay at West Mill, and it'll be just around the corner.
There's also a dedicated farmer's market on the second Saturday of the month. If you've still got any room, I'll see you there!
Continue the journey
Let us take you on a journey to Dorset from the comfort of your sofa! In these uncertain times, we're bringing the best of England and Wales to you – so read on and experience Anne-Marie from Wyke Dorset Cottages' favourite places to go and some hidden gems, too. We've got plenty of nearby properties, and can't wait to welcome you back soon…