Natural wonders
Down here on the south coast, nature is alive. From the birds stopping off on our shores during their migration to bugs and minibeasts that make this a living landscape. The flowers, the trees, the habitats that have flourished under the Dorset sun and will remain here for generations to come. Come and find your peaceful retreat amongst the nature of Dorset. 
True blue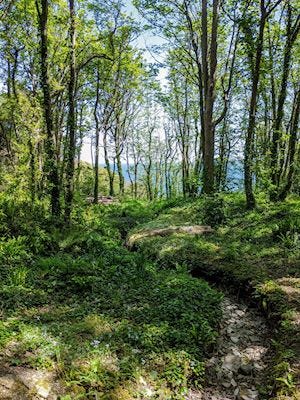 Escape into the woods and walk around a dazzling turquoise pool famous for its glittering colours. It's like visiting another world, and certainly not what you'd expect to find in the quaint English countryside of Dorset! This magical place is incredibly scenic and you'll be reaching for the camera over and over to try and capture its uncanny beauty. The kids will love searching for Fairy Doors, as well as the Wareham Bears, a collection of 200 miniatures. After you've finished your walk, head to the vintage tea house and enjoy a delicious cream tea.
The nature here only serves to make Blue Pool feel even more special. Grey squirrels roam, sika deer wander into view through gaps in the trees and robins sing from branches. The rare Dartford warbler has been spotted and, after dusk, nightjars churr during the summer months. There are dragonflies to chase after, woodland butterflies like peacock and red admiral and scarce flowers like Dorset heath and marsh gentian.
An island paradise
Come and meet the red squirrels on Brownsea Island, the National Trust's fabulous island near Poole and Bournemouth. Scampering about in the branches of the woodland canopy, the best time for spotters is first thing in the morning or late afternoon. There are also gorgeous lily ponds to spot frogs and dragonflies, acres of heathland carefully managed for wildlife, reedbeds and carr for water voles and kingfishers, and the sheltered lagoon where terns and gulls go fishing. You'll need to catch the ferry over to the island, which departs regularly from the mainland. Just remember not to get too carried away and miss the return journey!
The beauty of the night sky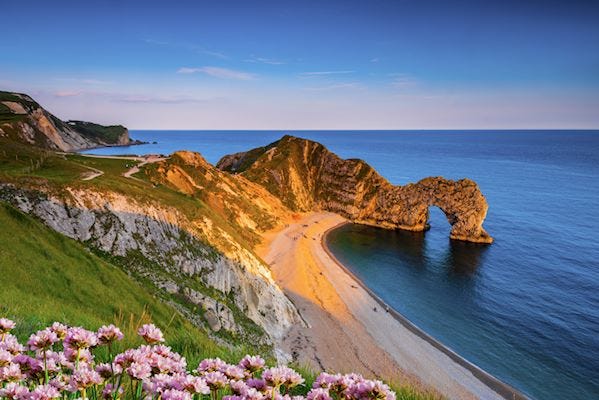 This area of outstanding natural beauty (AONB) has been designated a dark sky reserve – meaning it's just as beautiful after the sun goes down! The entirety of Cranborne Chase is perfect for stargazers looking for a clear view of shooting stars, meteor showers and the Milky Way. When the sun comes back up, you'll be treated to stunning views of an expectedly big landscape, with rolling pastures, hills and woodland making this an area you'll want to keep coming back to forever. 
My tip is to visit the village of Cranborne and take a relaxed walk up to Boveridge and Cranborne Farm. You'll pass grassy footpaths and quiet lanes decorated with wild poppies in the summer and snowdrops in winter. I love it here so much!
Continue the journey
Let us take you on a journey to Dorset from the comfort of your sofa! In these uncertain times, we're bringing the best of England and Wales to you – so read on and experience Anne-Marie from Wyke Dorset Cottages' favourite places to go and some hidden gems, too. We've got plenty of nearby properties, and can't wait to welcome you back soon…