How to eat well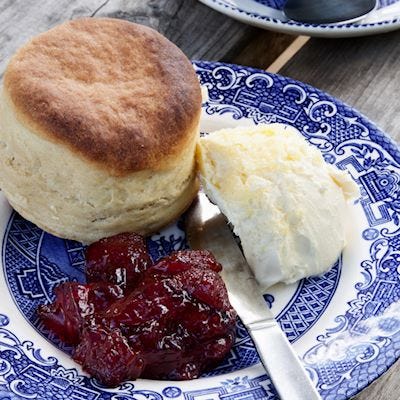 What is the true flavour of North Devon? You could start with a traditional cream tea – bright, summery strawberry jam and indulgent Devonshire cream. Or choose the range of fresh fish and shellfish hauled out by hard-working fishermen on our beaches and harbours. And how about the exciting chefs and food producers experimenting with new dishes based on our quality local produce? Let's be honest – there's no need to choose! Let's go explore some of my favourites and delight in everything on offer down here in North Devon.
Bee amazed
A visit to Quince Honey Farm is a feast for all the senses. Look around the Nectar Gardens, packed full with insect-friendly scented plants. The gentle noise of 60,000 bees buzzing their way through the flowers is magical. And enjoy a delicious honey cream tea with floor-to-ceiling windows that look out over the farm.
For anyone who's ever been fascinated by beekeeping, loves the taste of honey or simply enjoys a fun-packed day out, this is the place for you. If you're staying at nearby Barton Barn, consider it unmissable.
Kids will love Quince Honey Farm, where they can try candle rolling, critter encounters, junior beekeeper experiences and honey tasting. Do check which activities are running before you travel. 
Straight from South Asia
A picturesque, sandy cove on the outskirts of a seaside village (just a little further than Harrold Lodge). A stunning sunset view and a plateful of delicious Sri Lankan curry? It might sound unusual, but the Barricane Beach Café is a bonafide hit! 
By day, the café rustles up baguettes, wraps, jacket potatoes, cakes and coffees. But, come the evening, it's transformed into a Sri Lankan beach shack serving authentic homemade South Asian curry. The choice is simple – a vegetarian or meat-based curry with a lentil dhal dish, vegetable curry, rice and poppadums. The friendly staff will even lend you plastic cups to pour your wine into. 
My only other tip is to check the tide times when you arrive – otherwise you might get chased up the beach by the rising waves. 
Barricane Beach Café serves amazing Sri Lankan curries when the weather is dry. Visit them on social media to make sure they will be open during your visit.
Fisherman's favourites
Clovelly is a village suspended in time. This fishing community, nestled on the cliffs around the bay from Williams Cottage, has been painstakingly preserved. Today, you can explore the cobbled lanes and tiny cottages which lead down to the harbour and The Red Lion. 
When you get to the pub, you absolutely have to stop for the famous Clovelly lobsters. The fish are brought in from the harbour, just a few feet away. Vegetables and game, meanwhile, come down the hill (perhaps on the backs of the resident donkeys?) from the Clovelly Estate. Dinner is served with great atmosphere and possibly tales of the sailor from the novel Westward Ho! who was born in this village…
As always, you'll need to buy a ticket to visit Clovelly. It's open as usual following the lockdown, but their website has all the latest information.
Continue the journey
Let us take you on a journey to North Devon from the comfort of your sofa! In these uncertain times, we're bringing the best of England and Wales to you – so read on and experience Oliver from Marsdens Devon Cottages' favourite places to go and some hidden gems, too. We've got plenty of nearby properties, and can't wait to welcome you back soon…