Secret swim spots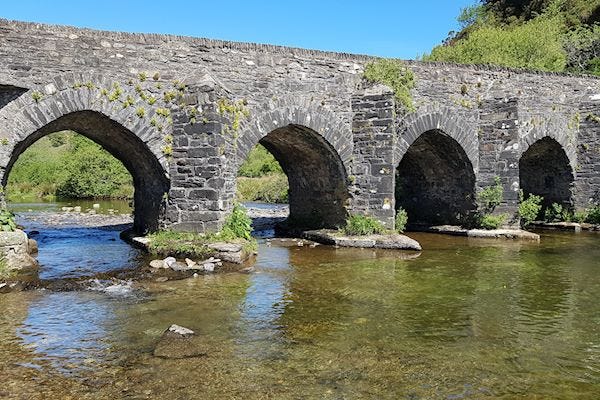 Shh! I don't share my favourite wild swimming spots with just anyone, you know. Here in North Devon, you can swim on loads of our award-winning beaches. But I love heading out with the family to these lesser-known gems – riverbanks and secret coves where, as you slip into the water, you'll feel like you're in another world.
My top swimming spot
A family favourite of ours that is very much off the beaten track is Landacre Bridge. Discover a medieval stone bridge in the heart of Exmoor which spans the River Barle. It's an idyllic location for some wild swimming with the family. Be brave – the water might seem chilly when you first get in but this sheltered spot is usually warm when you get used to it. The water is nice and shallow, making it perfect for smaller children.
Bring a picnic to enjoy on the riverbanks afterwards, with views over the clear waters of the river in front of you and the Exmoor hills behind. This truly is a hidden gem. On hot days, it's worth arriving early or late, or you might need to park a 10-minute walk away at the car park.
Get into hot water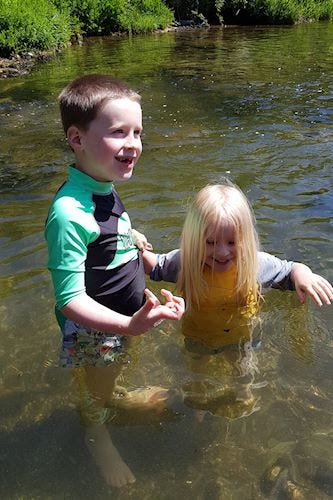 Woody Bay might be very much 'off the beaten track', but that only makes it more of a hidden gem. Drive to the north coast of Exmoor and make the steep climb down through the woods to the gravelly sand and clear blue waters. The beach is small, especially at high tide, but perfectly formed. It's very peaceful and there's lots on offer. A waterfall cascades down the cliffs to one side and, on the other, there is a harbour wall. 
There's a small, deep tidal swimming pool – on warm days, the sun heats the water to Mediterranean temperatures! It's been named as one of the best wild swimming spots in the whole UK. If you love wild swimming, it's one not to be missed.
White sands, blue sea
OK, so this one isn't much of a secret. But it's such a lovely place, I couldn't help but mention it. Putsborough boasts a beautiful white sandy beach that, during the summer months, becomes extremely popular with holidaymakers looking to have some fun in the sun. Even on a busy day, there's plenty of space for everyone to enjoy beach games and it's often much quieter than nearby Woolacombe.
The beach is accessible by car from Croyde or through neighbouring village Georgeham, and there's a spacious car park making this an effortless place to enjoy a brilliant seaside day. Stay at The Anchorage and it'll be your local spot – lucky you!
Continue the journey
Let us take you on a journey to North Devon from the comfort of your sofa! In these uncertain times, we're bringing the best of England and Wales to you – so read on and experience Oliver from Marsdens Devon Cottages' favourite places to go and some hidden gems, too. We've got plenty of nearby properties, and can't wait to welcome you back soon…