An October stay in Suffolk
We set off for our autumn hols on Friday 5th October, me (Ruth), my wife and uncle. The date was carefully chosen as after the end of September you can walk your dogs on most of the beaches in Suffolk and our lovely lurcher, Poppy, is the most important part of our family!  
We travel from Reading, along the dreaded M25, but traffic is kind and we arrive slightly early at Sunnyside Cottage, overlooking the village green in Westleton.  We've stayed here before and found it really homely and comfortable, with an interesting (if rather steep) garden.  There is a great walk almost next door to the cottage over the fields which Poppy loves, so that is the first thing we do.  The weather is amazing for mid-October and due to be fair all week, fingers crossed.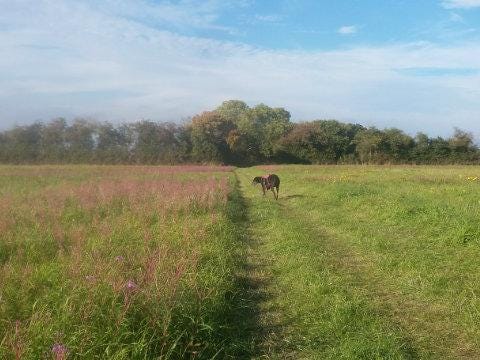 We have relatives in Saxmundham so pop by to say 'Hi' them on Saturday, taking the opportunity to nip into Waitrose to get stocked up on the essentials for a good holiday (mostly wine!) but we don't buy too much food as eating out is a big part of our hols as is buying local produce from the lovely shops in Suffolk.

Sunday we head to Southwold to our favourite eatery, The Boardwalk on the Pier, for some lunch.  Tarragon chicken, a gourmet burger and pumpkin soup fills us up nicely and we head along the beach for a stroll with Poppy.  We nip into Mills and Sons butchers for a big joint of belly pork to feed the relatives who are coming for lunch on Tuesday.  Their meat is amazing quality and we always make a point of buying some when we visit.  Southwold is full of Dachshunds today… an organised 'sausage walk' we understand. Mustn't forget to mention Harris and James chocolate, coffee and gelato shop in Southwold (and now, to my enormous delight, also in Aldeburgh!) – mind blowing gelato in huge amount of unusual, delicious flavours; it would be rude not to!

Monday, nipped back to Southwold for walk with Poppy and late breakfast at Suzie's beach cafe on the beachfront in the sunshine.  In the afternoon the weather changed so we head to Snape Maltings for a browse; buy some things for the garden and funny birthday cards and marvel at the Christmas stock (in October!?). Ducked into the Plough and Sail for a quick glass of Merlot (diet coke for me – driving).  Lovely open fire which was perfect in the drizzle.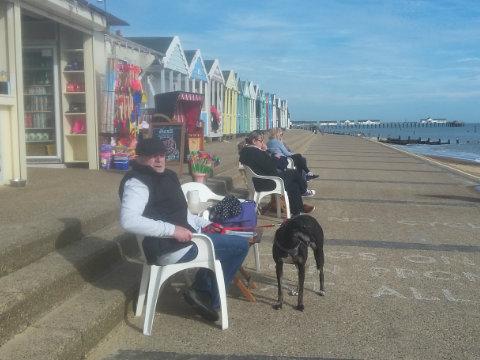 The kitchen in Sunnyside Cottage was our main base for Tuesday. Well equipped with a large dining table, it was perfect for our family lunch of roast belly pork and crackling from Mills and Sons, followed by blackberry and apple crumble with the blackberries picked from the hedgerows on our walks around Westleton with Poppy.  Luckily there is also a bottle bank in Westleton!

On returning from our field walk we had a visit from a peacock, waiting on the wall of Sunnyside Cottage.  We have seen them before in the village but not up this close.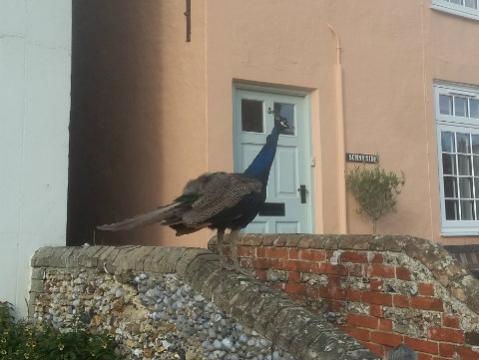 A further visit to Suzie's for bacon butties whilst walking Poppy started our sunny Wednesday; so hot that someone got a little sunburnt!  In the afternoon we headed to the National Trust Coastguard tearooms near Dunwich for scones and flapjacks and a stroll back to Westleton through Minsmere nature reserve.

Wednesday evening we could hear the rain pouring as wet and windy weather arrived in Suffolk.  But the sun had returned by morning and an exhilarating walk in Southwold on Thursday morning saw big seas and a surfer near the Pier.  Fabulous, unbeatable fish and chips for lunch in Aldeburgh at the Upper Deck (above the Golden Galleon), followed by more Harris and James ice creams (melon sorbet for me this time) as we pottered around the shops and seafront.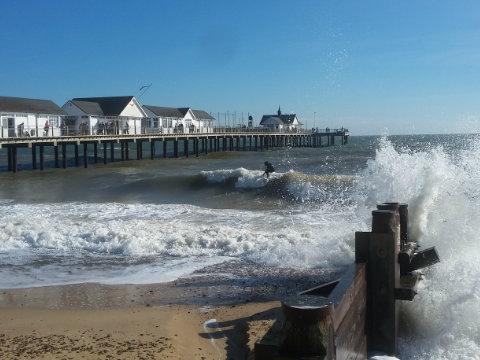 Friday morning… cooler, grey skies, but we were heading home, so we cared not and counted our blessings that we had had such a lovely holiday.  Westleton is one of our favourite places in Suffolk and we have visited here on and off for 20 years.  We didn't manage to fit in a visit to The Crown and the Snug tea rooms were closed for the week we were here, but there's always next time!