Nature of the Lake District National Park
Colourful creatures
Although our corner of the country is best known for geology and natural history, there's so much life here too. From protected nature reserves to special species popping up by well-worn paths and routes – it's a haven for those who love the outdoors, both on two legs and four! I'd be delighted to show you around a few must-sees on our virtual journey. 
Flashes of red
Red squirrels are one of the UK's best-loved species and, thanks to careful conservation and habitat management, numbers appear to be on the rise. Autumn is an ideal time for sightings as they are gathering supplies for winter and there are fewer leaves on the trees.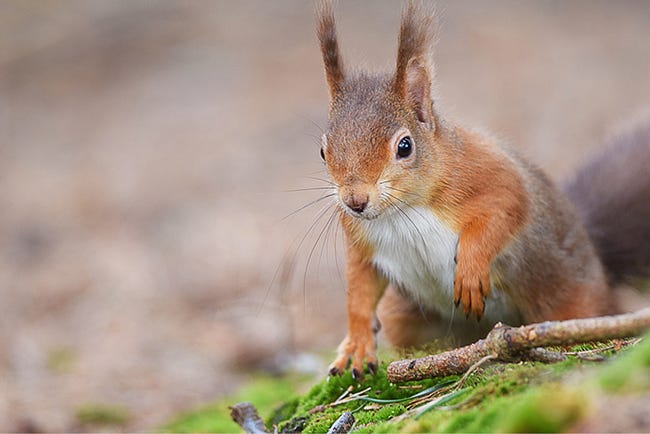 With a little patience, you can experience a heart-warming encounter with Beatrix Potter's Squirrel Nutkin whilst out and about in the Autumnal Lake District countryside. 
Head over to Allan Bank, a National Trust site, where there are squirrel viewpoints and feeders to tempt the little critters with nuts and seeds that supplement their natural diet. While you're here, take a look around the garden and enjoy the stunning view. There are rainy day activities too – treat the kids to some time in the art room or spread out on the floor with a board game.
Carpets of blue
Let me take you to Dorothy Farrer's Wood, a secluded bluebell woods off the beaten track. This hidden gem is a hillside copse in the village of Staveley (close to The Sheep Pen), a lovely little village in close proximity to Windermere, with great access to the Lakes. The woodland is managed by Cumbria Wildlife Trust and is a fragrant mix of bluebells and wild garlic, early-season orchids and the scarcer herb-paris (nicknamed 'true lover's knot'). In days gone by, it was used for coppicing associated with the bobbin and charcoal industries. There are still remains of charcoal kilns at sites around the woodland.
Birdwatchers will appreciate the nature reserve in spring and early summer. You might expect to see (and more often hear!) pied and spotted flycatcher, redstart, willow warbler, blackcap, great spotted woodpecker, nuthatch, treecreeper and buzzard. 
Fields of gold
In the Rusland Valley, between Windermere and Coniston, lies a privately-owned gem of a nature reserve and a very special place indeed. Hay Bridge Nature Reserve is probably one of the most diverse for miles around, thanks to riverbanks, bogs, woods and grasslands alongside tarns and fell. That translates into a huge variety of wildlife to discover on your visit. 
Stay a while, and keep quiet, and you might see red deer, badgers, otters, hares, snakes or slow worms. As evening draws in, the bats come out and dance above the water hunting bugs and insects. Hay Bridge is also home to kingfishers, whose vibrant blue feathers are always a joy to watch as they dart along the water.
Whether you're a butterfly hunter, a dragonfly chaser, a flower finder or a minibeast spotter – or you simply appreciate serene scenery – there's sure to be something to entrance you.
Fleeces of grey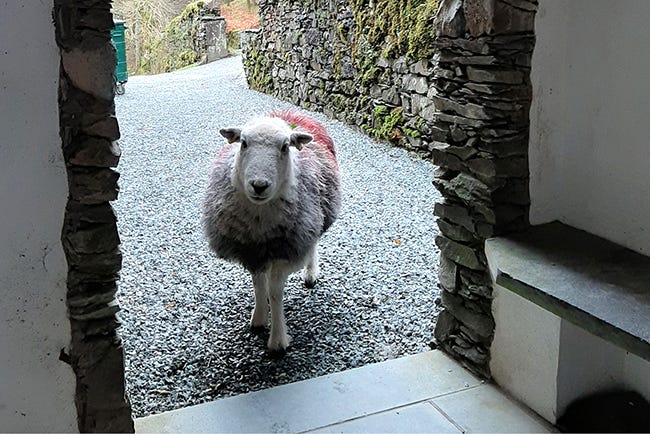 Although they're not living wild it's impossible to not mention the Herdwick sheep when talking about the Lake District. With fell grazing rights and farms-a-plenty you're never far from a flock of Herdys when you're in the Lakes. The lambs are jet black when they're born and as they get older their fleeces turn grey. Alongside this unique characteristic their cute teddy-like faces make them popular with visitors and locals alike, which is lucky really as they often roam free and visit our holiday cottages!
Continue the journey
Let us take you on a journey to the Lake District from the comfort of your sofa! We're bringing the best of England and Wales to you – so read on and experience Natalie from Good Life Lake District Cottages' favourite places to go and some hidden gems, too. We've got plenty of nearby properties, and can't wait to welcome you back soon…