Holiday to Wells by Rachel Farnsworth
It was a summer of beautiful sunshine and it was finally our turn to go on holiday. This year it wasn't just me, my husband and the kids (14 and 11 years), it was also my parents, sister, brother in law and their 2 children (aged 3 and 8 years).  We had opted to stay in the village of Wighton, 3 miles from Wells next the Sea on a working farm. Our accommodation was adjoining lodges called Sunnyside and Sunrise. It was everyone's first visit to Wells and we couldn't wait!
I packed mainly summer clothes despite the forecast suggesting a drop in temperature and maybe some rain…I found this unlikely after weeks of sunshine.  It took us 3 hours travel time on a bank holiday weekend, arriving in Wells at 4.30pm. My parents had arrived slightly earlier than the check in time of 4pm but owner Jonathan had greeted them warmly and showed them around the lodges advising if we had any problems to let him know. There was complimentary local tea/coffee.
First impressions of the lodges as we pulled into the farm was of how pretty they looked facing onto their own lawned area with wooden chairs, tables and benches. There was plenty of car parking in front of the lodges and we realised later in the week this was because the owner was active in ensuring his cycle hire customers did not use these spaces. 

As always when my family arrive on holiday the first thought is food and so we quickly unpacked into the pine wardrobes and chests of drawers so we could identify the nearest supermarket and then get some dinner. The local Co-op was on the way into Wells and one of their employees had recommended French's Fish Shop in Wells town centre – he advised we would see it easily because the queue would be outside of the shop. He was right, the fish (kids had sausage) and chips were excellent and a very reasonable £17 for four of us.
Day 1 – We awoke refreshed and ready to begin our holiday. After seeing Wells briefly the day before whilst collecting our fish and chips it was time to explore properly. We parked in the harbour car park (£4.50 for the day) and headed down to Wells beach (about a mile), the beach has beautiful sand and streams of water ideal for paddling and hiring the kayaks/canoes. There were delightful coloured beach huts along the top of the beach of which many were amazingly decorated inside. There is also a beach café, toilets and even a dog washing station! There were signs for dogs to use the beach further up. 
We returned to the quayside in Wells after our walk and started the essential business of crabbing, we were impressed to see the town was offering reusable crabbing buckets for a reasonable £6, £5 of this is refundable on return of the bucket and crab line. We all enjoyed this pastime and got some great photographs.

Wells is quaint and picturesque. There is interesting historical parts to the town including the large granary used to store grain in early 1900s for the busy harbour.  The weather forecast for tomorrow was raining and I had realised whilst unpacking the day before I had not remembered to bring my 11 year olds coat! It didn't take long to locate a cagoule. Back to the lodge for a chilli con carne cooked easily in the well equipped kitchen and served at the large farmhouse kitchen table. 
Day 2 – It was raining and we decided to do a National Trust property today. We left my sister and her family and headed out with my parents to Blickling Estate. In between the rain we managed a walk around the lake, a look around the house and RAF Oulton museum. Blickling's Long Gallery of books this year had inspired art themed installations and literary activities which kept us entertained.  We visited the Maize Maze in the afternoon which was a fun way to spend a couple of hours. 
Day 3 – We all went our separate ways today, with us visiting Holkham Hall and Beach. We paid and displayed for the day at the huge car park and headed to the beach with our kite. Despite the fierce wind blowing we persevered with the kite until it tangled into such a twisted mess we gave up. The kids were squealing with both pain and delight at the sand whipping their ankles.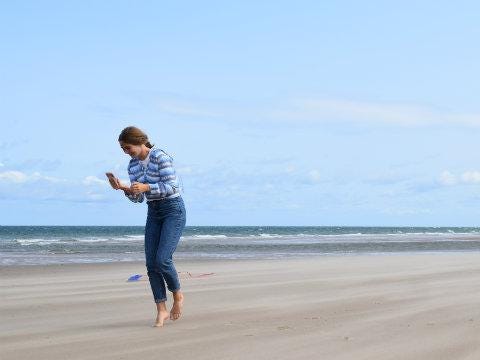 Eventually we sought refuge in the more sheltered areas of the beach paddling in the warm streams. This beach is absolutely stunning, an absolute must for anyone visiting the area. We visited Holkham Hall grounds for a couple of hours but didn't go into the house. The grounds are lovely, great for a picnic, ball games, cycling, boating and much more. We could easily have spent a whole day here but maybe another time. 
Day 4 – We all headed into Sheringham today. More beach time, it was not warm enough for swimsuits but the rolled up jeans and hoodies were fine. We parked at the top of Cliff Road by the crazy golf and had the beach to ourselves for a while. At lunchtime we walked into the main street which was buzzing with people. We found a large sea wall mural that resembled my late maternal grandma and father in law so much it was uncanny. Fish and chips for lunch and ice cream afterwards. We then spent £1 each on the 2p machines in the amusement arcade. Enjoyed a bit of shopping and my husband bought a replacement kite. A relaxing evening and sandwiches for tea back at the lodge.
Day 5 – this was the day I had been waiting for all week, something to tick off my bucket list! The kids were excited too! Beans Boat trip to Blakeney Point to see the seals. The not so good news it was absolutely pouring with rain, but we got our cagoules, wellies and climbed aboard. The rain slowed down to a near stop and we had an amazing boat trip. The weather was clearly great for seals! I cannot recommend this enough. It was certainly one of the highlights of the week.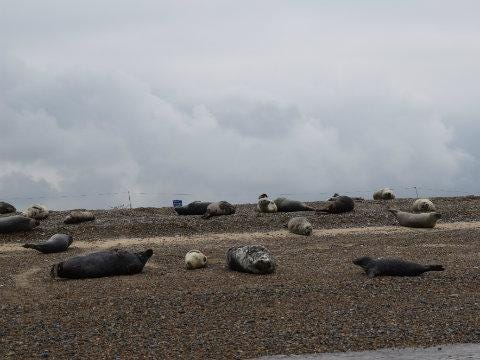 Finished our day with a meal at the Carpenters Arms in Wighton. Great food in a bistro style pub with a log fire and family games made a perfect finish to our day. 
Day 6 – the warmest day of the week and we still needed our hoodies and jeans! All of us went to the beach with our buckets, spades, new kite and wind break. The sand kept the kids digging for hours and they loved paddling and crabbing in the sea. A great way to end the week. A relax and home cooked tea back at the lodge. 

Day 7 - Time for us to go home.  I asked my mum what she thought were the special touches from the lodges and her answer "…well there were plenty of toilet rolls, good quality soft towels and plenty of blankets. It was very homely and the cushions were all lovely". I knew what my mum was saying the furniture/furnishings were good quality and comfortable. The small things like the airer, pegs and washing line made the week much easier from a family point of view.
Is there anything we could recommend to the owners for improvement? Wi-Fi was intermittent some days with the best signal (the boys found) inside the wardrobe of the second bedroom in Sunrise Lodge! It would also be useful to have a second shower in Sunnyside Lodge for 6 of us. Would either stop us going again? Definitely not! Norfolk coastline is beautiful and the accommodation was lovely.  
We all loved our week in Wells and hope to return again soon. Thank you!