Tilly's Cottage in Brighton by Adrian Blake
We arrived at Tilly's Cottage in Shoreham by Sea in September for a four night break. 'We' means us two senior citizens plus Skip, our small mixed terrier rescued dog. He had a bad start in life (being rescued from a puppy farm) but in the two years we've had him he's become a thriving four year old and enjoys his holidays with us as much as we enjoy them.
Tilly's Cottage looks attractive both inside and outside and was ideal for two people and Skip. A bonus for dog owners is that the garden at the back, although small, is totally enclosed and laid to grass. So Skip could be let out with no risk of him wandering off to investigate further afield.
The cottage has everything you need, modern appliances with an open plan kitchen and dining/lounge area with a dining table and large L-shaped settee which meant we could relax in comfort. A door opened into a decent sized double bedroom (very comfortable bed). The tv in the lounge has Sky and a DVD player. There is also wi fi access which worked perfectly (using the code supplied). 
There is parking for one car immediately outside the cottage, although we didn't use the car to go into Shoreham itself as it's only a 12-15 minute walk. 
The first evening we ate out at the Tap House, quite a smart looking wine bar/restaurant in the centre of the town. Service was friendly and efficient and they told us they were happy to let in well-behaved dogs. Skip promised to be well behaved and so we ate inside (in fine weather you can also eat at one of the outside tables under the awning). We also ate there a second time on a Friday evening but at weekends the Tap House caters for a younger crowd, so it was crowded and noisy with quite loud music (which less younger customers, like us, might find intrusive). But the same upmarket food prepared by a chef who obviously knows his stuff.
In the cottage there was an information folder, although we felt this could be improved as there were 16 recommendations for places to eat and drink and 12 recommendations for places to visit – but all of them in Brighton with no mention of Shoreham. However, we did our own exploring and soon discovered the wonderful Buckingham Park just round the corner from the cottage (literally two minutes' walk). The park is huge with football pitches, wooded areas, large areas of grass, a children's playground, an upmarket café with lovely food, and to top it all a free outdoor gym with weatherproof gym equipment. We had lunch twice in the café (again, you can take dogs in) and would recommend it. Service is friendly and helpful and the café seems to be run to support the local rugby club. The park is very well maintained and for dog owners there are numerous dog poo bins scattered around the park. Lots of dog owners and non dog owners use the park and there's a friendly atmosphere.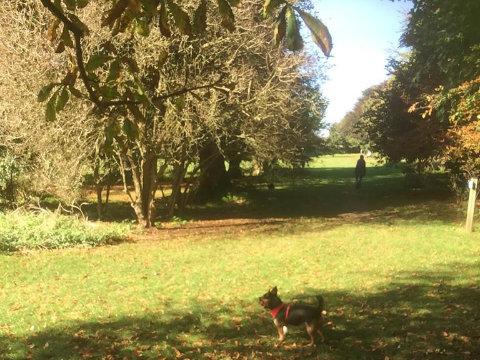 In the cottage there was a book of local walks and we did one of them (of four miles) which took us along the River Adur to Bramber (where you can have a look at the ruins of the castle just off the main street) and then back on the other side of the river. A very pleasant walk and nearly all flat so it was easy going. We also explored Shoreham itself and crossed the modern glass-sided footbridge which takes you over to Shoreham Beach where we did some relaxing walks along the shoreline and where you can let dogs off the lead.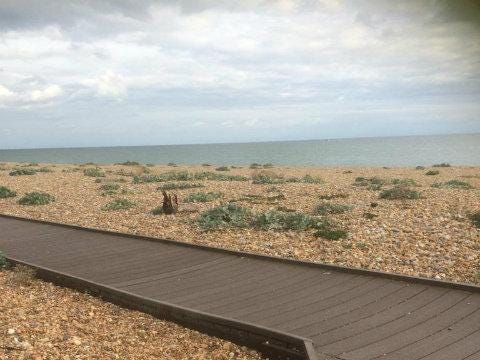 On another evening we were back at Bramber for dinner at the Castle Inn Hotel. Bramber is just a short drive from Shoreham. We had eaten there before when on holiday in this area last year and couldn't fault it. Would it be as good this time? Yes, it was. Friendly, helpful staff and upmarket food. The pub is quite smart inside and beautiful externally with numerous hanging baskets. Just inside the pub is a mini dining area where you can eat if you have a dog, but there is also a large stylish dining room for those minus a dog. The hotel has its own car park and there is also a free public car park immediately opposite.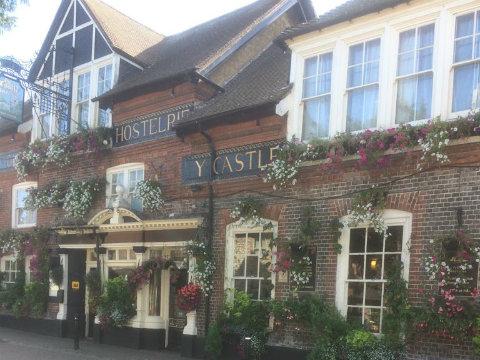 We also ate out at The Marlipins pub (yes, I know it sounds like we did nothing but eat but we also did a lot of walking). The Marlipins is in the main high street of Shoreham. It was fairly quiet for a Friday lunchtime but the food was good value. Not high end eating but decent enough and prices a shade below average. Service was friendly too.
All in all a very enjoyable break. Tilly's Cottage is well situated in a quiet location and within reasonable walking distance (for most people) of the town centre. So we give Tilly's Cottage full marks. As old style book reviewers used to say, we heartily recommend it.