Holiday to Suffolk by Liz Radley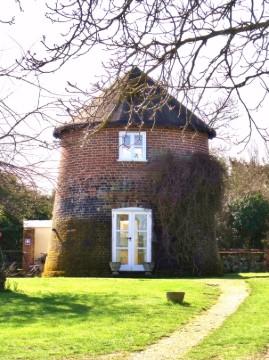 Birdsong, Sunshine and Silence
Turning down the narrow lane, we spotted the conical tower of Sampson's Mill peeping over the top of the hedges, as if it was smiling at us. Kevin came out to greet us and showed us around this most characterful of holiday cottages which would be our home for the week. 
As soon as we stepped into the sunny little kitchen, we felt welcome. The curving walls of the old mill surround you like a warm hug and there are lots of delightful features, from the inbuilt wardrobe by the comfortable bed, to the dog's paw-prints in the Italian tiled floor. Throughout our stay, we discovered the cottage held everything we could possibly need. Kevin and Lynn's generous welcome pack made life a little sweeter, too. Once you climb up to your bedroom, the views over fields and up to the church spire are utterly peaceful. There are windows in every side of the mill and, whenever the sun shines, the light comes flowing in. And when you look down into the garden, the chickens cluck back. 
It's not always wise to rely on the weather being kind to you in March, but we were lucky. We spent a day at RSPB Minsmere, using the 2 for 1 voucher kindly provided by Suffolk Secrets. It was glorious; the Mere was luminescent in the hazy sunshine and the reedbeds echoed to the sound of bitterns and buntings. There is a good café, and the wBBBSHYAalks are clearly marked and accessible to all. At the end of the day, we found ourselves lounging on the hilltop, on two huge carved oak tree trunks, looking down over the landscape as the evening drew in.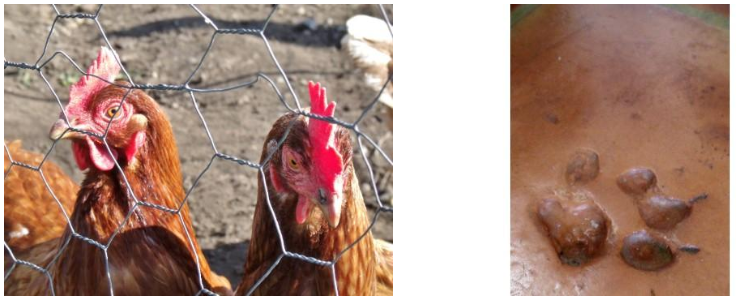 We didn't only drink in the wonderful natural surroundings in Suffolk, though. A day in Woodbridge is highly recommended. The lovely town is only minutes away from Sampson's Mill and is full of charming independent shops. Along the main shopping street, The Thoroughfare, we especially like Browsers Bookshop, which is exactly what a bookshop should be, with a huge variety of fascinating books and knowledgeable staff. The Cake Shop is a fabulous artisan baker's and the Woodbridge Deli has a tasty range of food. When it all gets too much, Honey+Harvey is a lovely café to rest your feet. Suffolk is filled with wonderful churches, too, and we had a day hunting some of them down. Using the Simon Jenkins book "England's Thousand Best Churches", we visited several. They are outstanding; both Blythburgh and Needham Market churches have ceilings which defy gravity, seemingly held up by angels, and Ufford church boasts a telescopic font cover eighteen feet high. In Dennington church, we found mediaeval carved bench ends with a unique portrait of a sciapod – a mythical one-legged creature, resting under the shadow of its own enormous foot. Not all the churches we visited were in the book and Huntingfield church roof, decorated by Mildred Holland, the wife of a Victorian minister, in glowing colour and gold leaf, is astounding. Framlingham church is filled with the tombs of historical figures, and an evening walk around the Mere which reflected the castle walls glowing in the setting sun is a sight to behold.

One day we spent in Wickham Market itself. There are a number of interesting places to browse through, including Inspirations gift shop and E W Revett and Son is the best butcher I have seen for some time. Their meat is top quality and local, but they also produce deliciously prepared meals which could have been designed and put together with holidaymakers in mind. Café 46, on the Market Square, offered good coffee and tasty home-made cakes to sustain us. There is an interesting Art Gallery too, East Anglian Traditional Art Centre, and we walked a couple of hundred yards to Old School Antiques, which showcases a variety of furniture and collectables at good prices. I was especially pleased to find a lovely blue and white fluted bowl, which makes a unique souvenir from our holiday. On a more mundane note, there is also a local post office and a well-stocked Co-op supermarket for those everyday requirements. 
One morning, I woke at about five o'clock. The sun was just beginning to climb over the horizon and the birds were gradually joining in with the dawn chorus to greet the daylight. The sound swelled and grew until it felt as if every bird in Suffolk was taking part: robins, thrushes, blackbirds and chaffinches. It was half an hour of pure delight, and when they had finished, I drifted off to sleep again, to wake, refreshed, several hours later, ready to explore this wonderful corner of the country. Pretty towns and villages, wild and haunting coastline, intriguing local shops and restaurants will all call us back again. I can't wait for another week in Sampson's Mill.
To discover more about Sampson's Mill, follow the link here...