Derbyshire Walks
Derbyshire and the Peak District's Finest Walks
The Peak District is abundant with walking trails, from gentle strolls along the rivers' edge to steep hikes up peaks, there is so much to explore here at a range of difficulties. We asked our local team in Derbyshire to recommend some of their favourite local walking routes, which we have curated into this handy guide for you! If any of these routes jump out to you, be sure to take a look at our holiday cottages across Derbyshire and the Peak District. 
Birchen Edge through Chatsworth
This 7-mile circular walk takes you through the iconic Chatsworth Estate. The trail starts from Robin Hood Inn and heads towards the monument dedicated to Nelson's victory at Trafalgar. Here, you will also spot the Three Ships, a series of stones resembling ships that have the names of Nelson's vessels carved into them. Once finished at Chatsworth, head back through Bunker's Hill Wood, which is a haven of wildlife and a beautiful sight in the Autumn with stunning views of the countryside.
Difficulty: Moderate.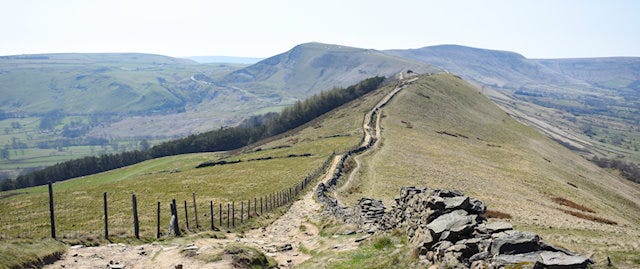 Edale Rocks through Jacob's Ladder
Taking you to one of Derbyshire's most iconic landmarks, this eight-mile circular walk starts in Edale and passes a range of fascinating rock formations. On your walk you'll see Labrador Rock, Pack O' Rocks, Edale Rocks, Jacob's Ladder (named for its steepness like the ladder stretching from Heaven to Earth), High Peak,  and Orchard Farm at Upper Booth before reaching the starting point, this time with views towards the Hope Valley and Lose Hill.
Difficulty: Challenging.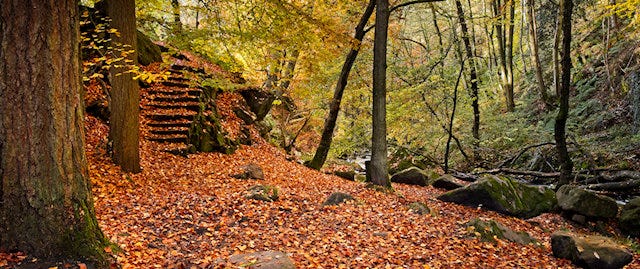 Padley Gorge and Longshaw Circular
A 3-mile circular walk located on the border of Derbyshire and Yorkshire, Padley Gorge is a site of special scientific interest because of its ancient woodland and rare wildlife such as hawfinches. The trail takes you past Burbage Brook, a clear brook, which runs across the rocks. You also encounter the remains of ancient settlements on the moors to the North and East of the gorge, including stone circles and the Iron Age fort Carl Wark. The trail then travels further into the Longshaw estate which owns the gorge and is managed by the National Trust.
Difficulty: Easy and suitable for adults and children.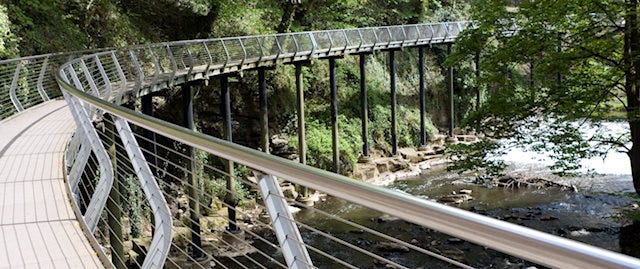 The Millennium Walkway, New Mills
In 2000, Torrs Gorge was made passable for walkers. It stands on stilts above the River Goyt at Torrs, New Mills which is an Area of Outstanding Natural Beauty and a unique industrial archaeological heritage site. As the walkway is elevated above the river, this walk gives you the feeling of 'walking on water' and is a brilliant spot to take some cracking photos! You can extend your walk along the Torrs Trail from here, or simply walk along the walkway.
Difficulty: Moderate.