Back to nature
This is a truly living landscape. The magnificent rock formations, sweeping valleys and magical woodlands have been taken over by thriving flora and fauna. Around each corner, birds burst into song and flowers gently sway in the breeze, watched over by ancient trees that I used to play amongst as a little girl. Let's visit some of the best places I know for watching wildlife in all its glory.
Magical bluebell woods
The coppiced woodlands of Gaer Fawr are beautiful all year round but, in springtime, swathes of bluebells carpet the forest floor. The branches of mighty oaks criss-cross overhead as you follow the paths through the trees toward the summit of this iron age hill fort. Take a flask of coffee to enjoy at the top while enjoying the view of Mid Wales.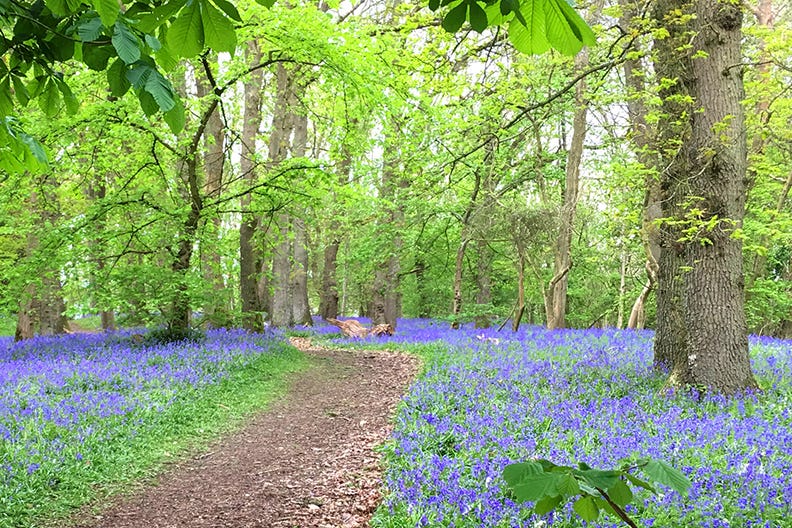 My family often visits Gaer Fawr throughout the year. Our dog happily runs around tiring himself out while the kids practice their climbing and ponder on whether there are fairies living behind the fairy doors in the trees or amongst fairy rings set in the mossy green grass.
"On your way to the woods, stop into the farm shop at Derwen Garden Centre – owned by my cousin – and pick up some treats for your picnic!"

- Kate
Life by the river
The riverside in Dolanog is an absolute favourite place of mine to visit. From when I was a youngster to today with my kids, I've been a regular visitor on a hot summer's day to have a quick swim or enjoy the rope swing above the river.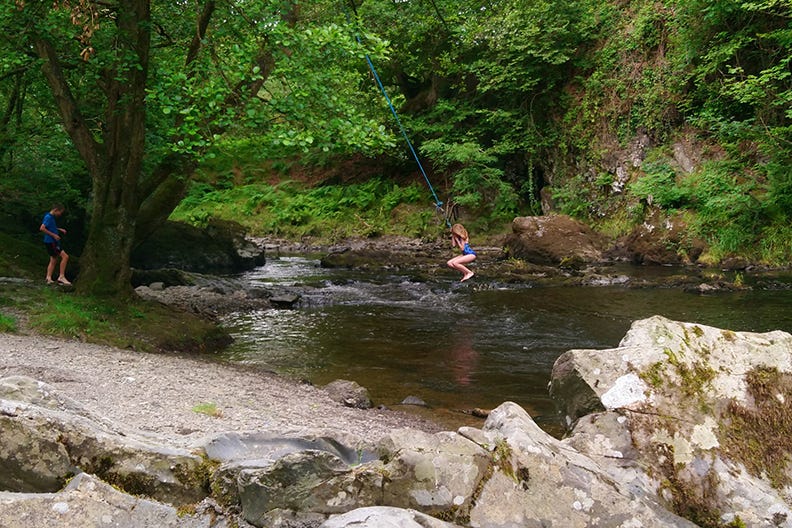 There's also a beautiful trail which follows the path of the river in the valley from Dolanog to Pontrobert. Me and my grandmother Barbie often walked it together, passing Cartws y Parc on our way. I've spotted kingfishers darting along the water here between overhanging branches, and woodpeckers drumming on the tree trunks above us. As you approach Pontrobert, you'll pass through Coed Lletty'r-aderyn, a dingle alive with the song of woodland warblers and which, in English, means "wood where the birds live." It's so lovely!
Mighty ospreys
Cors Dyfi, outside the village of Derwenlas, may not be the largest nature reserve, but it's packed with things to see and friendly people waiting to show you around. A new visitor centre has recently been completed, and the site boasts a 360-degree observatory and well-equipped hides. And the star attraction? The ospreys that have bred here since 2011.
After you've had your fill of watching these amazing birds hunting on the open water, explore the rest of the reserve and try to spot an otter or dormouse. You can also hear star species like nightjars 'chirruping' after dark in late spring (it's a truly remarkable sound if you haven't heard it) and do your best to tell apart the songs of reed, sedge, willow and grasshopper warblers as they arrive from foreign shores in April.
"The reserve has an exciting new visitor centre is due to open in March 2021. Please do come and be one of the first to see it when it opens"

- Kate
Continue the journey
Let us take you on a journey to Mid Wales from the comfort of your sofa! We're bringing the best of England and Wales to you – so read on and experience Kate from Wales Cottage Holidays' favourite places to go and some hidden gems, too. We've got plenty of nearby properties, and can't wait to welcome you...