The local way of life
People here in Norfolk tend to be practical, proud of their roots and pleased to share this special place with our visitors. But be warned – there's no patience for 'rummuns' around here (our word for a shady fellow). Here are my top tips for local pride and brilliant people you just have to drop in and see while you're here.
A delightful deli
Byfords is a beautiful deli, shop, cafe and B&B in the centre of the North Norfolk market town of Holt.  It is one of those places that is an experience just to visit – and that is before you have even sat down! Whether you are nipping into the deli to buy one of their famous sponge cakes (I can thoroughly recommend the Apple Crumble Cake) or you're stopping in for a leisurely breakfast, you will be taken back in time as you step into the oldest (and most beautiful) building in Holt, just 100 yards from nearby Blue Stone Cottage. 
My two favourite times to visit Byfords are first thing in the morning for the perfect English Breakfast and mid-afternoon when you need to give your feet a rest from exploring all of the little independent shops in the centre of Holt. Everyone is welcome and there's something on offer for all ages but, if you're bringing a four-legged friend, you will need to find a seat outdoors.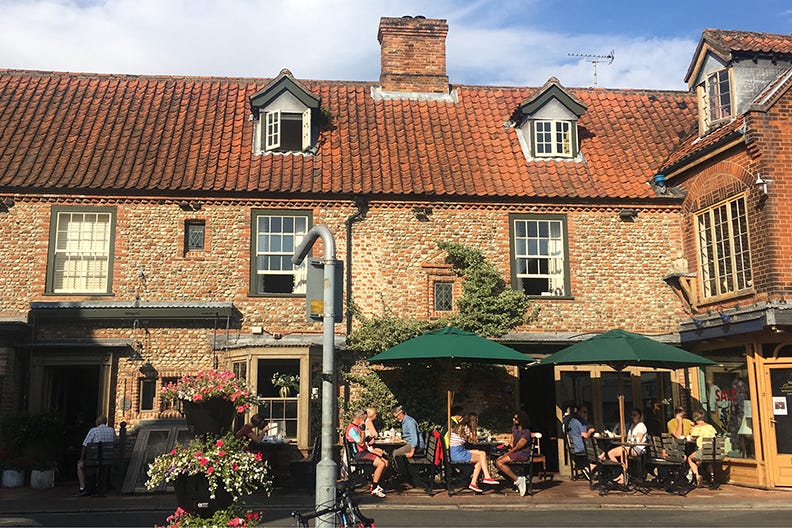 Byfords is just a stone's throw from our Norfolk Cottages office, so pop in and say hi to the team whilst you are here – and maybe book your next holiday to Holt!
The quintessential seaside town
Cromer offers everything you could ask for from a quintessential seaside town. There's a chip shop called Number One, which is owned by Michelin-starred chef Galton Blackiston and does some of the best fish and chips to sit and eat on the pier. Or you can grab a deliciously fresh, local and natural Norfolk ice cream from local legends Ronaldo's to enjoy on the expansive sandy beach. 
Get the whole family together at Ga Ga Barn, or any of our North Norfolk coast cottages, and spend your days sunning yourselves by the sea. If you fancy a wander, whilst the family are all sunbathing or paddling, you can make a break for it towards the shops selling the famous Cromer Crab and bunches of green samphire gathered from the shoreline nearby. I love it on the side of a plateful of baked fish and potatoes. 
The long pier is one of five in the UK with a theatre, where a wide variety of acts come to perform. At the very end of the pier, you'll find the lifeboat museum. If you fancy something a bit different while you're in town, park at East Runton and enjoy a lovely Greek meal at Constantia before walking along the sandy beach to Cromer. And perhaps have an ice-cream for pudding as your reward! Another local pastime is eating fish and chips in one of the shelters looking over the coastline and out to sea. It's my must-do whenever I visit.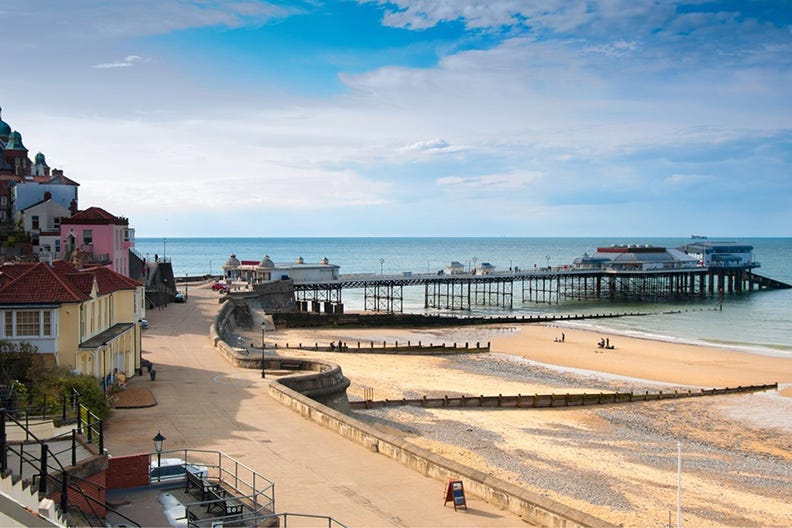 City living
Norwich may have a long history as one of the most important cities in the UK, but this is no faceless metropolis. With a wealth of quirkily independent shops, cafes and restaurants to choose from, this really is a city for the 21st century. 
They call this the City of Stories, so a visit to the Book Hive is a must. It's a lovely bookshop in the centre of Norwich with an old-world feel as you creep around its cubby holes lined with shelves, but staffed with passionate, forward-thinking book lovers who are waiting to recommend you something you'll love. Last time I visited, I got recommended a book based on an imaginary meeting between a psychedelic guitarist and a famous poet, which turned out to be just as good as promised! The shop hosts regular reading nights and plenty of well-known authors drop in for events. 
Just down the road from the Book Hive is Norwich Market – a brilliant celebration of what makes markets great. It recently won an award for the best large outdoor market in the country, and with good reason. The traders are pillars of the local community, with the vegetable stallholder delivering greens to vulnerable people. Wander through the rows of stalls and you'll find everything from restaurant-quality morel mushrooms, to Indian street food, houseplants, loose leaf tea, herbs and spices, local cheeses, a beer merchant, proper chips, or even a kimchidog (a hot dog with kimchi). Pick up a coffee from nearby Strangers, roasted just a stone's throw from the market, to enjoy as you explore.
Also with a stall on the market is Bread Source, a Norwich institution. The local chain has bakeries all around the city, including one on Norwich Lanes. Try their unlimited toast breakfast and you'll be smiling as you get the chance to sample all their wild and wonderful loaves. My favourite is the granola loaf, which is a delicious specialist loaf made with soaked vine fruits. You get little pots of jam and butter, although the bread is good enough to eat on its own! 
"Bread Source kept the residents of Norwich well-stocked with bread during the lockdown with their bakery delivery service – phew!"

- Matt
Continue the journey
Let us take you on a journey to Norfolk from the comfort of your sofa! we're bringing the best of England and Wales to you – so read on and experience Matt from Norfolk Cottages' favourite places to go and some hidden gems, too. We've got plenty of nearby properties, and can't wait to welcome you...