A rich and historic land
I love Norfolk for its fascinating past. In prehistoric times it was connected to the continent over a now-submerged causeway called Doggerland. Norwich was second only to London in size and importance for hundreds of years and still has an otherworldly feel as you explore its bustling lanes of independent shops and archaeological treasures. Of course, it's also the family home of Her Majesty the Queen and, as you'd expect, has its fair share of impressive country houses and hidden historical gems to discover for yourself.
A living legend in Wymondham
To see history alive before your eyes, there are few better places than the Green Dragon pub in Wymondham. One of the oldest buildings in the market town, the Green Dragon started serving in the 14th century and, with its Tudor exterior, it was one of the few buildings to survive the Great Fire of Wymondham, back in 1615. It's a picture-postcard pub that is well worth a visit whether your passion lies in history, good beer or both!
The Dragon has been the winner of the CAMRA Rural Pub of the Year on multiple occasions and does great food alongside a decent selection of real ale and beer festivals on the May and August bank holidays. Nearby, Wymondham Abbey (once a priory), is rumoured to have an underground tunnel running to the Green Dragon for 'badly-behaved' monks!
Wymondham is a lovely market town to spend an afternoon enjoying a pub lunch, a nice walk and get some provisions, especially if you're staying at Pelican Barn and are stocking up before a day out on the coast. From the Green Dragon, walk through the grounds of Wymondham Abbey towards the Mid-Norfolk Railway, a volunteer-run railway on an old branch line which welcomes a good variety of special trains each year and runs lots of special events throughout the year. Whilst in Wymondham, a trip to Merv's Hot Bread Kitchen is a must for their handmade sausage rolls, rhubarb or salted caramel muffins, or their wonderful Danish loaves.
Come to the cathedral
It's a famously beautiful cathedral, but there's also plenty to see outside it when the weather is obliging – if you know where to look! Cathedral Close in Norwich is like travelling back in time to a beautiful English village – but it's in the heart of the busy city! In the shadow of the beautiful cathedral lies a maze of peaceful streets lined with beautiful houses and gardens built for clergy as well as the nearby private school. Venture further along the little lanes to discover a riverside walk that takes you past Pullman's Ferry, a stunning medieval watergate to the city, and Cow Tower, an artillery blockhouse dating from 1398 that was once a vital part of the city wall fortifications. You can easily spend an hour or two walking around in utter happiness.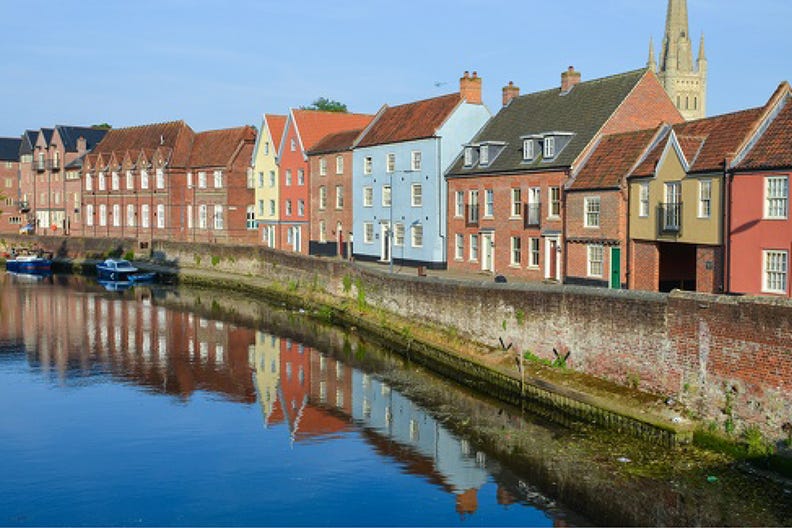 Norwich Cathedral is also home to some nesting peregrine falcons up on the spire, far above the city below. Look out for the Hawk & Owl Trust, who often have volunteers there with binoculars to help you spot these magnificent birds.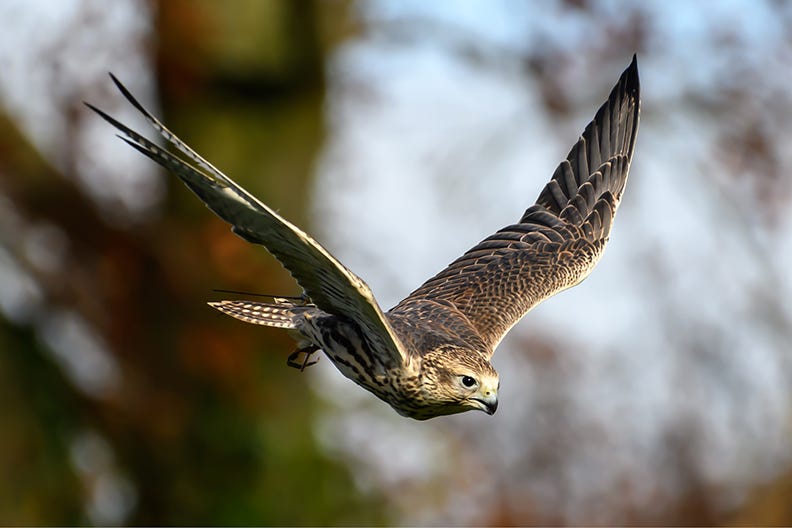 If you are visiting on a Sunday, check out the Bishop's House Gardens which open for charity events with a small entry fee, and you'll get the chance to wander around the stunning four-acre garden that is usually closed to the public.
"The cathedral has played host to a helter-skelter recently and will soon welcome Dippy the dinosaur from the Natural History Museum. It's a place that is always worth returning to!"

- Matt
See Anne Boleyn's birthplace
You can spend all day at the magnificent country estate of Blickling Hall. Its wonderful walled garden, long lakeside walk and sumptuous rooms will make you feel as though you're a noble born out of their time! 
The hall was passed into the hands of the National Trust in 1940 and served as an Officers' Mess during World War II. There's a small museum about the airmen who served here on site. Tours of the hall are a must to experience the stories and legends that make this place so rich, while if you're visiting in the winter months do try to catch the illuminated garden displays and Christmas trees that are sure to bring some festive cheer to your heart!
Continue the journey
Let us take you on a journey to Norfolk from the comfort of your sofa! we're bringing the best of England and Wales to you – so read on and experience Matt from Norfolk Cottages' favourite places to go and some hidden gems, too. We've got plenty of nearby properties, and can't wait to welcome you...