Countless castles
Years of fierce battle between the Welsh and English mean that today, South Wales is home to hundreds of castles scattered across the landscape. Some are still formidable fortresses, whilst others are just ruins on the horizon. What they all have in common is the ability to surprise and delight visitors from the world over. Here is my pick of castles to visit next time you're here.
Castell Coch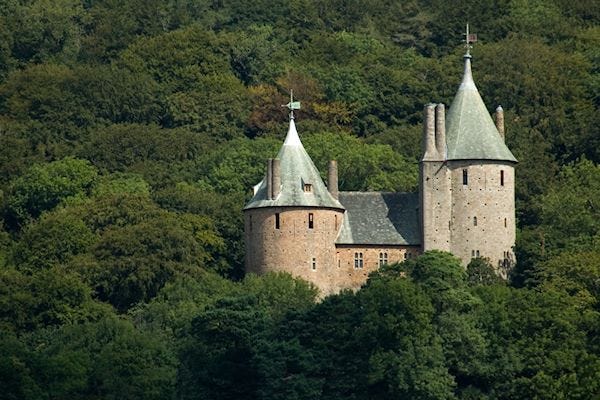 The 'Red Castle' stands on the site of a Norman fort, but the history of the present building dates back just over 100 years. It's a Gothic Revival castle that looks straight out of a fairytale, with its picturesque towers and dramatic silhouette. If you're bringing kids, you'll have them dreaming of knights and princesses battling it out in swordfights in no time. The castle is easy to get to from Cardiff and the nearby area. There's also an ecologically valuable beech woodland surrounding the grounds that are beautiful at any time of year. Stay at Llety Tyn y Coed and book in your visit, pronto!
Pennard Castle
The land becomes wilder and wilder as you make your way west from Mumbles and Langland, past The Rise, to the Gower's iconic beaches. Overlooking the dramatic Three Cliffs Bay, with its mighty rock structures, is an imposing fortress. Now just a ruin, you can still imagine how terrifying it must have been to approach this stronghold armed with just a sword and shield. This castle is best enjoyed as the backdrop to a lovely day by the sea – with the world-famous beach just a short walk away.
Carreg Cennen Castle
Make your way to the western fringes of the Brecon Beacons and look up – you're sure to see the commanding Carreg Cennen atop a sheer limestone cliff face. During the Wars of the Roses in 1461, the castle was captured by Yorkist forces and partly demolished. It's a fascinating history that you'll learn about on your visit. There's also a working farmyard here nowadays, who breed pedigree longhorn cattle. You can also enjoy a coffee and homemade cake from the café.
Most of Carreg Cennen is open as usual, but a couple of the areas where social distancing is not possible have been closed for safety for the time being.
 
Continue the journey
Let us take you on a journey to South Wales from the comfort of your sofa! In these uncertain times, we're bringing the best of England and Wales to you – so read on and experience favourite places to go and some hidden gems from Gareth, our General Manager for Wales. We've got plenty of nearby properties, and can't wait to welcome you back soon…