Beaches for miles
I'd say that we are spoilt for choice when it comes to world-class beaches in South Wales. Rhossili on the Gower peninsula is regularly featured as one of the best in the world. Caswell Bay, Three Cliffs and Oxwich are similarly well-loved. But all along this short stretch of coastline, you'll find drama around every corner and lots of sandy shores to relax in the sun. Let me show you a couple of my favourites, that you might not find on all the usual lists.

Get to the Gower 
No mention of this corner of the country would be complete without bringing up the Gower. I feel very lucky to have been born and to have grown up in such a beautiful area.
On this relatively small outcrop of land are so many of the best beaches I've ever seen. You probably think I'm exaggerating. But ask anyone who's visited, and you'll soon believe the hype!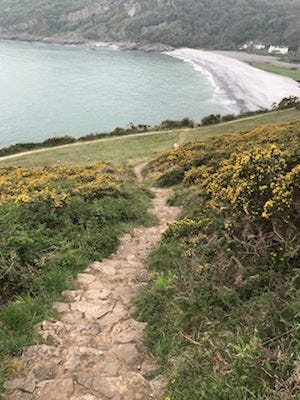 My favourite place would have to be Pwll Du Bay, on the South Gower coast. It's nestled between small villages and reachable only by a coastal footpath or a narrow lane with limited access. It might be a little more work to get to, but that definitely keeps this place Gower's best-kept secret! Once you get there, you'll be greeted by golden sand and gentle pebbles, without the usual crowds.
Neighboured by Brandy Cove, a small cove alongside Pwll Du, the area is rich in history for pirates and smuggler. This beach is pet friendly all year round and is just as beautiful in the winter months as it is in the summer. If you are as lucky as we are to visit this place, maybe during a stay at The Little Forge nearby, we hope you enjoy its beauty!
Wonderful walks
Here's a walk that takes in two brilliant beaches. It runs from Ogmore-by-Sea to Merthyr Mawr and back down to Newton Beach. A rich and varied area for nature and wildlife, you'll pass sprawling ancient woodland, vast towering dunes (some as high as 200 feet), rocky shorelines and large sandy beaches. The area has so many different habitats within a noticeably short distance. 
I'm a keen runner, and if you're the same then there are few better ways to get your miles in than on this route! There is even the option to book a day of leisurely exploration on horseback. Ogmore Farm Riding Centre offers the experience of a canter at the water's edge whilst at the beach as well as crossing rivers and passing through the dunes.
A hidden treasure
You'll have a truly special day exploring Monknash, near Llantwit Major. From the car park at the top of the hill, you can follow the brook winding its way through woodland, past ruined mill buildings, to the shore. It's magical, with the cliffs opening out on both sides and the sea stretching in front of you. The beach is mainly pebbly, with huge rock formations, waterfalls, rockpools and caves into which the waves crash. Be careful on the unstable cliffs (stick to the paths) but, if you are able to climb all the way to the top, you'll be rewarded with endless views of the Glamorgan Heritage Coast. Peregrine falcons have been known to nest on these cliffs, and you may even be treated to a display by the fastest birds on earth if you're very lucky!
 
Continue the journey
Let us take you on a journey to South Wales from the comfort of your sofa! In these uncertain times, we're bringing the best of England and Wales to you – so read on and experience favourite places to go and some hidden gems from Gareth, our General Manager for Wales. We've got plenty of nearby properties, and can't wait to welcome you back soon…