Suffolk's best market towns
I love exploring the countryside, but Suffolk's historic market towns are equally picturesque and relaxing to wander around. Bustling in summer, quietly elegant in winter, there's always something to do, see or explore. Whilst all of our towns have their own charm, here are three I recommend to my own family and friends when they're planning a trip to see us.
Make the most of the coast
I've fallen in love with Southwold all over again in recent months. Whenever I spend time here, I feel very fortunate to be able to walk to the beach, listen to the waves and enjoy the gentle pace of life in this idyllic seaside town. 
At the wet fish shops along the harbour, you can buy fish as fresh as it comes, straight from the fishing boats that have returned with their catch. There are all sorts, from shellfish to speciality fish. Or, if you'd prefer to let someone else cook it for you, keep walking to Mrs T's who offer delicious fish and chips.
There's something for everyone here in town, from Adnams Brewery to the wonderful pier. For lunch, the friendly Two Magpies bakery is the stuff of local legend – apparently one of their sourdough starters is 200 years old! Try their sausage rolls (or the vegan version) as well as all sorts of cakes and slices. You might also spot a Two Magpies elsewhere in Suffolk and they're all deservedly popular, and worth the wait if there's a queue.
It's always nice to walk through the town, across the Bailey Bridge and into Walberswick. It's just over a mile and takes you along a wide footpath and cycle trail. My tip is to take a picnic to enjoy on the village green and watch the world go by.
"The popular Two Magpies bakery offered a takeaway service during the lockdown so that no-one missed out on their delicious baked goods."

- Julian
Get busy in Bury
Whether you're in the mood to explore a historic market town, sample some bustling modern shopping or discover quirky independent shops and cafes, you'll find it in Bury St Edmunds. There's a slower pace of life here and a friendly, welcoming feel.
As well as two market days each week, with different world foods on offer to tempt you, there are some brilliant local butchers and grocers. You can wander for hours, or simply grab a coffee, read the paper and truly relax. At the Arc, there are all the familiar shops you'd expect.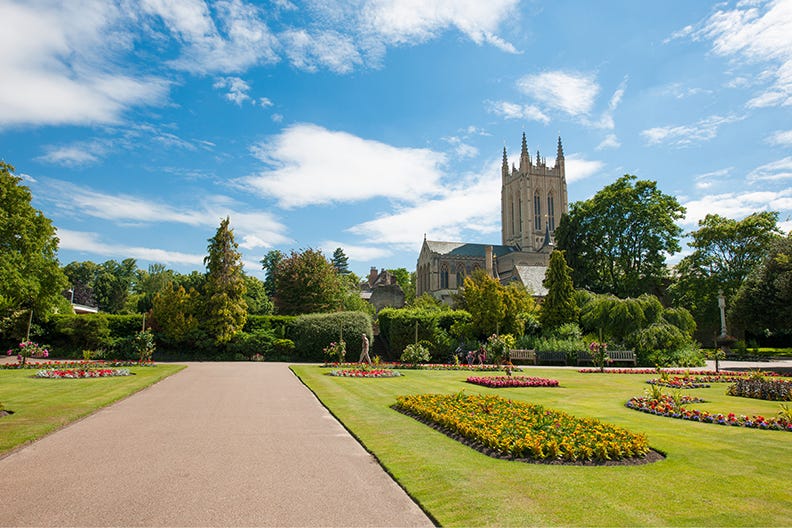 Enjoy a picnic lunch in the Abbey Gardens and explore its ancient ruins, with lots of interesting things to find around each corner. The houses are a treasure too, with streets upon streets of gorgeous townhouses and Georgian mansions that make this feel like a truly special place. 
A place that's very special to my family is Ickworth House. There are amazing walks in the grounds and the history of the magnificent Rotunda is fascinating. I don't think there's anywhere else like it – in fact, we love it so much we got married there! 
If you're staying until the evening (perhaps you've booked Hockerhill Barn?), there are plenty of pubs worth stopping into – The Dove and the Rose and Crown are both excellent, while you can get a pint of something out of the ordinary at the first-rate Old Cannon microbrewery. 
Go back in time
Take a wander back in time in Lavenham, a truly stunning place to explore with a surprising history. Hundreds of years ago, this town was a major player in the wool trade. It was one of the richest towns in the country, despite its small size, and to this day you can enjoy the 'fruits of its looms' in its 300 listed medieval buildings.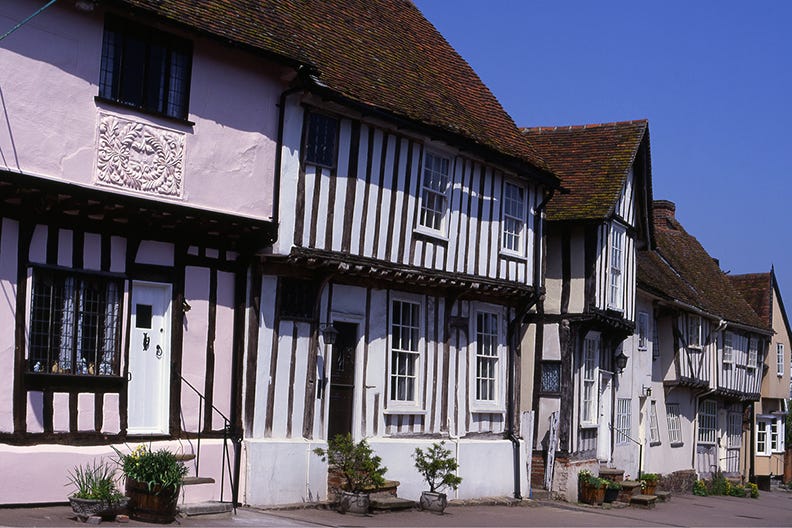 Timber-framed masterpieces of architecture jostle for space on the pretty, narrow streets and town squares. The town is wonderfully preserved, and you really can lose yourself in its atmosphere. At the Guildhall, you can see a building called one of England's very best and, just around the corner there's the Little Hall museum too.
You can even stay in a timer-framed masterpiece of your own at The Old Barn, Chelsworth, not far away!
My top recommendation while you're in Lavenham is to book onto one of the many guided walks around the buildings – there's just not room to tell you about all the town's treasures here!
Continue the journey
Let us take you on a journey to Suffolk from the comfort of your sofa! We're bringing the best of England and Wales to you – so read on and experience Julian from Suffolk Secrets' favourite places to go and some hidden gems, too. We've got plenty of nearby properties, and can't wait to welcome you...