The Jurassic Coast
Published: Wednesday 29th Jan 2020
Written by: Chloe Baker
Known as the Jurassic Coast, the 95 mile stretch of coastline through Devon and Dorset is a world-famous UNESCO Heritage Site. Considered by geologists to be one of the most significant teaching and research sites in the world, it's also an area of outstanding natural beauty. With magnificent beaches, lovely seaside town and villages, striking rock formations and romantic coves, the magical coasts of Devon and Dorset have something for everyone.
A Step Back in Time
Providing a perfect escape from the hustle and bustle of modern life, a holiday on the Jurassic Coast is like taking a trip back in time. While it can be quiet and rather dreamlike, it is also lively, thrilling and fascinating. So, for instance, the coast's many gorgeous coves can be havens of peace and romance for couples while also being sites of activity and adventure for families with young children.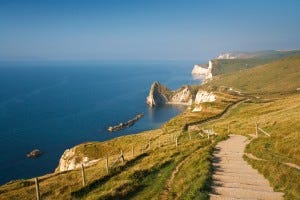 A Truly All Year Round Experience
The best of both worlds can also be found in the fact that the Jurassic Coast offers a genuine all-year-round experience. Lazy days, fun-packed holidays with the kids and water sport activities are of course best enjoyed in the summer. But the autumn and winter are also ideal times in which to experience the drama and history of the coast when the waves are crashing on the rocks and exposing the richness of fossils. However you wish to spend your holiday, and whoever you want to go with, the Jurassic Coast is a destination that will exceed all of your expectations.
 A Brief Overview of the Jurassic Coast
Showcasing around 185 million years of geological history, the Jurassic Coast provides an almost continuous sequence of rock formation covering the Triassic, Jurassic and Cretaceous periods. Inscribed on the World Heritage List in 2001, the area's important fossil sites and classic coastal geomorphological features have contributed to the study of earth sciences for over 300 years. With major contributions to many aspects of geology, palaeontology and geomorphology, the Jurassic Coast remains a high-quality teaching, training and research resource. Its importance and significance cannot be overstated.
The Charmouth Heritage Coast Centre
A fantastic way of finding out more about the history and geology of the Jurassic Coast is to spend some time at the Charmouth Heritage Coast Centre. With its amazing fossil collections and other exhibits, it contains everything you need to know about the rich and fascinating history of the coast. It even provides you with guidance on how to find and identify your own fossils on the beach. With hands-on displays,  marine tanks and a video microscope, it offers a fun and educational experience for the whole family that's absolutely free. And if you're feeling particularly adventurous, there are also guided fossil hunting walks and rock pooling walks along the local coastline. 
Towns and Villages Along The Jurassic Coast
Visitors to the Jurassic Coast are spoilt for choice when it comes to lively seaside towns and quaint villages. With so much to see and do, it can seem like quite a daunting task to get the most from your holiday experience. Listed below are just a few of the wonderful towns that will make your break one to truly remember.
Exmouth
One of the oldest and most picturesque seaside towns in Devon, the famous resort of Exmouth boasts two miles of gorgeous sandy beaches where you can relax and play all day. Well-regarded as a centre for water sports, the more adventurous can also take part in activities such as sailing, kite surfing, kayaking and wind-surfing. And as it's a traditional seaside town, Exmouth has everything - and more - that you might expect: such as crazy golf, the Blue Plaque heritage trail, the many shops and the superb indoor market.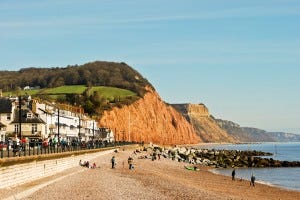 Nestling beneath the majestic Triassic red cliffs and the green hills of the glorious Sid Valley in Sidmouth, is a stunningly picturesque seaside town that boasts, among other things, a promenade that stretches the whole length of the seafront. Full of charm and character from a bygone era, this 'Regency Town By The Sea' has many fine villas and mansions dating from the 18th and 19th centuries, giving it an otherworldly feel. At Jacob's Ladder Beach, which is particularly popular with families, you can climb the actual Jacob's Ladder from the beach up to Connaught Gardens in the cliffs above - the perfect location from which to enjoy magnificent views.
Enjoying more sunshine than anywhere else in England, Weymouth has long been one of our most popular resorts. Along with the sheltered, shallow waters of its golden sandy beaches, there are a number of superb attractions including historic houses, water gardens, a museum and its castle and fort. With its central location, it is also the ideal place in which to start exploring the Jurassic Coast with much of the coastline in both directions easily accessible.
Known as the 'Pearl of Dorset', Lyme Regis is famous for The Cobb Harbour Wall and as the birthplace of Mary Anning, one of history's most important fossil collectors and palaeontologists. Every year during the May Day bank holiday this pretty coastal town hosts the Lyme Regis Fossil Festival that offers a mix of walks, talks, music, theatre, exhibits and hands-on science events that are suitable for all ages.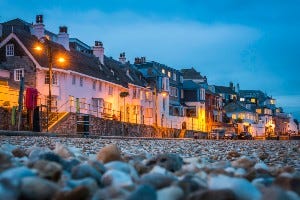 Known for its rich Roman history, Dorchester has many visible remnants of its ancient heritage, from an impressive Roman Villa to a Neolithic henge. It is also famous as the birthplace and home of Thomas Hardy whose former house sits on the outskirts of the town. England's best-preserved Roman town house, dating from the 4th century, is tucked away in the back streets, while the Old Crown Courts on the High Street is where the Tolpuddle Martyrs were sentenced to transportation. Quite simply, Dorchester is a town that is absolutely steeped in history.
Exploring the Ancient History of the Jurassic Coast
For fossil hunters, and for those who wish to get a hands-on feel of our ancient, prehistoric history, the Jurassic Coast simply cannot be beaten. Full of outstanding coves, dramatic rock formations and stunning beaches, it is rich with the wonder of life and history. Below are just some of the places you might wish to visit in order to get a real sense of the coast's magnificence.
Old Harry Rocks
Marking the eastern edge of the Jurassic Coast, the breathtaking giant chalk stacks known as Old Harry Rocks are the perfect embodiment of the area's rich and fascinating history.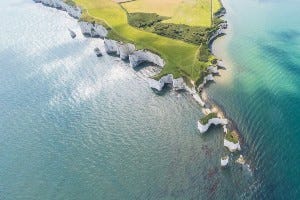 Charmouth
The ideal location in which to go fossil hunting. The Charmouth Heritage Coast Centre will provide you with the best hints and tips of how to go about finding your very own piece of ancient history.
Lulworth Cove
Featuring some of the best examples of rock folds, faults, erosion and cove formation, Lulworth Cove is also outstandingly beautiful and picturesque. Here you'll find Durdle Door, the stunning landmark that the Jurassic Coast is famous for.
Kimmeridge Bay
An area so rich in fossils that one man has collected enough to house them in their own museum, The Etches Collection, which displays many fascinating marine reptile fossils.
Ladram Bay
Like Old Harry Rocks but on the Western edge of the Jurassic Coast, Ladram Bay boasts impressive sea stacks but of a very different colour and rock type, suggesting that they were formed in a desert. 
Whether it's a lively, fun-packed family holiday, a romantic getaway for two or a fossil-hunting expedition, the Jurassic Coast provides an inexhaustible source of adventure, history, romance and peace and quiet. And with Original Cottages we provide a whole host of accommodation, and expert local knowledge, that will ensure your holiday is truly unforgettable.
Meet Laura, Property Manager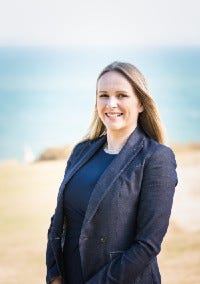 I'm lucky to have been born and bred in West Dorset and to have spent my childhood growing up on the beach and exploring hidden holloways. I joined Wyke Dorset Cottages in 2019 having spent the last 20 years working locally as an estate agent. Dorset has a huge amount to offer holidaymakers from exploring the Jurassic Coast fossil hunting, attending all the local festival and shows – of which there are many! – to finding out more about the rich historical heritage of Dorset.
I'm excited to extend Wyke Dorset Cottages reputation into West Dorset and expand our presence into the beautiful area that I am proud to live in.