Staff Stays: Fell View, Po House
Published: Friday 6th Nov 2020
Written by: Will Affleck
Here at Original Cottages, our team love holidays as much as our customers. You can often find some of us enjoying trips to beautiful UK destinations, and relaxing in our wonderful selection of holiday homes.
I feel very fortunate to have been able to spend a few days at the stunning Fell View Po House in the breath-taking Lake District earlier this month through Original Cottages – the company for whom I work.
I do not mind admitting that I was a little anxious about the stay amidst the current climate. My partner, Eleanor, works in the NHS and - as so many others have - has endured a tricky few months. With this in mind, I really wanted this to be a few days of total respite for Eleanor but I was unsure what we'd be able to do, how safe we would feel and how much of a 'holiday' this would actually feel too. I am so delighted to say that my anxieties disappeared about as quickly as my first Cumbrian Steak and Ale Pie did - after one big gulp of the Lake District air and after about 30 seconds of stepping into Po View Fell House. What a few days we had!
On Sunday morning, Eleanor, myself, Nelson the Whippet, our friends Craig and Suz, their dog, Archie, their baby, Oskar and a partridge in a pear tree set off from Norfolk on the long journey North.
#Great Tip #1: If you happen to be a National Trust or English Heritage member, plan your journey up to coincide with picturesque walks, parks and stops. It is far more enjoyable than a service station!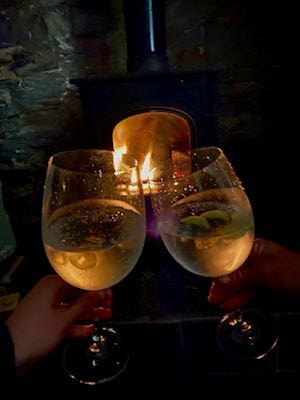 When we arrived on Sunday evening, we entered a lit-up, warm and welcoming property. Nelson was particularly pleased with the jar of dog treats that had been left and I must admit, we were very excited about the prospect of a beer on the very comfy sofas in front of the wood burner, for which logs had been left by the owners. After a couple of hours of putting the world to rights, we headed off to bed.
The property itself is beautiful inside and out. It is decorated to a very high level without losing touch of its original purpose. Moreover, in a property that could easily reflect the often-chilly climate of the Lake District, you will struggle to find a more cosy holiday property. However, the real beauty wasn't revealed to us until dawn broke and we could see why the property was indeed called, Fell View. Out of your living room window you have the most wonderful view of Black Combe Fell, surrounding fields, woodland and peaks. The fell seemed to change colour every single day with the weather and I found myself just looking out the window at every opportunity.
#Great Tip #2: You don't have to be doing much at all in the right place to get what you need from a holiday.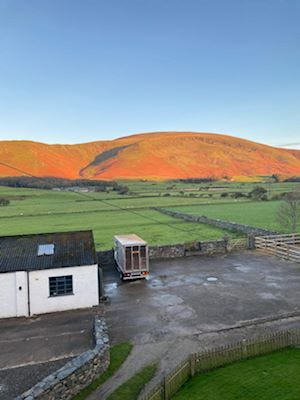 As I alluded to, I was a little bit worried that given the climate there wouldn't be much to do whilst we were away. However, after a lovely chat with the owner of Fell View Po House we knew where we might like to visit (and what was open), the best way to walk up Black Combe Fell, where to eat and about everything we'd need to know for our stay.
There was also a very comprehensive guide put together by the local team that was very useful too.
#Great Tip #3: Use the truly-local experts; whether that's our homeowners, my truly-local colleagues or your neighbours. After all, they are the people that know how to make a holiday special beyond your property!
On our first full day, we woke up to wind and rain that could only be described as horizontal. Nonetheless and when in Rome, we togged up and made our way to the closest beach at Whicham. The beach is a mixture of sand and pebbles but it is vast and a real treat for those with four-legged friends. The dogs had as far as the eye could see to themselves and we ended up walking the best part of 3 miles, jumping in puddles and more than anything - working up an appetite for lunch.
On the way home, which was a short drive of about 5 minutes, we stopped in Millom to grab the ingredients for a hearty soup for lunch. When back at the property, we lit the woodburner, used the brilliant kitchen appliances and warmed ourselves up with some soup.
An afternoon of napping, board games and Gin and Tonics filled out the rest of the day before jumping in the car and heading for a pub dinner at the very good Manor House in Oxen Park. I can wholeheartedly suggest the Steak Pie that washes down very well with a Guinness.
On Tuesday morning, Eleanor, Nelson and I decided that we would like to see the reverse of the view we had so admired whilst here and we set off to reach the peak of Black Combe Fell. After a quick chat with the homeowner, we decided on the best route to the top. Handily, at the bottom of the walk, there is a church car park that means you can drive there. Do make sure that you chuck some pennies in the honesty box though so that others can enjoy it after you too. 
We filled up one of my short pockets with human sweets and the other with Nelson sweets making sure that I remembered which was which - and off we went! The walk up took us around 1 hour 50 minutes and that was with plenty of breaks to stop, take in a big breath of fresh air and look at everything around us. The weather was perfect and as we looked to our left we could see the Isle of Man and the busyness of the fishing boats off of Whicham beach. There are a couple of false summits which in themselves provide a wonderful view but it really is quite something when you get to the top.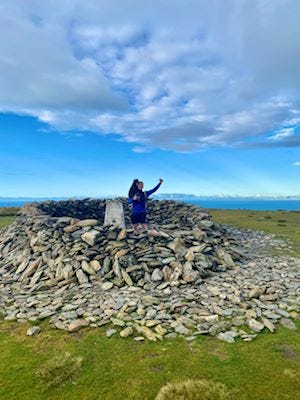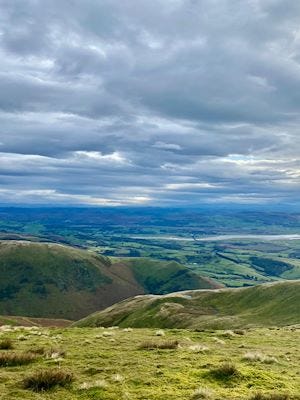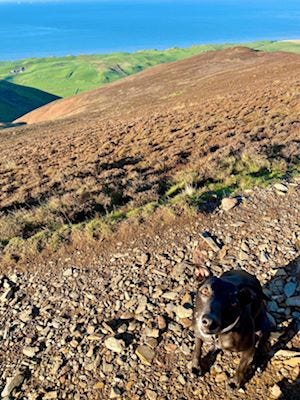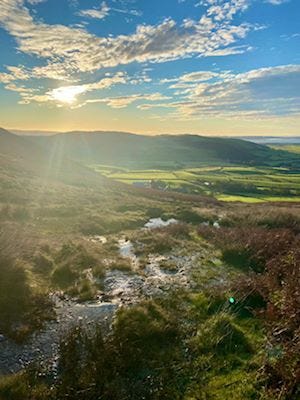 We were all delighted and at the ripe old age of four and a bit, Nelson had climbed his first fell. Amidst the beauty, I questioned whether or not I was hallucinating when over the back of the summit, came trotting… a Herdwick Sheep. In fairness, the sheep looked as confused as we did but I reminded myself that sheep rule the fells and with that, we left her to it and made our way back down.
We headed back to the property for a bath and a cup of tea before putting the Lake in Lake District and meeting Craig, Suzahn and Oskar in Coniston for the best pub lunch at The Coniston Inn. I had Cumberland Sausage and Mash and to be quite frank, could have had it again there and then. Eleanor had a ramen and Nelson had anything that fell on the floor.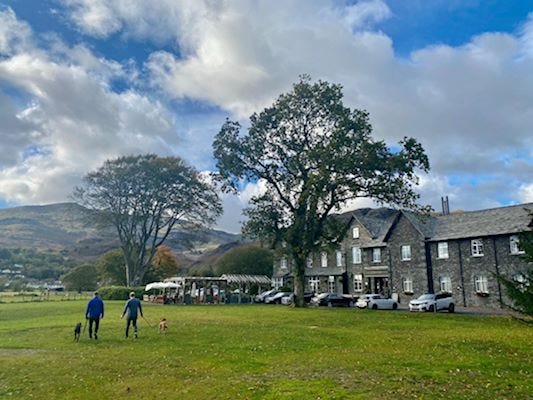 After lunch we walked the grounds of The Coniston Inn and got a great look at Coniston Water by walking along the hotel's jetty. It is easy to take for granted just how beautiful the Lake District is because near enough everywhere you look there is something just as stunning as the last. However, it really hits home what a magical place it is when you see something such as the Lakes and fells.
Even the drive back from Coniston was stunning and there were ample opportunities to stop and buy local produce and products.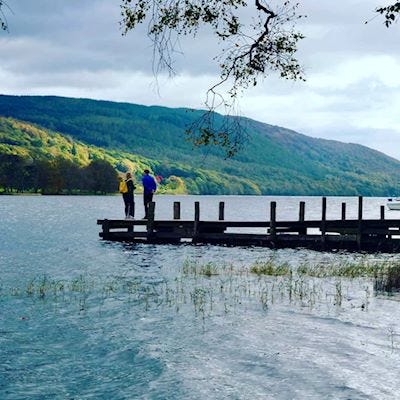 The rest of the afternoon involved another short walk to show Oskar the sheep on the small fell at the back of the property. This route could actually take you all the way down to the beach and on a fair day, I would think it is a walk that takes some beating.
Once back, attention turned to dinner. It's an absolute joy to be away and to have the time to enjoy cooking and eating dinner. Craig was our chef this evening and did Cod Gyros which were delicious. Great Tip #5: If time is of the essence and you can, get shopping delivered to you on arrival. In normal circumstances, we would have looked to shop more locally but in this climate, it was much easier to pre-order your essentials from a Supermarket.
To finish the evening we had one final Scrabble championship and used the last of our logs on the woodburner. Unfortunately, the scoresheet for Scrabble also made it to the fire so I guess we'll never know who came first… or last.
But the less said about that the better.
On our final day, we were all up early to make sure that the house was left as we found it. (I should say that on arrival the house was spotless. Obvious further precautions had been taken to ensure Covid-19 safety and for what it's worth, the sanitiser provided smelt lovely!) We filled our tummies with porridge and then headed towards Lake Windermere. We decided that we wanted to make the most of our last day despite the long journey and worked out how we might do this without adding on hugely to our journey. Luckily, the world famous and utterly breathtaking Lake Windermere was enroute home and we were able to head there, take the dogs on one of the many walking routes, grab some photos and stretch our legs before the long drive home.
Lake Windermere was alive with activity and there were people open water swimming, Stand Up Paddle Boarding, Sailing and out on pedalos too. It did occur to me whether those people knew how lucky they are to have that as their 'local facility.' But then it occurred to me further that people visiting Norfolk probably say the same about me being able to have Holkham beach as my local dog walk, my colleague Oliver having Landacre Bridge, in Devon, as his local swimming spot or my colleague Carol having the Lanes in Brighton as her daily commute.  It made me realise just how much the UK has to offer and when this latest lockdown is finished and we are able to do so,  I plan to book in some more adventures with my best friends through the Original Cottages family.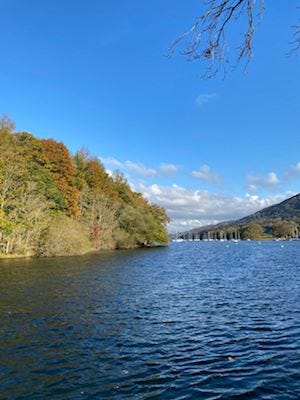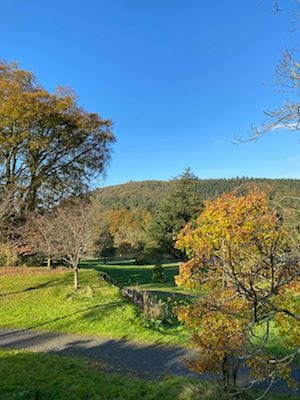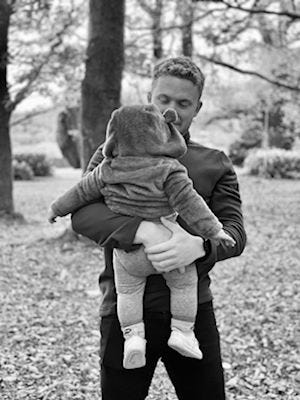 Before we finally hit the road, we sat at the side of the lake with a coffee. Oskar munched his way through half an avocado and between us we chatted about the memories we had made in such a short period of time. We said our goodbyes and left each other with the question; 'where next?'
Final Great Tip: Podcasts for long journeys!