Reasons to visit Devon
Published: Wednesday 19th Apr 2017
Written by: Anne Howard
England on Toast
Devon, once described as 'England on toast', a place of spectacular coastline, rugged and dramatic in the north, stunningly picturesque in the south and with a cream tea at every turn, but isn't it just the same as Cornwall...far from it.
Cornwall is Celtic, another country, and has a totally different vibe to Devon which is quintessentially English. Marked out from both of its neighbours on either side – Cornwall and Dorset – Devon is also home to the unique feature that is Dartmoor, three hundred and sixty-eight square miles of atmospheric and dramatic moorland, the perfect wilderness in which to escape, this is man going back to nature at its most extreme.
Devon can offer the visitor both the charm and tradition of a good old fashioned family holiday, buckets and spades at the ready, with scores of attractive beaches on both coastlines so you can try a different one every day of your holiday.  Coastal paths on both the north and the south coast provide beautiful scenic walks, and The Ruff Guide will point you in the direction of beaches that are dog friendly all year round, so every member of the family can be included. Try Soar Mill Cove in the beautiful South Hams near Salcombe, a pretty cove where you can enjoy swimming, family fun and treasure hunting in the rock pools, or stretch your legs on the cliffs above which form part of the South West Coastal path.
In the same area is Thurlestone Beach near Kingsbridge, part of an Area of Outstanding Natural Beauty and immortalised by the artist Turner who captured on canvas the ancient arch-shaped formation. There are two main beaches at Thurlestone, both sheltered and with clean, clear shallow water.  The recipient of an award from the Marine Conservation Society, Thurlestone is beautifully unspoilt and peaceful, away from the hustle and bustle of the main tourist areas; this is the perfect location for two and four legged family members. 
If the north coast is you preferred destination, then head to the spectacular stretch of golden sands at Woolacombe on the north coast, there are some restrictions for dogs but at three miles in length, there are always areas at Woolacombe where dogs are permitted all year round. Or what about Saunton Sands which welcomes dogs three hundred and sixty-five days a year, a great beach for surfing too although I'm not sure anyone has yet invented a surf board for canines so they might just have to wait and watch from the beach while you enjoy the Atlantic swell.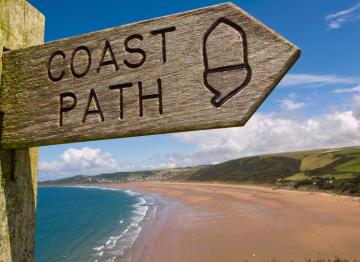 One of Devon's most unique attractions is the brooding and atmospheric Dartmoor, a vast moorland sitting just above the South Hams peninsula.  Managed by the Dartmoor National Park Authority, this wild landscape is a haven of geological features, wildlife, spectacular scenery and views, and a confluence of beautiful rivers not least of all the River Dart which gives the moor its name.  Dartmoor is one of those rare and special places where nature, myth and legend are inextricably entwined, and it provides a total contrast to the pretty thatched Devon villages and their picturesque beaches and harbours.  So if you want to take a walk on the wild side with both two and four legged companions or just enjoy some real space on your own, then this is the place to head to. 
There are lots of attractions, wildlife parks, castle and gardens which all welcome dogs and Devon has made a huge effort to ensure that visitors with dogs are both included and welcome. Very distinct from both its near neighbours go and discover Devon. 'When Adam and Eve were dispossessed of the garden hard by heaven, they planted another one down in the west, 'Twas Devon, glorious Devon!'