Real Ale from Nelson's Country
Published: Thursday 26th Apr 2018
Written by: Leah Smith
Tucked away in Woodbastwick within the heart of Norfolk, Woodforde's Brewery is proud to have been raised in Nelson's country, from where it has brewed widely acclaimed traditional real ales since 1981. In the 30 years since the foundation of the brewery, Woodforde's has established a formidable reputation for producing some of the finest beers in Britain, with its classic Wherry and Nelson's Revenge real ales appearing on tap in bars and pubs nationwide. 
Andrew Dann from here at Original Cottages and Georgia Dawson from the local team at Norfolk Country Cottages were lucky enough to be able to visit this Norfolk gem and get a taste for what goes into creating a mouth-watering collection of widely acclaimed real ales. 
Norfolk - A Hoppy Place 
With more than 50 active breweries and micro-breweries set across the region, Norfolk is a real hub for both traditional and specialist local beers. Real ale enthusiasts visiting the area that are keen to see a working brewery in action and sup some truly excellent local brews should take advantage of the regular tours provided by Woodforde's brewery. During your visit you will be sure to be fascinated by the brewing process and fully entertained while discovering what goes into creating an award-winning 'Wherry' pint.
We were lucky enough to be shown around by Rik Hurd during our trip, who has been described in one customer review as 'exuding the wit of Black Adder, the intellect of Stephen Fry and a healthy comic helping of Keith Lemon' and it must be said, Rik certainly didn't disappoint. We had great fun while exploring the brewery and learning more about the entire brewing process.
With all the joking and talk of enjoying a good pint it can be easy to forget that the brewery is still a working business, where the team are hard at work brewing the latest batch. Everyone we encountered on our tour met us with a smile and was happy to share a little banter with Rik as we made our rounds. While we were on site the brewery was in the later stages of the production process, emptying the conditioning tanks allowing the beer to be filtered and packed. The tanks at Woodforde's Brewery come in two sizes, holding either 60 or 120 barrels of beers, so the job of getting the brew safely filtered and packed is no small task! Once the beer is finally packed, it is stored in an on-site cold storage room for a week before it is finally sent out to customers around the country. During this period a process of secondary fermentation takes place until the brew is finally dispatched as perfectly conditioned real ale. 
This is only a fraction of the brewing process and Rik was kind enough to guide us through the undertaking from start to finish, so if you would like to discover what goes into delivering your favourite pint, a tour of Woodforde's Brewery is highly recommended.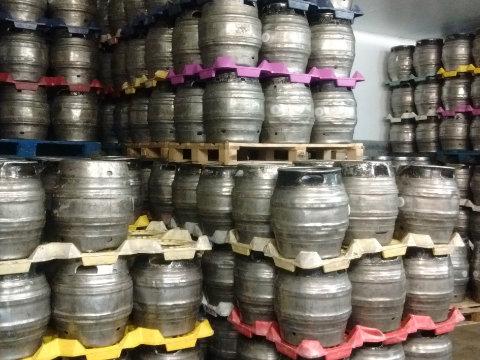 Tradition and Innovation
As master crafters of both traditional and speciality beers, Head Brewer Neil Bain and the team at Woodforde's have a real passion for the real ales that they create. This has enabled the brewery to develop a fantastic portfolio of beers to suit everyone from casual drinkers to real ale enthusiasts, which has brought Woodforde's incredible success through the award of two Supreme Champion Beer of Britain awards.
At the end of the tour, guests are given the chance to both sample some of the brews on offer and even have a go at pouring their own pint of beer. During our visit, we were given the opportunity to sample Woodforde's Norfolk Nog, a deep ruby-red ale with warm hints of fruit and spices, accompanied with a rich chocolatey taste, topped with liquorice and treacle. Despite being a dark ale, Nog is surprisingly sweet and easy on the pallet, so it should come as no wonder to learn that the brew is a Supreme Champion Beer of Britain award winner!
Woodforde's Brewery is home to an excellent collection of beers ranging from dark stouts to classic ales and American-inspired IPA's. Many of these are available in the brewery shop, which offers a fantastic selection of official Woodforde's merchandise, local spirits and even brewing kits, so that you can try your hand producing your own brew.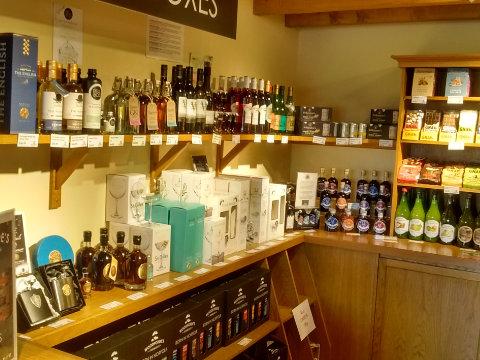 Truly Local Tipple
While great traditional real ale is certainly guaranteed when visiting Woodforde's, there is more to the brewery than the beer that has made it famous. The team at Woodforde's are proud of the company's Norfolk heritage and work to ensure that the brewery remains at the heart of life within the local community. The Fur & Feather Brewery Tap offers a warm welcome to anyone looking to looking of a hearty meal and a refreshing drink and boasts a tempting menu, presided over by Executive Chef Charlie Hodson.
Woodforde's is also a keen supporter of local charities, including Nelson's Journey, which help's to provide vital support to young people who have experienced the death of a significant person in their life. The brewery is also highly involved in local events across both Norfolk and Suffolk, through attendance at events such as Jimmy's Festival, which is held at Jimmy Doherty's farm near Ipswich in the heart of Suffolk. 
Woodforde's Brewery is truly a unique day out for both real ale enthusiasts, and anyone looking to take their first sup of an iconic local brew. The exciting menu at the Fur & Feather is reason enough to visit this fascinating site and the area is surrounded by rolling Norfolk countryside to explore after enjoying a good meal.
We'd like to thank Woodforde's Brewery for helping is spend a fantastic afternoon with the team and teaching us what goes into making a proper Wherry pint.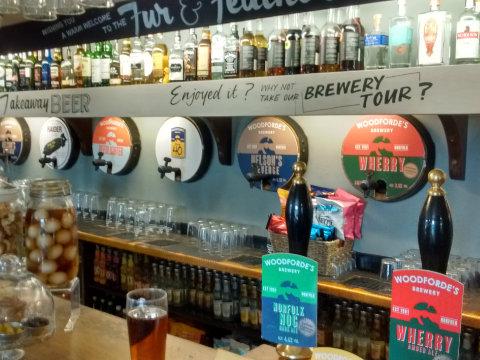 If you would like to visit Woodforde's Brewery to book a tour, or visit the Fur & Feather, you can contact them on the number below:
Shop:
+44 01603 722218
shop@woodfordes.co.uk
Seasonal Opening Times:
Monday - Sunday 9:00-17:00
Brewery: 
+44 01603 720353
info@woodfordes.co.uk
The Fur & Feather:
+44 01603 720003 
Written by Andrew Dann from Original Cottages