North Devon is foodies heaven
Published: Monday 10th Jul 2017
North Devon is known for a lot of things; its lovely beaches, great surfing, inspiring countryside, but one thing that is often overlooked is the great range of food and drink experiences here.
If you mention food in the North Devon, then what will spring to mind to most people is a Devon cream tea. Yet, there is a whole smorgasbord of food and drink options just waiting to be discovered.
We are extremely fortunate to have such a wide range of independent food and drink purveyors, many of whom are award winners. A personal favourite of mine is Charlie Friday's, which is just around the corner from our Lynton Office. This quirky, dog-friendly establishment is a very welcoming environment and was the winner of the best coffee shop of the year at the 2016 Devon Life Food awards.

For a more formal sit down meal there are many options to choose from, but you could not go far wrong with Broomhill's Terra Madre restaurant. Set in the grounds of the Broomhill art and sculpture gardens, this restaurant has won 5 Food awards over the past 2 years, with 2 awards for 'Best Restaurant', Gold in the Taste of the West awards and a place in the final of the Devon Life awards for 'Best Hotel Restaurant'.

If you are looking to purchase a range of local produce to create your own masterpiece then a visit to Johns of Instow would be highly recommended. This award winning deli shop supplies high quality fresh local produce, and if there is too much choice for you to handle, you can always take some time to consider your options in their relaxing onsite café.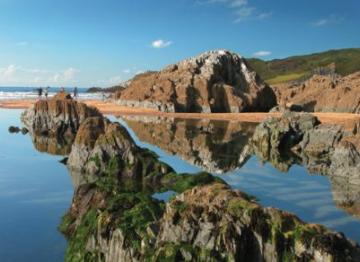 Well that's the food covered what about the drink I hear you say. Do not fear, there are a range of microbreweries in the region producing fine beers and ciders, many of which you will find in such popular establishments as The Thatch Inn, Croyde and The Rock Inn, Georgeham. We are also proud to have such family owned producers as Wicked Wolf Exmoor Gin, who individually distil and blend their batches on the banks of the picturesque River Lyn. It must be working for them as well, as they were recently highly commended in the Devon Life Food & Drink Awards.
As you can see there a wide of culinary options for you to enjoy here in North Devon, but wouldn't it be great if you could enjoy such fresh local fayre while taking in the fantastic scenery. Well we have that option covered too, and I have cherry picked a few of my personal favourites.
The Barricane Beach Café is as the name would suggest, set on Barricane Beach, just a few hundred meters east of Woolacombe. This amazing place is a real locals' secret, serving Sri Lankan curries from June to September in an idyllic location. The Fremington Quay Café is in a unique setting just off the Tarka Trail, and as a result is very popular with walkers and cyclists. The Tarka Trail is a series of footpaths and cycle paths (largely tarmacked) covering over 160 miles around North Devon. This former Railway Station boasts an excellent café serving local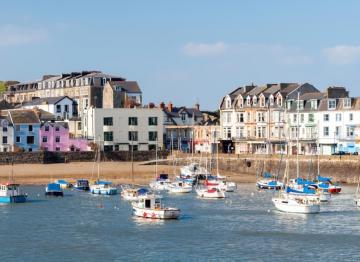 produce sourced from around the Southwest and a heritage centre, which provides an insight into the site's past.
Last on my list would have to be The Quay restaurant in Ilfracombe owned by the artist Damien Hirst. Set in the old Harbour area of Ilfracombe this restaurant provides high quality locally sourced produce. The Atlantic Room is a personal favourite of mine, with large French doors offering views straight out to the Atlantic. If you are lucky to dine here on a stormy night then you can almost imagine the waves coming over the building, which provides a very special and atmospheric feel.
So next time you are visiting North Devon make sure you explore not just the scenic highlights, but the culinary ones too. I can assure you, you will not be disappointed. Oh and the Devon cream teas are rather good as well!