Norfolk and Suffolk
Published: Friday 26th May 2017
Written by: Anne Howard
Reasons to visit Norfolk and Suffolk
Lacking the dramatic scenery of the Lake District and the almost evangelical following of Devon and Cornwall, East Anglia is not usually top of the holiday hit list. Norfolk and Suffolk have therefore always enjoyed something of a hidden gem status amongst travel destinations for those in the know, so why not avoid the crowds and the commercial tourism of some of the UK's busiest holiday destinations and 'do different', by heading for the peaceful landscapes and huge skies of Norfolk and Suffolk.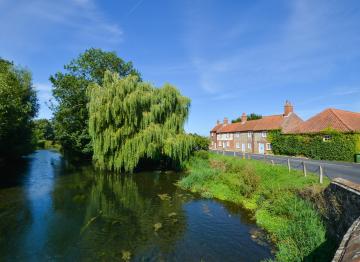 Similar but distinct! You could opt for the sleepy villages of Suffolk, dotted with pretty and brightly coloured plaster and paint cottages or, the traditional brick and flint houses of Norfolk, with their distinctive pantile roofs and unique Dutch gables, affirming the connection with Holland across the North Sea.  Rest assured, you will never be far from a welcoming country pub in either location. 
Largely rural counties, Norfolk and Suffolk present wonderful opportunities to get out and about and in amongst it, whether you are a keen cyclist, walker or just like a stroll, there is no better way to enjoy the authentic, rural charm of either county.  Both Norfolk and Suffolk have a huge expanse of coastline, with the jewel in the crown of the Suffolk coastline undoubtedly Southwold. On the Royal Norfolk coast, visit the Burnhams, a collection of pretty and desirable villages although some might argue that Cromer or Wells-next-the-Sea should be awarded that particular accolade, but what fun to explore all the way along the coast and decide for yourself.
If you would like a taste of city life, then head to the medieval lanes of Norwich which are a huge attraction, with their quirky independent shops and galleries. The ancient streets of Bury St. Edmunds in Suffolk, are packed with charm and antiquity and plenty of delicious places to stop for a bite, or head to Ipswich, the county town of Suffolk, which is on the waterfront so you can combine city time with the attraction of being portside.
What Norfolk and Suffolk have in abundance is historic architecture, beautiful scenery, picturesque villages and award winning coastline.  Both counties are neither spoilt nor overcooked with a huge tourist trade and they therefore have a genuine and authentic flavour which allows you to experience the real place, rather than something which is solely manufactured for the visitor.  So avoid the crowds and the traffic jams and think about heading east this year.