Knipefold Barn
Published: Friday 16th Feb 2018
Written by: The Original Cottages Team
Enjoy the Good Life at Knipefold Barn
Tranquil, Luxurious and Comfortable
If you are looking to take in the splendour of Lake District and to explore the region's attractive local villages, Knipefold Barn represents one of the Lakes' best-kept secrets, as well as a wonderful base from which to enjoy miles of walks and far-reaching views of the Hawkshead fells and the surrounding countryside.
This stunning property is a beautiful 5-star character barn conversion, which was fully completed in 2007 and is set within the Lake District National Park itself. It rests in the charming hamlet of Knipeford in Outgate, close to Ambleside and just a mile from the popular village of Hawkshead. Knipefold Barn retains the authentic character of the Lakes, while successfully blending both traditional and modern styles and boasts welcoming features including slate floors with underfloor heating, oak beams and latch doors. There are further complimented with a well-presented kitchen, high-quality amenities and superb en-suite bathrooms.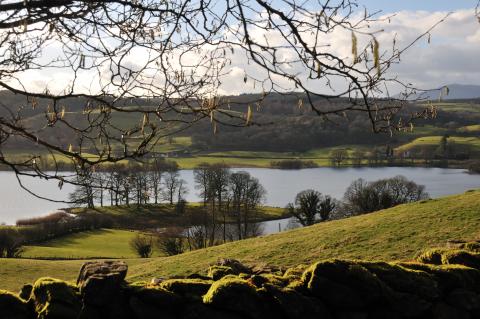 On the first floor of the property, you will discover spacious open-plan living with oak floors, beams and direct views of the surrounding countryside and gardens. The property welcomes two dogs, so there is no need to leave four-legged family members behind and relaxing walks are freely available right from the front door. There is also an impressive garden directly opposite the house, with far-flung countryside views, a well-kept lawn and mature shrubs that are perfect for all the family to enjoy safely concealed from distractions.
Taking in the Sights and History of the Local Area
Once you and your family have settled into the luxury surroundings of Knipefold Barn, there is every opportunity to explore some of the many sights, walks and activities that can be found across the local area. There is certainly no shortage of impressive scenery, while the famous Drunken Duck pub is within just a brisk mile's walk of the property. The Drunken Duck is highly regarded for its mouth-watering food and there is even an on-site brewery and beer garden, from which to enjoy the picturesque views of Ambleside and the fells beyond. Dogs are welcome in the bar area here too, so there is every opportunity to take the dog for a walk and enjoy a rewarding drink together.
Knipefold Barn also located just a mile away from the village of Hawkshead. This ancient township has continued to thrive since Norse times and formerly belonged to Furness Abbey up until the 12th Century. Local monks also once owned Hawkshead Hall, situated just outside of the village and of which only the Courthouse remains. This is owned by the National Trust and is a fascinating place to visit.  
After Henry VIII's dissolution of the monaste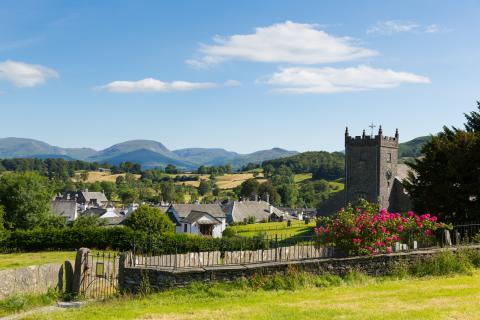 ries in 1537, Hawkshead continued to grow as a market town and many of its buildings date back to the 17th Century. Many of these have remained unchanged since the days of famous residents including Beatrix Potter and William Wordsworth and cars are banned from the confines of the village centre. Today, tourism is the main industry of Hawkshead and the village is home to an inviting array of charming Inn's, guest houses, tea shops and gift shops.
Hawkshead village is also situated by the shores of Esthwaite Water, which offers great fishing, and Tarn Howes that has some of the most picturesque views in the Lake District and is less than 10 minutes away.
Those with more energetic interests can also explore the Go Ape adventure park, with its Zip Trekking Adventure comprising a network of seven tandem zip lines that traverse the sky-scraping Douglas Fir.
With so much on offer within the local area, Knipefold Barn boasts an impressive array of activities to suit the interests of every member of your party and is the ideal base from which to explore the wider Lake District. 
Literary Residents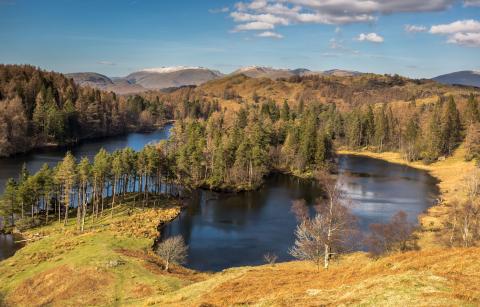 While visiting Hawkshead you will also have the opportunity to walk in the footsteps of some of the region's most famous former residents, who include literary favourites, William Wordsworth and Beatrix Potter.
During his early life, William Wordsworth is known to have attended the Hawkshead Grammar School, which was originally founded in 1587. Although the school was closed during 1909, carvings made by Wordsworth on his old school desk remain to this day and the building itself houses a detailed exhibition detailing the school's rich history, as well as that of its founder and most famous pupil. 
The Beatrix Potter Gallery is also situated in Hawkshead and is housed in the former office of the local solicitor William Hellis, who would become Potter's wife in 1913. The building has remained largely untouched over the years and houses an annually changing exhibition with original drawings and illustrations. The village is also home to Hill Top House, the home of Beatrix Potter and many believe that its garden inspired her eldest and most loved book; The tale of Peter Rabbit.
If you would like to visit Knipeford Barn and the surrounding area, you can view the property on our website here. If you have any queries regarding booking Knipeford Barn, or on the activities available in the local area, why not give our local team a call on 01539 437417 – we'd love to hear from you and guide you around this wonderful holiday home.
Knipeford Barn sleeps 5 across three bedrooms and accepts up to two dogs.
Local Pub - Outgate Inn 1 mile & The Drunken Duck - 1.2 miles.                                         
Fishing - Hawkshead Trout Farm, Hawkshead - 3 miles.
Golf - Putting green and crazy golf, Ambleside 4 miles, 18 Hole golf course, Windermere golf club - 11.2 miles.