It wouldn't be a holiday without a pint…
Published: Wednesday 19th May 2021
Written by: The Original Cottages Team
Original Cottages is delighted to partner with the UK's Campaign for Real Ale (CAMRA) – the champions of pubs, pints and people. 
What could be better than enjoying the local flavours of a pint brewed just down the road, in beautiful surroundings and a friendly atmosphere?  If you're looking for a summer getaway this year, you won't have to worry about whether there'll be a local nearby. Simply search for cottages near a pub. 
Will you come and sample the best local brews from Cornwall or Cumbia? Suffolk or Snowdonia? The choice is all yours…
8 Great cottages near the pub
Ale in Aberystwyth
Pumlumon Penthouse is a sea-view penthouse apartment in the heart of Aberystwyth – the town with the most bars per square mile in the UK! There's a mind-boggling 53 within a short walk – enough to keep you going for years of holidays here.
Room at the inn?
Vale View couldn't be any closer to the pub – it's downstairs. Book the old publican's apartment above the Queen's Head in Alnwick, Northumberland. It's a quiet country pub with plenty of atmosphere and beautiful surroundings.
Beer gardens
Garden Lodge in Southwold is a luxurious place to stay in comfort and style. What's more, the Red Lion is but a saunter down the street. Pull up a chair on the patio and watch the world go by across the town green.
Granary malt
The Granary is perfect for anyone who loves county living. Stay in an old grain store – who knows, perhaps they used to store barley here for beer served at The Fox and Hounds, a friendly country pub just a mile down the road.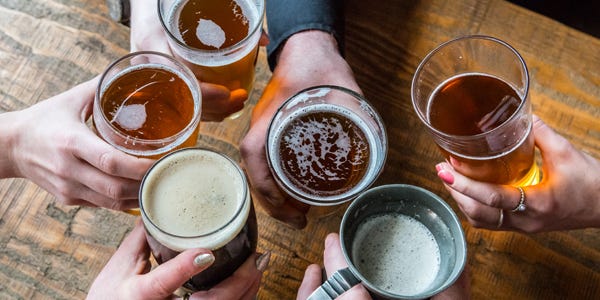 Hare of the dog
Hare Cottage in Leyburn is a place where all you'll want to do is relax. Lazy days in the garden, wandering around the village and maybe popping into the Friars Arms on an evening to sip beneath the pretty lights in the conservatory.
Norfolk nights
Gallus House in Northrepps is your perfect base for touring the East Coast's pubs. Enjoy the sea view from the White Horse in Overstrand, or enjoy a posh dinner at the famous Gunton Arms. Your local – The Foundry Arms – isn't too shabby, either.
Yorkshire rose
North Farm is a picture of English tradition combined with contemporary style. Which sounds a lot like the values that Britain's exciting new brewers live by, too. Try one of their brews at the nearby Dog Inn.
Got the bottle?
Alnwick Castle View is less than a minute's walk from a pub with a spooky legend. The Dirty Bottles is named after bottles that haven't been touched for over 150 years – the last person who did instantly dropped dead...