Focus on Yorkshire
Published: Tuesday 7th Jan 2020
Written by: Chloe Baker
Not for nothing has Yorkshire acquired the nickname of 'God's own '. As well as being by far the largest county in the country, it is blessed with the magnificent countryside, stunning beaches and coastal towns and some of the most dynamic cities in the UK. Given its size and diversity, a holiday in Yorkshire can sometimes seem like quite a daunting prospect. To help you navigate this remarkable county, and to give you a few pointers on some of its most impressive aspects, we've put together this short overview.
A (very) Brief History
Yorkshire has an extraordinarily rich and fascinating history. Inhabited initially by the Celts, it was later conquered by the Romans, became the Kingdom of Jorvik (where mainland Britain's only truly Viking territory was established), was transformed by the Norman Conquest, gained notoriety for its violent rivalry between the Royal Houses of Lancaster and York (which led to the Wars of the Roses) and was an important site in the English Civil War.
When visiting Yorkshire, there's no end of history to discover. Robin Hood's Bay, a maze of tiny streets, has a fascinating past and in the 18th century was rife with smuggling. Legend says there is a network of subterranean passageways linking the houses. Yorkshire's abbeys, castles and priories are stunning and in their plenty. Middleham Castle,  a ruined castle in Wensleydale and an English Heritage site, was once home to Richard III and is now a wonderful day out. Relive the castle's illustrious history and unlock the deeds of its great owners. Discover Bolton, Whitby and Javaulx Abbey, all open to the public and all fascinating to explore.
The Yorkshire coast is both huge and varied. Featuring rocky coves, gorgeous beaches, high cliffs, quaint fishing ports, bustling seaside towns and a richness of wildlife and flowers, it's no surprise that it's high on many people's list as the perfect holiday destination. Below are just a few of its impressive assortment of fishing towns, harbours and coastal retreats.
The Cleveland Way
The Cleveland Way incorporates miles and miles of Yorkshire's scenic coastal path stretching 109 miles from Saltburn-by-the-Sea, through Staithes, Sandsend, Robin Hood's Bay, and Scarborough and all the way to Filey. With fabulous views, fishing villages tucked into tiny coves, castles and sandy beaches, whatever part of the trail you decide to embark on will not disappoint. From high cliff tops to peaceful moorland, it is perfect for walking and in some parts, cycling and horse-riding.  
Famous for inspiring Bram Stoker's Dracula, Whitby is an unchanged and stunningly picturesque fishing port. As well as its cobbled streets, scenic harbour, unique shops, welcoming cafes and the remarkable ruins of Whitby Abbey, it also features the imposing 199 Steps that lead right up to the Church of St Mary. From there, at the very top of the town, you can enjoy spectacular views that will take your breath away. 
With its sandy beaches, cafes, shops, amusements and gardens, Scarborough is definitely the place to visit for the more traditional seaside experience. Full of hustle and bustle and lively entertainment, the whole family can enjoy busy fun-packed days on Scarborough's two beaches. The South Bay has traditional amusement arcades and donkey rides, and the North Bay has colourful beach huts, an open-air theatre, Scarborough Castle and The North Bay Railway.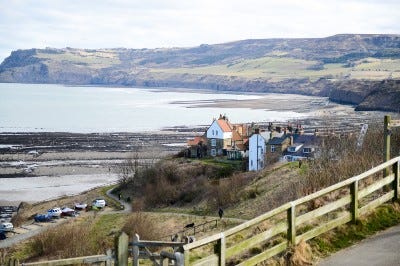 For 500 years the thoroughly charming Robin Hood's Bay has had fishing boats based there, with many families completely immersed in the local fishing industry. Full of winding steps, narrow alleyways and a steep ravine, this delightful town is the very definition of picturesque. Its local museum and visitor centre also provides a great insight into its fascinating history and geology.
Once one of England's largest fishing ports, this quaint coastal hamlet is packed tight with colourful crooked cottages and winding streets and has artistic heritage. It's an ideal place from which to explore Yorkshire's superb clifftop paths and is very popular with artists. Staithes Festival, an annual arts and culture celebration, is a fantastic weekend in September of painting, printmaking, textiles, ceramics, jewellery and crafts. Everyone gets involved with the villages local pubs and cafes opening their doors to the many visitors. We would recommend heading to The Cod & Lobster, a popular pub that's right on the seafront with fantastic views.
Voted best place to live in the UK by The Sunday Times, York is one of the country's most historic and picturesque cities. Widely-regarded for its historical landmarks and ancient city walls, it is a modern, bustling city that is rightly proud of its impressive and significant past. Boasting thirty world-class museums, they offer unique insights not only into the city itself but to England as a whole. Quite simply, a day in York is a day you'll never forget.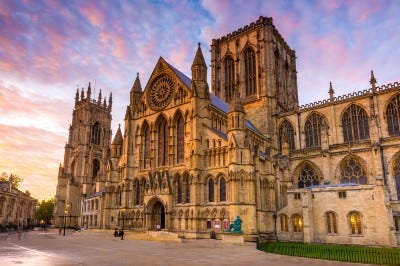 But spending just one day in York wouldn't really give you enough time to fully explore its many features and attractions. Some of the most impressive and unmissable of these, however, include the walkable city walls and Clifford's Tower which provide stunning views of the city. For a thorough and entertaining exploration of the past, a visit to the York Museum and Gardens and the Jorvik Viking Centre is absolutely essential. The National Railway Museum, which has free admission and includes nearly 300 historic trains, is the largest in the country and is perfect for families. And the beautiful and architecturally stunning York Minster is Northern Europe's largest medieval Gothic cathedral and just has to be seen to be believed.
For shopping, a visit to The Shambles is a must. With its overhanging timber-framed houses and traditional shopfronts, it's like stepping back into the middle ages. Here is where you'll get the real feeling of this unique and historic city. There's also the patchwork streets of The Quarter, the perfect place to pick up unique gifts and visit quaint cafes and elegant boutiques.
Nature and Wildlife
For nature and wildlife lovers, Yorkshire is teeming with areas of natural beauty and wonder. As well as its three national parks, there is a stunning array of places to see and explore, including waterfalls, caves, caverns, woodland walks and wildlife centres. Dramatic, romantic, tranquil and breathtakingly beautiful, the Yorkshire countryside has something for everyone. These are just a few of its many attractions.
Aysgarth Falls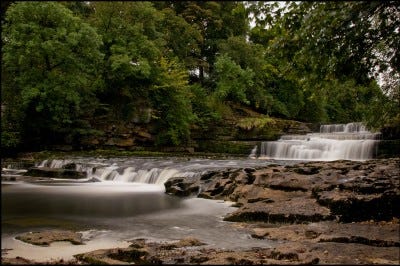 Close to the lovely villages of Capersby and Aysgarth, these stunning waterfalls provide a superb opportunity for photographers to get some truly dramatic shots. Our holiday cottage Aysgarth Nook is the perfect place to base yourself when visiting these falls. 
Dalby Forest
Located on the Southern Slopes of the North York Moors National Park, Dalby Forest has walking, running and cycling trails, two play areas, a cafe, multiple BBQ and picnic sites and a Go Ape course if you're feeling super adventurous. The forest is loved by locals and visitors alike and has something for everyone, no matter the age.
The National Centre for Birds of Prey
Here you'll find over 100 owls, eagles, vultures, falcons, hawks, kites and more in an impressive ten-acre setting.
Grass Wood Nature Reserve
Operated by the Yorkshire Wildlife Trust and set in the heart of the Dales, Grass Wood Nature Reserve is one of the largest wildlife-rich broadleaved woodlands in the area.
Skipton Castle Woods
Found in the heart of Skipton town centre, Skipton Castle Woods is 36 acres of ancient woodland where you can enjoy space, peace and the wildlife along a river valley that features Springs Canal and Eller Beck.
White Scar Cave
One of the most impressive attractions in the Dales, White Scar Cave is the longest show cave in Britain. Over 100 metres long and up to 30 metres high in places, the first thing you'll see inside is its enormous crashing waterfall.
So whether you're thinking of a romantic break for two or a fun-packed family holiday, Yorkshire is the perfect destination. With our vast collection of holiday accommodation, along with our truly local knowledge, we can ensure that your holiday is one that's made just for you. And one you will always remember. Find our Yorkshire holiday cottages here.
Meet Louise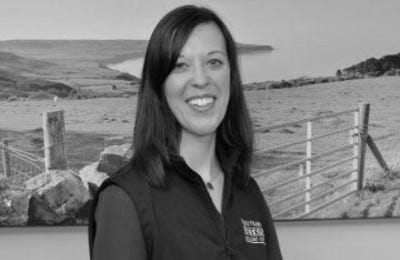 "My favourite thing to do in Yorkshire is to spend a Sunday afternoon with my husband and our four-year-old daughter taking in the fresh air of the North York Moors. We love to cross the stepping stones over the river in the pretty village of Lealholm, followed by a good roast dinner, with Yorkshire puddings of course, in the local pub The Board lnn. We'll then drive on to The Moors National Park Visitor Centre in Danby which has a fantastic play area and mud kitchen for children plus an indoor exhibition, art gallery, kids climbing wall and tea room."