Focus on Cornwall
Published: Tuesday 28th May 2019
Written by: Chloe Baker
A rich mix of fishing villages lying quietly in coves, quintessential countryside hamlets, wildflower fields, dolphin-rich waters and deep lush woodlands, Cornwall is an idyllic holiday destination, any time of year. It's brimming with culture, abundant with delicious local produce, and loved by the proud people who live there. Discover the places that bring you closer to the real Cornwall in this truly local blog. Kernow a'gas dynergh — Welcome to Cornwall.
Michelin Stars and Medieval Monuments
Cornish tastes
From mouthwatering dishes to crisp wines, the lands and waters of Cornwall help to create some of the most delicious and renowned foods in the country. The vineyards of the Camel Valley are the perfect place to sip some of the finest wines on the British Isles. The Wheelhouse in Falmouth serves up some of the best locally-caught seafood for miles. The Michelin Star Driftwood restaurant in Portscatho cooks some of the most beautiful Cornish beef from its breathtaking clifftop location. And Nathan Outlaw's magnificent, flagship sustainable seafood restaurant in Port Isaac, has earned itself two Michelin Stars and is a must-visit for food-lovers.
Cornish heritage
Soaked in history, breathtaking landmarks are found right across this ancient county. An island bound by time and tide, St Michael's Mount sits peacefully off the golden shores of Marazion. Connected to the mainland by an old stone causeway, this medieval castle can only be visited on foot when the tide is at its lowest, or by crossing the short passage by boat to its sub-tropical gardens, winding cobbled streets and the all-seeing castle perched upon its peak. 

Blue Flag Beaches and Areas of Outstanding Natural Beauty
Cornish Sands
Whether you're staying along the rugged north coast or the sub-tropical south, you'll find prestigious Blue Flag beaches in every corner of Cornwall. Seven beaches fly the flag of this international standard for the best beaches in the world, renowned for their top-quality facilities, RNLI presence, and most of all, cleanliness. Porthtowan breaks through dramatic cliff lines, Porthmeor is surrounded by trendy bars and cafes, Widemouth Bay and Gyllyngvase are a watersports fan's paradise, Trevone and Carbis Bay are peaceful and perfect for families, and the Great Western Beach is just moments from the lively streets of Newquay. Where will the blue skies take you? 
Cornish landscapes
From ancient wooded valleys carved into the countryside and cliff-top hikes around the county's coasts to tropical-like gardens and breathtaking heather moorlands – Cornwall has a myriad of habitats to explore. The Rocky Valley trail takes you along the river's tributary, between a stunning gorge valley of black rocks, with majestic views of the bay near Bossiney to reward you after your hike. Full of waterside walks and hidden places, it's the perfect afternoon stroll for families and enthusiasts. Or take the dog-friendly hike around Zennor head, down a country path, past a rushing waterfall, until you arrive at a stunning panoramic seascape. Just a short drive along snaking countryside roads from the seaside harbour of St Ives, Zennor is a tiny village with incredible views. This age-old village was one of the last bastions of the Cornish language, its granite was used to build the iconic St Ives and Falmouth harbour walls, and the wild landscape has been home to locals for over 4,000 years. Stop for a pint at The Tinners Arms, uncover the ten-ton tomb on the moor, discover the church's haunting mermaid carving and fall in love with the rugged beauty of the north coast.  Get outside, and see the real Cornwall. 
An Authentic Cornish Destination
St Ives
An oasis of crystal-clear waters, emerald countryside and endless blue skies – it's no wonder the harbour town of St Ives is the winner of so many national awards, including Best Family Holiday Destination by Coast magazine. A place that celebrates Cornish art and culture, you'll find a collection of some of the county and country's most renowned works here. The Tate St Ives is one of four of its kind in the world and holds hundreds of works produced by the St Ives School from the late 1800s. Or head to the Barbara Hepworth Museum and Sculpture Garden, where the bronze and limestone works of one of the country's leading 20th-century artists are exhibited within its tranquil gardens and original studio. View her workshop, where the artist's tools and overalls are placed just where she left them, get up close to the sculpture still positioned where she chose, and soak up the solitude. It's a magical place quite unlike anywhere else. 
Relax on one of the towns four golden beaches - Porthmeor, Porthwidden, Porthminster and the Harbour Beach - each as beautiful as the last. Stroll along the harbourfront and indulge in some of the county's finest restaurants. The Hub creates award-winning burgers and unique American-inspired tastes using all-local ingredients, from Baker Tom buns to Cornish beef patties. Spend hours in the traditional, neon-lit seaside amusements overlooking the bobbing boats of the harbour, or explore the cobbled streets tucked away behind the shoreline, where boutique stores and local bakeries create an eclectic Cornish shopping experience. Or discover its many galleries and take a painting home. Click here for a full list of our holiday cottages in St Ives.
Visit St Ives. Get closer to Cornwall.

We Are Truly Local
Meet Harriet, Marketing Manager for Cornwall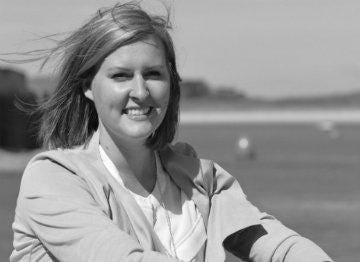 "I love St Ives for its huge variety of places to shop, eat and drink – a particular favourite of mine is The Cornish Deli – hidden away on Chapel Street – but definitely not to be missed! They even sell their own preserves and chilli sauces, and everything is locally sourced.
St Ives is also the perfect destination for a traditional bucket-and-spade holiday, with five beautiful beaches within walking distance of the town. My favourite is Porthmeor Beach, located just below the iconic Tate St Ives. Porthmeor is also one of only eight beaches in Cornwall that hold the prestigious Blue Flag Award, given in recognition of water quality, safety, environmental management and education. Whatever the weather, whatever the season, there is always something new to do and explore in St Ives!"

Whether it's with family, friends, that special someone, or your most loyal companion, get closer to the people and places you love in Cornwall with our truly local knowledge. From shoreside abodes to countryside retreats, our stunning cottages across the county help you to explore the county, while living like a local. Discover your authentic Cornish getaway today... To find out more about Cornwall and our Cornish holiday cottages, click here.