Festive Treats Recipe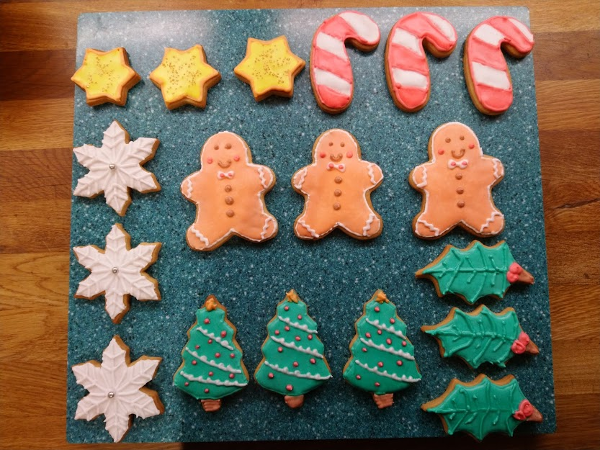 Last weekend I made some Christmas-themed biscuits. They taste great, even if I do say so myself! If anyone would like to make some Christmas-themed biscuits to get themselves into the festive mood, the recipe is as follows: 
Ingredients:
170g caster sugar
170g salted butter
170g golden syrup
1 large egg
1 tsp vanilla extract
480g plain flour
130g self raising flour
Method:
Oven at 150°C (130°C fan).
Add all ingredients (except flour) into a bowl and mix with an electric whisk for 4 mins, or until all lumps are gone. Add the flour and mix again until a dough is formed.
Divide into 2 (I froze half to use another time).
Roll each half with a rolling pin between two pieces of greaseproof paper until it is 0.5cm thick.
Refrigerate for half an hour (not necessary, but makes cutting easier).
Cut with your cookie cutter shapes.
Put on baking trays lined with greaseproof paper and bake for 20-30 mins (should be golden brown).
Icing:
Any variation of royal icing will do, but a fresh recipe will need 4 egg whites and 900g sifted icing sugar to cover the full amount of biscuit mix.
Mix the icing, adding enough water to get a toothpaste-like consistency.
This is your 'line' icing and goes around the edge of your biscuits. Colour as desired (measuring out into small bowls if several colours are needed), then put the icing in a piping bag with a small nozzle.
With a steady hand, pipe the outline of your icing area.
You then need to make your 'flood' icing, which is exactly the same but a thinner consistency. So add droplets of water until you have a pourable, spreadable mixture.
After the 'line' icing has been left to set (about 10 mins), add your flood icing, again using a piping bag (or a squeezy bottle or a teaspoon!).
You can use any variation of colours and design of 'line' icing to get the pattern you want. Just make sure you have all your colours ready to go before you start!
To set the icing, bake in an oven at 50°C for 40 mins (or until completely dry).