Discover the Secrets of the South-East
Published: Tuesday 25th Feb 2020
Written by: Chloe Baker
From an oasis of peace, serenity, and a slower pace of life to an enchanting haven of cosmopolitan seaside resorts, white chalk cliffs and unique natural splendour — the South-Eastern counties of Kent & Sussex have something for everyone. 
Whether you're staying for a weekend or a while longer, we know that filling every day with memories, beauty, and fun things to do isn't easy in a new place. That's why we've worked with our truly local teams to kickstart your break, guiding you to some of the very best tourist hotspots, and to the hidden gems that most visitors rarely see. 
The best vineyard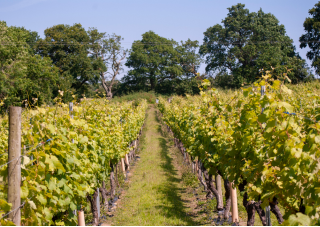 Just a short drive from the small countryside town of Tenterden you'll find the original Chapel Down winery. Thanks to the iconic chalk soil and the perfect climatic conditions of Kent, Chapel Down produces award-winning English wines that are loved by some of the biggest names in Britain, including Gordon Ramsey and Jamie Oliver, and poured at great institutions like The Royal Opera House and Ascot Races. Their stunning restaurant and bar overlook 22 acres of vineyards, a place recognised as an 'Area of Outstanding Natural Beauty', and their wine tours and tastings are perfect for a day out with friends.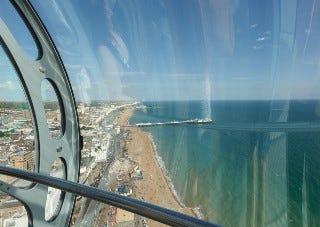 The best view
Between the two counties, there are hundreds of breathtaking views to experience, from the imposing cliffs of Dover to the sprawling valley of Devils Dike. But none are quite as impressive as a trip to the top of the British Airways i360. Towering above the unmistakable pebble beaches of Brighton and Hove, you'll get to see the beauty of the south coast like never before. Gently glide up to 450ft in a futuristic glass viewing pod designed by the creators of the London Eye, and admire an awe-inspiring 360-degree view across the city, over the South Downs National Park, and on the clearest days, all the way to the Isle of Wight. 
The best ice cream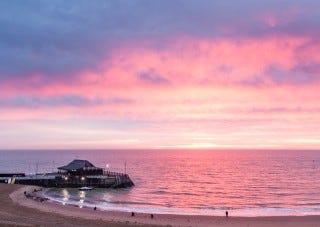 If you're going on holiday in one of Britain's most renowned regions for iconic foods and beautiful beaches, then you can't leave without having a real South-East traditional ice cream. And if you're looking for the best, then look no further than Morellis in Broadstairs. Opened in 1932 along the picturesque seafront of Viking Bay, this retro ice cream parlour takes you back in time with soda fountains, a jukebox, pink leatherette seats, and mouth-watering fresh gelato every single day. They offer a wide range of flavours, served in cones, like sundaes, on waffles and crepes, and in a unique pot designed for their dog-friendly treats too.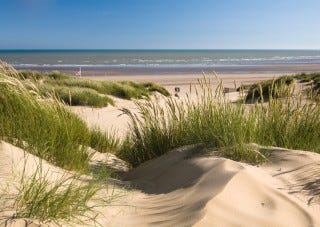 The best beach
With over three miles of soft golden shoreline and gentle brushing dunes, it's no wonder Camber Sands is one of our favourite beaches in the area. Whether you're looking for a sunset stroll along the water's edge or a day in the sun with your favourite novel, you'll find a little piece of heaven on this simple and beautiful sandy beach. And it's dog-friendly, too, with the whole beach open to your pooches in the winter, and an area reserved for our four-legged companions in the heights of summer. 
The best night out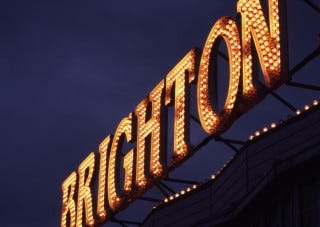 If you've come to Sussex to party, you won't be disappointed. Brighton's vibrant North Laines have a wide variety of pubs and bars, from more traditional venues with weekly quizzes to trendy cocktails bars serving unique and wonderful drinks creations. The food here is just a varied, with a mouth-watering selection of cuisine from around the world that's sure to impress every tastebud.  If you're a fan of live music, you're going to love this city that has produced big names and harbours hidden talent. Looking to hit the dancefloor? The nightclubs along the seafront keep the party going until the early hours.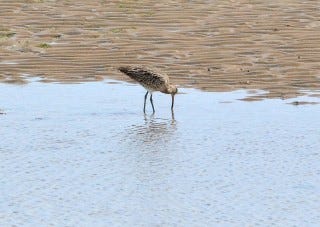 The best nature reserves
The gentle stroll around Rye Harbour Nature Reserve is full of breathtaking seascapes and landmarks. The team here has recorded more than 4,500 species of plants and animals, with more than 300 species that are designated nationally rare or endangered.  If you're an avid bird watcher, you'll find hundreds of terns nesting here, while several other breeds come in to feed. Love nature walks? Then Rye Harbour is perfect for you too. There are two trails to follow, one brisk two-mile walk, or a longer five-and-a-half mile trek. If Rye is a little too far from where you're staying, don't panic, both counties are brimming with wildlife, and there's more than one Area of Outstanding Natural Beauty nearby.
In 2020, the iconic Open Championship will return to Royal St George's for the first time since 2011. Taking place on the spectacular Kent coastline, The 149th Open will showcase some of the world's best golfers as they compete for the Claret Jug. For anyone that knows this course, you'll recognise the magnificent 6th hole, 'The Maiden', and it's sure to be a popular viewing spot as spectators line the towering dunes which surround the green. If you're looking to stay close to the action this summer, a cosy cottage nearby could be the perfect spot for you. Discover them here.
Whether you're relaxing along vast golden sands with the family, spending the weekend in the lively city with your friends, or enjoying the sights and sounds of an Area of Outstanding Natural Beauty with your loyal companion, we'll get you closer to the people and places you love. 
Discover your authentic South-East stay today with our holiday cottages in Kent and Sussex.