Dann's Ice Cream – A Local Treat
Published: Tuesday 4th Jun 2019
Written by: Drew Dann
With acres of unspoilt farmland, over 50 breweries and countless artisan food producers, it's hardly surprising that Norfolk is home to a wealth of mouth-watering food and drink options. Dann's Ice Cream represents one particularly sweet example of the kind of sumptuous fare on offer and of a truly local success story.
From Dairy Farm to Ice Cream
Nestled in the quiet village of North Tuddenham, Dann's Ice Cream was founded in 2007 and today continues to produce a tempting range of delicious ice creams, sorbets and other treats that are popular with local residents, restaurants and holidaymakers alike. The venture was the brainchild of Simon Dann, who was keen to explore ways of diversifying the family dairy farming business. The Danns have managed their 600-acre farm for four generations, however changing times meant that there was an opportunity to add a further facet to the business.

"The main push to start producing ice cream was to help the dairy farm survive as a result of the falling milk prices," explains Emma Archer, who works as the company's Business Development Manager. "Today, we see a lot of the same faces coming into our farm shop and out and about at shows and events. Support from the local community is always important and word of mouth about our products is one of the most valuable forms of advertising!"Although the Dann family continue to manage their dairy farming operations, support from the local community was indeed vital in establishing the ice cream side of the business. This relationship extends to the way in which Dann's source the ingredients for their many ice cream varieties, from locally grown fruits to Norfolk malts. "The key difference between us and other local competitors is that we are the only ice cream company in Norfolk that uses our own milk and cream. We have a herd of over 400 Holstein Frisian cows being milked three times a day meaning we always have access to fresh milk and cream," Emma reveals. "We aim to use as much local produce as possible for example, Strawberries from The Tacons at Rollesby in our ice cream and lollies and we have recently released our Norfolk Malt ice cream working in collaboration with Norfolk Brewhouse, which is getting a very positive reception so far."
Something for Everyone
During the past decade, Dann's Ice Cream has introduced a dizzying array of ice creams, lollies and sorbets so suit all palettes – and dietary requirements. These range from a tasty range of 'Diddy Dann's' lollies that made especially for children and boast a high milk content to varieties that are suitable for vegetarians and gluten-free options. There are even icecreams that are suitable for the family dog so that nobody gets left out! "We have a huge range of flavours of ice creams, sorbets, lollies, Diddy Dann's and even 3 flavours iced treats for dogs under the branding of Pupsicles," Emma elaborates. "Our milk and cream used in our ice cream come from our own dairy herd just down the road from where we produce the ice cream."

One of Dann's latest hits has been its malt ice cream, which is often regarded locally as the perfect comfort food. As with the formation of the business itself, innovation was at the heart of the development of Dann's malt ice cream and the results have been highly impressive. "We realised that to get the maximum flavour we should follow the exact same process as the brewers do but by using milk instead of water," explains Production Manager/Head Chef James Smith. "The results were astonishing - not only was the flavour incredibly deep and malty but it had an earthy naturalness that we hadn't found in other malted ice creams."
Try it for Yourself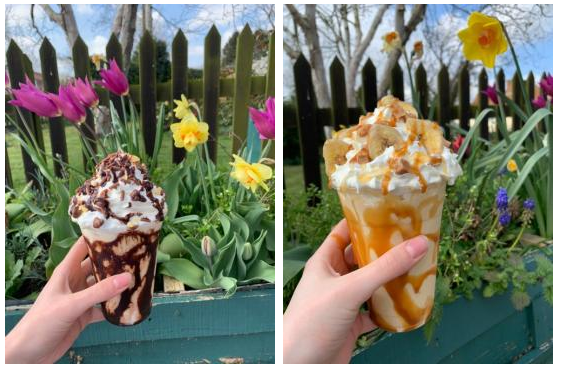 Whether you are a local resident yet to discover Dann's luxury ice cream or a visitor to Norfolk looking to enjoy the very best of what the county has to offer, there are plenty of ways that you can try Dann's Ice Cream for yourself. "We have a small farm shop here in North Tuddenham with our products available, as well as a range of other local produce. You can also buy our farm fresh whole milk, pasteurised daily.
We often have limited edition flavours available exclusively in our farm shop – recent ones include Lemon Meringue Pie, Rocky Road, and Lotus Biscoff. There are now plenty of other places across Norfolk that our ice cream can be found," Emma says. "We attend a lot of outdoor events, serving up ice cream and luxury milkshakes, as well as occasionally waffles and hot drinks - weather dependant! Over the coming months, we have Houghton Horse Trials, Reepham Food Festival, the Norfolk Show, Aylsham show, Congham food fair, The North Norfolk Food and Drink Festival as well as many more!"
Truly Local
Dann's Ice Cream is a wonderful example of a locally-based food producer that is truly part of the local community, so much so in fact, that one of Original Cottage's own actually helps out in the ice cream making process. Sigourney works as part of our friendly Sales Support Team but also spends time with the Dann family helping to make their frozen treats a reality. "Dann's is a small friendly, family-run business and is a very different environment than working in Sales Support! Making ice cream is a fun process and I am lucky enough to spend time with close friends, so it doesn't really feel like I'm working," She explains. "I am happy to give the team a hand over their busiest period with everything from individual 100ml pots, lollies, 5L catering tubs and ice cream for dogs. My favourite flavour is the salted caramel - it's definitely one for those with a sweet tooth!"
It's been a fantastic journey for Dann's since 2007 and the venture shows no signs of slowing down. With so many tempting luxury ice creams varieties on offer, the only question is which will you try first?
…
If you would like to stay in Norfolk and try Dann's Ice Cream for yourself, why not have a look at our selection of hand-picked Norfolk Cottages, or if you'd like further information on where to buy Dann's Ice Cream while on your holiday, you can visit the company's website to view their Current Stockists.
Dann's Farm Shop can be found at Pound Farm, North Tuddenham, Norfolk, United Kingdom NR20 3DA. 
Written by Andrew Dann