City Break Escapes
Published: Friday 16th Mar 2018
Written by: Leah Smith
If those bright city lights are tempting you away from everyday life and your inner culture vulture is longing to escape, there are plenty of city destinations in the United Kingdom in which to discover on your next holiday.

City breaks certainly appeal to all types of holidaymakers and many of the most popular city locations are also within a short drive to holiday hotspots such as popular beaches and countryside delights therefore there's always plenty to see and do. 

So if you're a lover of British landmarks, a budding historian, a musician or you simply crave some retail therapy, here are some city locations which are sure to make your holiday shortlist for a city escape in the UK.

Brighton and Hove

One of the most popular cities in the UK is Brighton, and it's clear to see why! Located in East Sussex, this seaside resort is buzzing with vibrant activity. 
Brighton and Hove have an endless list of activities including must-see attractions such as the pleasure Pier and British Airways i360 - a state-of-the art gliding tower reaching 450ft high for taking in panoramic views of Brighton and the stunning coastline. Artists too will thrive in Brighton's Museum and Art Gallery which features a rotation of exhibitions throughout the year and various showcases in fine art and fashion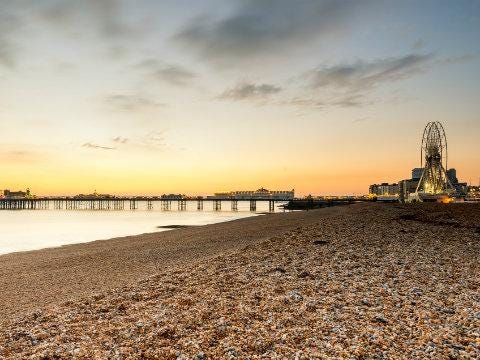 Brighton is of course a family-friendly destination with its award winning beach and iconic colourful beach huts, not forgetting the fun-filled Pier. Opposite the Pier is Brighton's Sea Life aquarium with its thousands of water creatures on display. The aquarium is also open all year round.

Brighton plays host to a range of festivals, musical showcases and theatre productions, many of which take place at either the Brighton Centre or Theatre Royal. 

If you fancy a 'shop 'til you drop' experience then Brighton really is for you! There are various independent shops and boutiques dotted around The Lane and London Road. You'll also find many big High Street names on Brighton Marina and Churchill Square. 

Recommended place to stay: Medina Flat in Hove – it's such a welcoming apartment which accommodates four guests and is only a short walk from the seafront.
Cardiff

The capital city of Wales is one of the finest cities to explore with its abundance of unique attractions, stunning architecture and shopping experience. 

Cardiff is home to two museums – National Museum Cardiff and St Fagans, the Natural History Museum. The National Museum located within the city centre is a huge draw for artists across the globe. Exhibitions also include archaeology, natural history and geology. St Fagans is located on the outskirts of Cardiff in the grounds of St Fagans Castle and gardens. The museum reflects the pastimes of Wales with its many historic buildings which have been restored. St Fagans also hosts various festivals and events during certain times of the year. Both museums are equally a must see.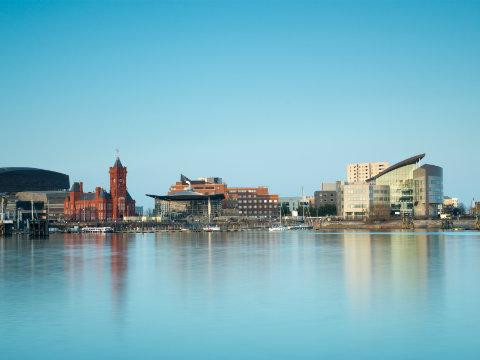 For visitors with a love of sightseeing, whether it's on foot or by bicycle, Cardiff is packed with green space. To take advantage of the greenery, we recommend taking the 'Traff Trail' and exploring the various former tramways, rail routes and towpaths. Along the way you will discover thousands of acres of parkland stretching towards the Brecon Beacons.

Cardiff is among the cities in the top 10 for shopping destinations in Britain, so you can expect to see a modern 21st century shopping centre. St David's Centre features some of the most desired shop names of today. A great selection of shops can also be found towards the waterfront at Mermaid Quay. Cardiff doesn't forget its historical roots, so you can also visit the large market which has been running since the 1700s and showcases some of the city's best fishmongers, bakers and butchers. 

Sport is widely celebrated across Wales and the Principality Stadium hosts international rugby and football where you can book guided tours. For adventurer seekers a trip to Cardiff International White Water rafting centre can get really your adrenaline flowing!

Recommended place to stay: Pontcanna Townhouse, Pontcanna. With Pontcanna recently being named in the top 20 hippest areas in the UK, location is everything! This property is spacious and ideal for a large group getaway.

Norwich
The cathedral city of Norwich is located in the county of Norfolk in East Anglia. Norwich is a great place for retail therapy with plenty of shopping centres to discover such as Chapelfield and the Castle Mall, both of which feature some of the High Street's most popular names. There are also a vast choice of independent gift shops, homeware stores and haberdasheries available in an area known as 'Norwich Lanes' which is made up of pretty streets and alleyways.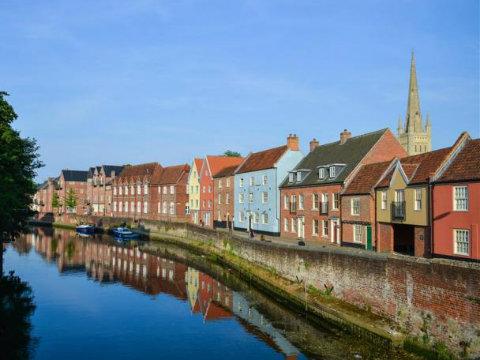 Norwich celebrates art, culture, food and drink and fabulous architecture. Throughout the city you'll find cobbled streets and historic buildings - there's never a shortage of heritage sites to explore. Norwich presents twelve of the most iconic buildings in the city including the Castle, Cathedral and The Great Hospital - all commonly known as 'The Norwich 12'.

Outdoor experiences are high on anyone's agenda when visiting the city. With the River Wensum flowing through Norwich itself, days out on the water can be enjoyed by all. Day boats can moor at the Yacht Station which is just moments from the centre of the city. 

Even on the outskirts of Norwich there are plenty of attractions to keep you busy such as Bure Valley Railway – Norfolk's longest heritage railway, Plantation Garden which is Grade II heritage garden with its gothic fountain, plus open bus tours of the experts favourite attractions and sites in and around the city. 

Culture in Norwich thrives all year round, this is helped by the many theatres, cinemas, galleries music shows and food festivals hosted. Our favourites include The Forum which is a glass-style atrium, The Museum of Norwich and Norwich Puppet Theatre.

Anyone looking to holiday in Norwich certainly won't find a shortage of activities to keep them busy!

Recommended place to stay: Quayside, Norwich. We love this city-chic townhouse for two with stunning views of the River Wensum and its central location.