Bringing Festive Magic to a Christmas Getaway
Published: Friday 4th Dec 2020
Written by: The Original Cottages Team
Heading away for the big day? Here's how to unleash your imagination on the season of goodwill.
It's the most wonderful time of the year – with that festive feeling that never gets old! From the age-old family traditions we all love, to the new ones that are sure to surprise and delight your loved ones. If you're spending this Christmas in one of our stunning holiday cottages, here are our top tips for festive cheer.
Make the place your own
Bring a bag of decorations from home or get crafty with the family and make your own. A string of sparkling LED lights adds an instant cosy feeling to any room, while a paper chain is the ultimate in old-fashioned celebrations. Or go all out – you could even pack the Christmas cards and bring a pre-lit artificial tree for presents on Christmas morning.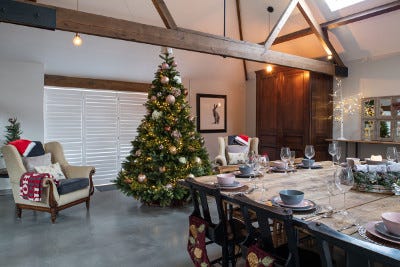 But our top tip is to get natural this Christmas. Pair a gorgeous winter's walk-in magical woodlands with collecting pine cones and holly leaves – perfect for making a one-of-a-kind tree decoration, stunning wreath or show-stopping table centrepiece.
Treat yourself and your family
Christmas comes but once a year – so allow yourself those little indulgences that make it all the more special. Perhaps you'll order a case of wine to arrive at your holiday cottage? Or a delivery from the local deli packed with cheeses, chutneys and cooked meats. You could even go all out and find a village pub offering takeaway Christmas dinners so no-one will have to tackle those pesky roasting pans!
Speaking about food, don't forget to pack those all important dog biscuits and to leave some turkey aside for the four-legged members of your family.  With brands such as Love Louie offering everything from cosy doggie sweaters to unique pet-friendly treats including dog-friendly Christmas pate crackers and even mini roast hampers, your trusty canine friend will love a festive cottage break just as much as you! 
Original Cottages work in partnership with Love Louie as part of our Holiday Extras programme, which allows Original Cottages customers to book an exclusive Love Louie pet hamper for delivery across the UK. 
If you are feeling a little more adventurous, why not have a go at getting together for some festive Christmas baking? What could be better than enjoying some freshly baked treats with a mug of hot chocolate in a cheerily decorated holiday cottage?  To help you get inspired try this brilliant recipe now for some tasty Christmas treats.
Laugh and be merry
Those family-favourite board games are always guaranteed to make it feel like Christmas wherever you are. Bring your favourite festive DVDs or a streaming stick to plug into the telly (most of our cottages are fully-equipped with wi-fi). Pack the photo albums meanwhile, and you'll soon be snuggled up on the sofa to reminisce. 
But there's so much to discover outside of your gorgeous cottage, too. Just imagine yourselves wrapping up to watch brave souls taking their Christmas dip in the Cornish sea, spotting seals on Norfolk beaches or walking along never-ending Northumbrian beaches. You might be exploring Welsh shopping lanes strung with lights, or arriving at a country pub up in the Lakes for the warmest of welcomes.
Happy Christmas from the Original Cottages family
Wherever you decide to spend Christmas this year, here's wishing you the merriest of Christmases in good health and good cheer.
If you'd like to explore our fantastic range of cottages available in December, then jump aboard the sleigh! Find your perfect cottage now.