Discoveries to look forward to
Published: Wednesday 13th Jan 2021
Written by: The Original Cottages Team
Have you heard of our top 10 secret UK experiences?
In normal times, we Brits love getting away to discover new places. But 64% of people tell us there are whole areas of the country they still know very little about. We're confident 2021 will still be the year we can all finally get 'out there' again. If you're looking for some inspiration for when the restrictions ease and you can head off on holiday again, here are ten incredible experiences to add to your UK holiday wishlist. 
1. Scuba dive in Norfolk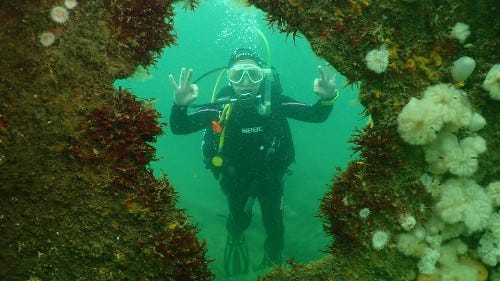 On the east coast, Norfolk's Great Chalk Reef contains over 300 underwater shipwrecks just waiting to be explored. Book a stay in cutesy Cromer or stylish Sheringham for proper seaside relaxation, then head out to earn your PADI certificate amongst the undersea chalk gullies that line the coast. 
Watch crabs and lobsters scuttling around the timber frames of sunken ships, while you might even spot a seal watching you when you pop back up for fresh air. Not sure where to begin? There are plenty of friendly local companies that our local experts can put you in touch with.
2. Go husky sledding in Yorkshire
These powerful dogs were born to run, and that's just what they do in the stunning countryside by the Yorkshire Coast. Want to feel the wind in your hair as you mush your own team of dogs? Then hop aboard a sledge and tackle a purpose-built course with tight turns and exciting downhills for an unbeatable ride. There are also amazing experiences to be had at huge farm parks, with rides in beautiful surroundings.  
Don't miss your chance to try an experience most people would think is only possible in places like Scandinavia or Canada.
3. See the Northern Lights in Northumberland
Many people travel thousands of miles to see the Northern Lights – the mysterious atmospheric phenomenon that fills the skies with dancing colours. But those who know where to look can see this awesome spectacle right here in the UK. 
On the Northumberland coast, a beautiful place at any time of year, the right weather conditions mean that it's possible to see the Aurora Borealis. These are among the darkest skies in England so, even if the Lights aren't on show, on clear nights you'll see the awe-inspiring Milky Way and a moon brighter than you've ever seen before. This is a place to make you feel very small indeed.
4. Do cave trampolining in Snowdonia, North Wales
Deep under the earth's surface, in an abandoned slate mine reclaimed by thrill-seeking adventurers, is a unique destination for anyone with a sense of fun. Huge caverns are lit by dramatic colours and enormous springy nets and trampoline platforms are suspended from the ceiling. You'll bounce your way through the subterranean maze that's unlike any other.
It's a long way from what you'd normally expect when you take a tour of an underground mine. And it's something that everyone should try, at least once in their life.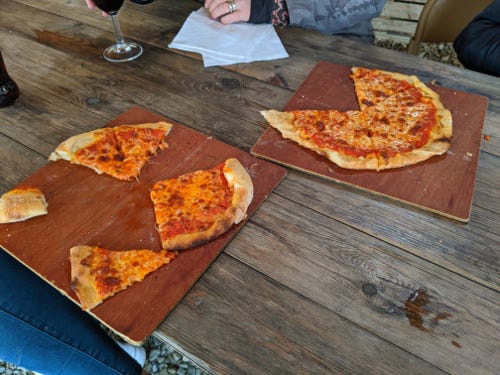 5. Eat at a pizza tipi in West Wales
The mist rises from the river, as kingfishers skim the water's surface and magnificent swans glide overhead. The sun is just starting to set, the air is warm and the world feels truly peaceful. Oh, and there's pizza! 
That's right, this riverside restaurant in Cardigan, West Wales, is a truly unmissable place to eat – and well worth the journey to the Welsh coast all by itself.  There are stonebaked handmade pizzas, served in the centre of the tipi, and Welsh craft beers straight from the barrel. It's the sort of place you'd imagine stumbling upon in an Italian mountain range or magical North American hideaway.
6. Get silly at the Hat Festival in Dorset
Partial to a Panama? Fond of a fez? Can't resist a cap? Then you'll want to head to this uniquely British, completely crackers celebration of headgear in all its forms. Here, hundreds of people pack the streets all wearing the most amazing hats you'll ever see. It might be top hats adorned with planets, birds or food and drink, or stylish one-off pieces of head-mounted art. 
We rate the Bridport Hat Festival alongside other uniquely British institutions like cheese rolling and bog snorkelling – but this is one that the whole family can truly enjoy!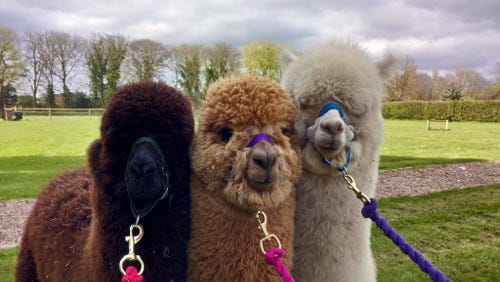 7. Enjoy alpaca trekking in Kent
Get up close and personal with these fascinating creatures on a countryside adventure in the lovely surroundings of Kent. You and your friends or family will each lead an alpaca (or llama, depending on where you try it) on a trek. You'll get to know their unique personalities and laugh lots at their cheeky characters. 
If you've ever thought about travelling to South America, then get a taste of Peruvian trekking right here at home – and tick it off your wishlist in 2021!
8. Pop into Teapot Island in Kent
Afternoon tea is possibly the most English of holiday activities. Come and indulge your love of tea on a pilgrimage to Teapot Island, a museum boasting over 7,000 teapots on the banks of the River Medway. 
People travel the world to indulge their passions – whether it's visiting the home of chocolate in Switzerland, trying bananas from the tree in Africa or sampling fresh spices in India. So what could be better than a visit to a genuine shrine to our very own national drink at Teapot Island?
9. Party at Fat Tuesday in Sussex
Mardi Gras is often called the greatest party in the world. Hosted in New Orleans, it's an explosion of bright colours, joyful music and a wonderful atmosphere. So why are we mentioning it in our list of top UK experiences? Because, in gentle Sussex, the sleepy market town of Hastings is transformed each year for our very own version of Mardi Gras – called Fat Tuesday!
Locals dress up in over-the-top costumes, with weird and wonderful masks and technicolour outfits. There are loads of brilliant bands booked to get the party going (with 200 gigs in one day in recent years). Don't miss your chance to join the fun.
10. Experience the Minack Theatre in Cornwall
Never mind the UK's top experiences, this one could rival any in the world. Close your eyes and imagine a dramatic Cornish clifftop with the powerful sea swelling hundreds of feet below you. Then imagine a theatre carved into the very rockface.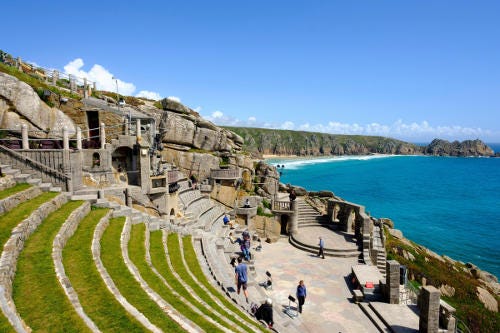 Here at the Minack Theatre, the words 'stunning surroundings' simply can't do the place justice. You'll watch plays and productions from amphitheatre seating, as actors perform on a stage with the sea for its backdrop. Romeo and Juliet in front of the sunset, anyone?