Let's go outside
Some of my most treasured childhood memories are exploring the area around Welshpool where I grew up. I hope my kids say the same when they're older! Whatever your age or ability, I'd love to show you some spectacular sights and top ideas for getting out in the fresh air in Mid Wales.
A spectacular cycle trail
The beauty of Mid Wales is that you are never too far away from the coast. In around an hour from the English border is the little town of Dolgellau, sitting beneath the mountain of Cadair Idris. From here starts the Mawddach Trail, a disused railway line which runs down the estuary towards the golden sands of the seaside town of Barmouth.
Me and my family often take our bikes and ride the full length of the trail through Penmaenpool and Arthog (giving Arthog Hall Farm a wave as we pass through) towards the 699m long bridge into Barmouth which stretches across the Mawddach Estuary. You can also hire bikes from either end of the trail. It's gorgeous, with sweeping views of the forests and hills on the other side of the river valley. Set out first thing, or in the late afternoon, and you'll catch the sun glinting off the water as you cross the bridge – by far the most romantic way to glide into town!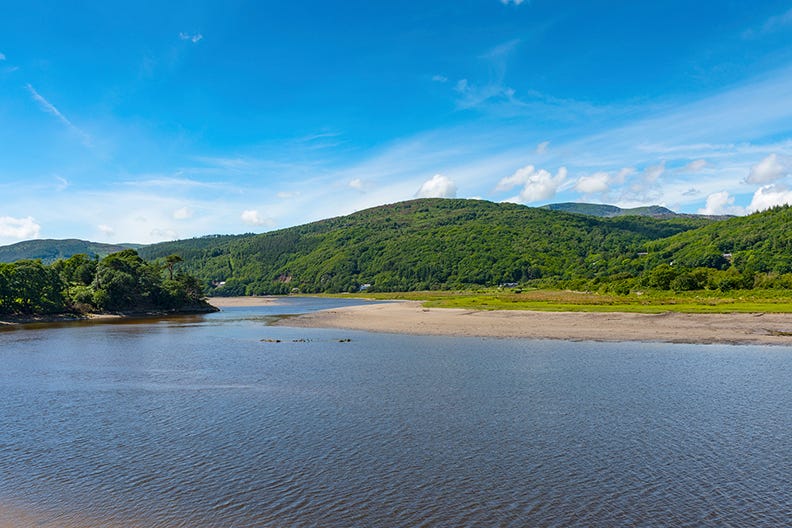 Glorious mountains
If you'd prefer to explore by foot, Dolgellau is also perfectly placed to climb Cadair Idris. After a steady and gentle climb that passes Penclogwynau Cottage, the path suddenly turns into a scramble up to the top of the horseshoe-shaped hill that some used to believe was the crater of a volcano. There are some hairy moments and eroded paths on certain routes, so don't attempt it unprepared or in icy weather.
Alternatively, take the Precipice Walk trail, which is largely level, apart from the initial approach. The beauty of this walk is that you get all the glory of a mountain climb with stunning views of Snowdonia towards the coast, without all the effort! The walk ends alongside Llyn Cynwch, ideal for a bit of stone skimming before rewarding yourselves with a spot of lunch (or a beer and a packet of crisps) at George III in nearby Penmaenpool.
Blissful gardens
Not far from Welshpool is Dingle Garden, which was started by my gran, Barbie Joseph. The Dingle was once a small hill farm of 60 acres but was transformed into gardens with a beautiful maze of paths running through colour-themed beds down to a large pond. All the local kids from Welshpool used to come up and swim as there was no swimming pool there – nowadays I'd recommend heading to Berriew if you fancy a dip (see below). Just like the gardens at Powis Castle down the road, this is a beautiful place in spring but it's also well-known for its magnificent autumn colour. Stabal y Nant is just a little further down the narrow country lanes lined with wildflowers and nature and, if you keep going, you'll walk the same road my family have for generations to get to school in the town.
"If you're into your plants, I'd recommend stopping at both Dingle Gardens and the formal gardens of Powis Castle while you're here."

- Kate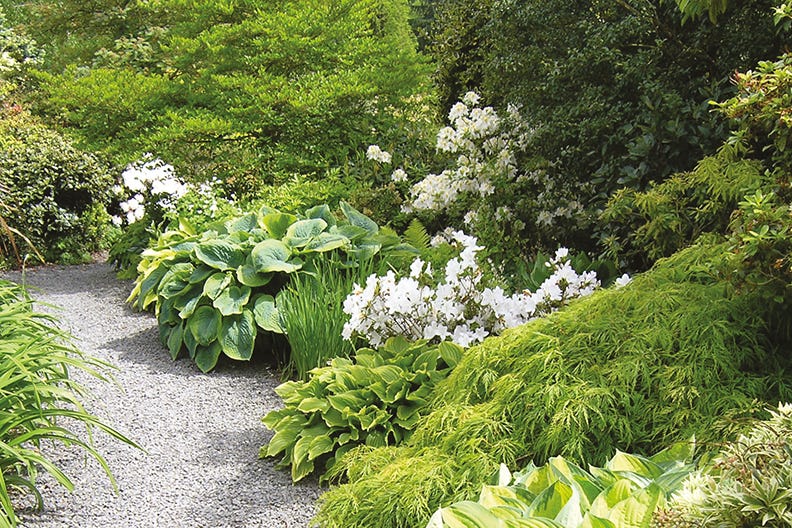 Go for a dip in Berriew
Just five miles from Welshpool, Berriew is such a pretty village. Criss-crossed by red sandstone bridges, the River Severn gently winds its way between houses and trees, with the rocky riverbed forming deep pools and stepping stones. My kids, and in particular my daughter, love plunging into the water. There are plenty of places for parents to keep a watchful eye from the riverbank – although I'd recommend joining them to splash around!
We often visit on a warm day to paddle and have a picnic. There's little better than taking a little gas stove to fry up some sausages and enjoy a beer or a glass of wine while the kids play. My daughter Hopey says that if you're staying at the beautiful Trefnant Hall, which is just outside Berriew, you HAVE to venture into the village to purchase an ice-cream from the locally-owned Berriew Stores.
Continue the journey
Let us take you on a journey to Mid Wales from the comfort of your sofa! We're bringing the best of England and Wales to you – so read on and experience Kate from Wales Cottage Holidays' favourite places to go and some hidden gems, too. We've got plenty of nearby properties, and can't wait to welcome you...