Tasty food
The south coast is home to hundreds of talented people doing amazing things with food and drink. Wherever you go in East Devon, you're sure to find something delicious – from a traditional cream tea to a bold new street food stall. Here are a few of my favourites to get your mouth watering!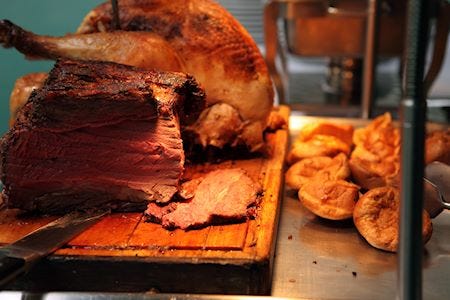 Proper pub grub
At the Hare and Hounds pub in Sidbury, there's a renowned carvery that keeps us locals coming back over and over again. It's set in a beautiful part of the country, with a spacious beer garden outside, a children's play area and lots of room to relax. The crab salads and ploughman's lunch are also well worth a try. For unfussy, traditional pub food, this is far and away my top recommendation – especially for a stay at Little Hollies. It's best to book as it's deservedly popular.
The Hare and Hounds worked hard to reopen after lockdown, and went above and beyond to keep everyone safe – please do show them your support when you get the chance to visit in person!
Beer's beach bites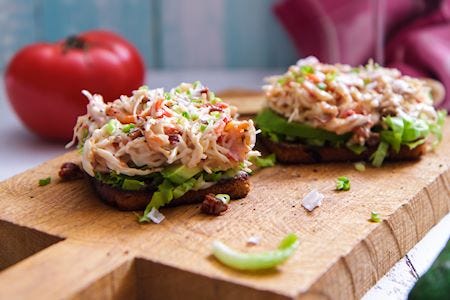 You're spoilt for choice when it comes to good food on Beer's beach. The beachfront cafes here are thriving, offering tasty food in idyllic surroundings – the location is second to none! At Kenno's, you can enjoy tea from real crockery and a bacon bap for breakfast, or a delicious cherry flapjack as an afternoon treat – perfect if you need a recharge after a long swim. Ducky's, another café here, offer ice cream for dogs and the freshest crab sandwich you'll ever eat.
It's a fairly steep walk into the village from the beach but there is usually space to bring the car down the hill for picking up and dropping off, if needed – or you could stay at The Belvedere, just a short walk away.
From field to plate
No mention of Devon's foodie scene would be complete without pointing you in the direction of the fabulous produce on offer. And, for me, our farm shops are the best place to go and stock up on treats on day one of your holiday. 
First up, Greendale Farm Shop, which is handy to get to if you're passing Exeter on the way to your holiday cottage. As well as selling the freshest meat and fish, whether it's reared on the farm, caught by local trawlers or sourced from carefully selected suppliers; they have animals for the children to feed too which makes it a great experience for all. We spent much of the day here with friends recently, drinking great coffee, eating great food and watching the children play on the old fire truck and tractor!
My other recommendation is Millers Farm Shop in Kilmington, which is family-run and has been growing and selling locally sourced produce for over forty years. The shop is an Aladdin's Cave of the most sumptuous food imaginable. From a colourful array of vegetables grown on the farm to Lyme Bay fresh fish, meat, cheeses and delicious pastries. There's certainly an impressive selection to get your mouth watering.
Squirrel, a newly launched online farm shop based in Seaton will deliver fruit and veg boxes and local produce directly to your holiday cottage. You can also enjoy whole foods, plant based products, store cupboard staples, and eco-friendly cleaning & body care, which means less for you to pack!
Continue the journey
Let us take you on a journey to East Devon from the comfort of your sofa! In these uncertain times, we're bringing the best of England and Wales to you – so read on and experience favourite places to go and some hidden gems from Charlotte, our local Marketing Manager. We've got plenty of nearby properties, and can't wait to welcome you back soon…