Spellbinding beaches
The East Devon seaside has been adored for centuries, thanks to the awe-inspiring geological marvel that is the Jurassic Coast. Over time, our fishing villages, Regency resorts and thriving towns have become treasures in their own right. Let's go and visit some of my favourites now, so you can get thinking about the beach that'll be top of your list when you visit in person!
Fit for a future Queen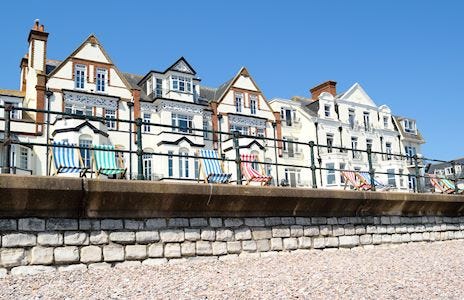 In 1819, Sidmouth was visited by the Royal family and their baby daughter, the future Queen Victoria. Today, the Regency buildings remain and the town remains the perfect destination for a memorable family holiday – with brilliant places to stay like Gull Cottage.
I love it here for the wonderful local shops and independent sellers. You can try your hand at an artistic pursuit at Something Lovely Pottery Painting, tucked away in Libra Court. Once you've perfected your painted teapot, head next door for great coffee and cakes from Selley's Coffeeshop. It's a peaceful courtyard setting, a little way away from the hustle and bustle. Finish the day with a walk along the beach, ice cream in hand – perfection.
Do check before you travel as many shops and attractions have changed their opening times following the lockdown. But there's still plenty to do and we can't wait to welcome you back!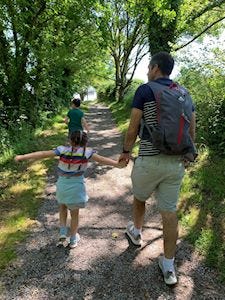 Brilliant Branscombe
The coast here is absolutely gorgeous! Wooded cliffs rise dramatically in front of the soft shingle of Branscombe beach. To get there, you follow a magical country lane as it winds towards the sea. Then you can walk for miles in these idyllic surroundings. Bring a ball for the dog (there is plenty of space for dogs but a few restrictions, so check the signs). Skim stones, paddle in the waves or enjoy your picnic. This is probably my top pick for that relaxed beach day – you'll be wishing it never has to end!
Back in the village, chocolate box houses surround the inns that both serve good food, and there's home-brewed Branscombe beer to try too. No wonder we keep coming back.
Nature on the shore
The stretch of coast between Axmouth and Lyme Regis is a National Nature Reserve that's perfect for anyone looking for a wild day out by the sea. Start at Axmouth, where the Axe estuary is a haven for birds throughout the year. The unspoilt countryside surrounding the village, and Stepps Cross Cottage, is home to a variety of wildlife species and provides the opportunity for many varied and peaceful walks.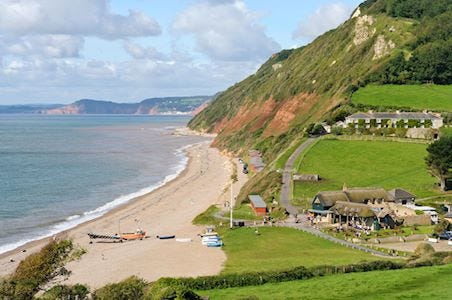 If you start walking towards Lyme Regis along this section of the South West Coast Path, you'll see wildflowers like orchids, rare ferns and butterflies like the common blue. Trees line the path and the chalky grassland is not only ecologically important, but rather beautiful too! As you reach Lyme Regis, you can double back to reach the amazing Ammonite Pavement – a fossil beach that the kids will love exploring. Or just carry on into town, take a seat on the sand and enjoy the sunset. 
 
Continue the journey
Let us take you on a journey to East Devon from the comfort of your sofa! In these uncertain times, we're bringing the best of England and Wales to you – so read on and experience favourite places to go and some hidden gems from Charlotte, our local Marketing Manager. We've got plenty of nearby properties, and can't wait to welcome you back soon…