Enchanting trails
Here in East Devon, we're lucky to be able to get out and about in some of the country's most beautiful places on footpaths, cycle trails and hiking routes. There are climbs along clifftops with dramatic waves breaking below, woodland wanders and paths that have been walked for thousands of years. Let's go explore…
The life Jurassic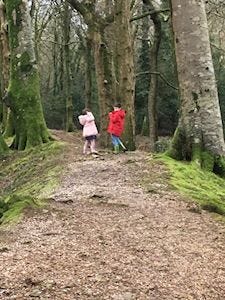 Explore the wonders of the Jurassic Coast with exceptional scenery along our stretch of the 630-mile-long South West Coast Path. My favourite section is to walk from Beer Head over to Branscombe and back. You follow the National Trust coastline along stunning chalky clifftops buzzing with wildlife and gorgeous views out to sea. Just take a look at Gill Cottage to see how beautiful it is around here.
There is a very steep hill down to Branscombe Beach and, of course, back up again! My tip would be to leave a car at Branscombe or in the village hall car park to avoid having to climb back up! You can reward yourself for making it all the way in one piece at the Sea Shanty café – mine's a tea and a portion of chips, please!
Climb the camp
Deep in the woods near the village of Southleigh is Blackbury Camp, a magical ancient hillfort that's perfect for anyone who loves the outdoors. It's just a short drive from Sovereign, one of our cottages in nearby Seaton. Children will love walking and climbing around the earth banks and weathered ramparts of the old fort, which is over 2,000 years old. History buffs will be fascinated by the unusual entranceway that is still fully visible. And everyone can enjoy a picnic beneath the trees. There are lots of trails to explore nearby along with the dog and, if you catch it at the right time of year, the bluebells are incredible! 
Nearby to Blackbury Camp is Boveys Down Farm, who serve the best cream tea I've ever had – and this from a Devonshire lass!
Ride the ridges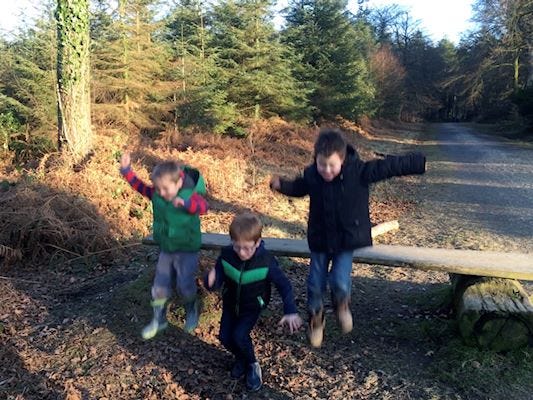 If you love getting out and about on two wheels, then pop a visit to Haldon Forest Park right at the top of your must-do list. It doesn't matter whether you're brand-new to cycling or a seasoned pro because there are so many trails to choose from – all with fantastic views back towards Exeter and the Exe estuary. Pick a base for your adventure like Holly Cottage, near Seaton. Then you can pick up bikes or child trailers from Forest Cycle Hire, where the prices are reasonable, and the friendly staff will point you in the right direction for an awesome day out.
Once you've had your fill of woodland adrenaline, there are also lots more activities on offer. When we last went, we enjoyed a themed walk where we found all the characters from the Gruffalo books. There's a café onsite and also a Go Ape if you're feeling particularly adventurous. 
Continue the journey
Let us take you on a journey to East Devon from the comfort of your sofa! In these uncertain times, we're bringing the best of England and Wales to you – so read on and experience favourite places to go and some hidden gems from Charlotte, our local Marketing Manager. We've got plenty of nearby properties, and can't wait to welcome you back soon…